Ferienbauernhof Villa Stampa
Lisciano Niccone (Perugia) - Via Pian Di Marte, 24 (Karte)



Sagen Sie Ihre Meinung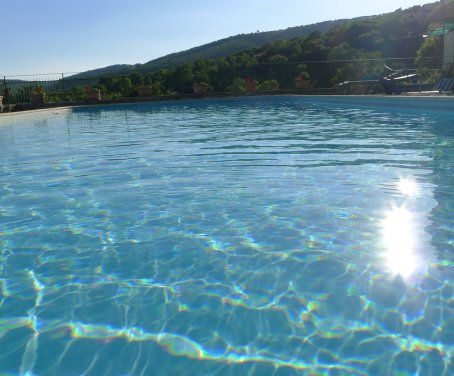 BESCHREIBUNG FERIENBAUERNHOF VILLA STAMPA
Farmhouse Villa Stampa is located in a valley called "Pian di Marte" on the border between Umbria and Tuscany. The complex is made by the 18th-century main villa and the adjacent dwellings.
The rooms and apartments dedicated to guests were personally furnished by Mr. Enzo with old objects and pieces of furniture he has fondly restored over the years.
SERVICES FERIENBAUERNHOF VILLA STAMPA
The stay of guests is enriched by the presence of a 100-square-meter swimming pool with terrace offering a view onto the valley, and it is possible to explore the surroundings both by bike and on foot. Upon request it is also possible to organize horse-riding tours.
The owners are available to illlustrate the points of interest near the farmhouse and to inform guests about fairs and popular events in the territory.

ZIMMER
The Farmhouse offers its guests a thoroghly relaxing stay, in the midst of nature and peacefulness. It is possible to stay both in rooms and in mini-apartments endowed with independent entrance and kitchen area.
The accommodation is characterized by the presence of furniture of the farming tradition, fully restored and renovated.
RESTAURANT
The cuisine is the result of the combination of tradition and cooking innovation. All the ingredients are organic or homemade. Extra-virgin olive oil and dairies are home made too in order to constantly provide guests with high-quality products.
Local meats and homemade cold cuts are a must, and we should not forget the popular panna cotta prepared exlusively using fresh cream.
UMGEBUNG
The farmhouse is close to the Trasimeno Lake and about 20 minutes from the towns of Perugia and Cortona. Besides, in about 1 hour by car it is possible to reach different artistic and cultural locations such as Assisi, Gubbio, Spoleto, Spello, Arezzo and Siena.
SERVICES FERIENBAUERNHOF
Restaurant
Freibad
Frei Parken
Küche
Typische Einrichtung
Außenkamin
Aussicht
PREISE FERIENBAUERNHOF VILLA STAMPA
Untergraben Preis
Höchstpreis
Preis pro Person pro Nacht

25 €


65 €


Reis Doppelzimmer pro Nacht


50 €


130 €


Hinweise auf die Preise: Bambini fino a 6 anni 60% sconto Ragazzi da 7 a 10 anni 40% sconto L\'orario di accoglienza per il primo giorno è dopo le ore 16.00, quello di partenza è entro le ore 10.00.
KARTE
Via Pian Di Marte, 24 - Lisciano Niccone - (Perugia)