Farm-house Il Poggio Dell'artilla
Castiglione in Teverina (Viterbo) - Loc. Il Poggio (Map)





Share your opinion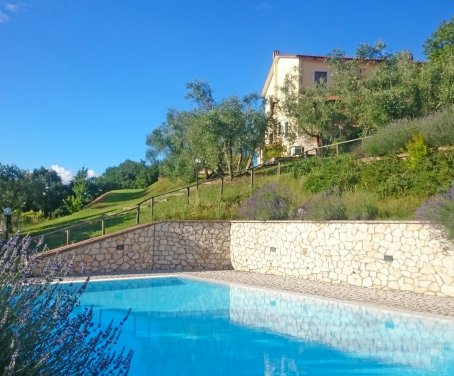 DESCRIPTION FARM-HOUSE IL POGGIO DELL'ARTILLA
Il Poggio d'Artilla" (Artilla's Hill) is a gracious inn on a working farm. Il Poggio is "an "agriturismo", or tourist farm, located in the Tuscia region of Italy, land of the mysterious Etruscan civilization that predated the Roman Empire. Tuscia is at the center of three major geographic regions—Umbria, Lazio and Tuscany. This very advantagious location offers guests a convenient place from which to visit some of the best of Italy's typical artistic centers and numerous natural and archeological wonders.
The agriturismo is operated by a skilled sommelier, who tends her own vinyard. She also cultivates seven hectares of olive orchard composed of ancient trees that produce a premium extra-virgin olive oil. As you stroll through the property, bounded in part by native forest rich in vegetation, you can explore fascinating "tufa" (volcanic stone) caves, presumably of the Etruscan period, in which it is possible to relive what were once the living and working conditions of local farmers until after the Second World War.
As a guest it is possible to participate in wine and cheese tasting, techniques of wine making and food preparation, including fruit juices, jams, preserves, cheese, pasta, bread and liquors. Also offered are courses in environmental education and medicinal and aromatic herbs.
The proprietress has outdone herself in creating a productive and attractive farm and the atmosphere at Il Poggio d'Artilla is welcoming and receptive.
-
-

SERVICES FARM-HOUSE
Restaurant
Breakfast Room
Disabled Access
Cable Internet
Garden
Park
Outdoor Pool
Pets Welcomed
Luggage Storage Service
Solarium
Free Guest Parking
Barbecue
Kitchenette
Kitchen
Typical Furnishings
Hairdryer
Heating
Nice View
Fan
Shared Garden
Ospitalità Per I Diversamente Abili
RATES FARM-HOUSE IL POGGIO DELL'ARTILLA
| | | | |
| --- | --- | --- | --- |
| | | | |
| | Minimum Price | Maximum Price | |
| Price per person per night | 45 € | 70 € | |
| Price double room per night | 70 € | 90 € | |
| Triple room Price per night | 105 € | 120 € | |
| Price family room per night | 140 € | 160 € | |
MAP
Loc. Il Poggio - Castiglione in Teverina - (Viterbo)
GUEST REVIEW IL POGGIO DELL'ARTILLA


Share your opinion
Couple -

6/2012
Un grazie di cuore a Marina e Carlo per averci sapientemente cesellato 3 giorni fantastici pieni di calorosa accoglienza ,cortesia ,pulizia e ottima cucina (Marina sei stata grande).Gianpaolo,Chiara e un bau da Camilla e lapo
Couple -

7/2012
Siamo appena ritornati dopo un soggiorno di 4 notti in mezza pensione. Camera ampia, luminosissima, sobria ma al tempo stesso elegante. Cenette deliziose alla ricerca dei veri sapori dei cibi (verdure dell'orto, olio della casa, carni selezionate e buon vino). Piscina pulitissima. Marina e Carlo sono davvero in gamba tra i fornelli, nella cura degli ambienti, nel farti sentire un ospite gradito. Davvero una bella vacanza.
Couple -

7/2012
ciao Carlo e Marina da poco tornati a Roma e già l'aria si sente pesante e caotica. Ci è bastato un solo giorno di soggiorno presso la vostra struttura per assaporare con gusto la genuinità dei vostri piatti e la qualità di vostri prodotti ,pur non conoscendo che dietro tutto ciò,si nasconde un duro lavoro. Ringraziamo vivamente della vostra accoglienza che ci ha fatto riscoprire il sano gusto di condividere esperienze di vita quotidiana. A presto (anche le foto) Gabriele e Simonetta Pilato
Couple -

9/2011
il profumo della crostata ti avvolge nel risveglio mattutino,lo sguardo si perde nel bellissimo panorama che si gode dalle finestre.....e così inizia il bellissimo fine settimana trascorso al Poggio dell'Artilla...grazie ancora sig.Marina e Carlo per la vostra squisita ospitalità
Family with children -

3/2011
Poggio dell'Artilla forever
Ogni volta che torniamo al Poggio (questa è la terza) riscopriamo l'ospitalità, la cordialità e la bravura di Marina e Carlo, ogni volta che andiamo via pensiamo già a quando ritorneremo: tutte le passeggiate che dovremo fare, tutti i luoghi ancora da visitare e tutte le nuove ricette di Marina da gustare...
Couple -

7/2010
Couple -

8/2010
Couple -

8/2010
disponibilità,simpatia,professionalità
abbiamo trascorso una bellissima settimana nella bellezza e nella natura della campagna laziale 'accuditi'dalle cure della sig.Marina e del sig.Carlo.La ottima qualità del cibo e il relax della bellissima piscina si faranno difficilmente dimenticare.Sicuramente ritorneremo......
Family with children -

7/2010
Family with children -

7/2010
week end sole piscina e relax
Abbiamo trascorso un fine settimana davvero speciale. Io e mio marito ci siamo rilassati nella bella struttura, i bambini si sono divertiti in piscina e in giardino, l'accoglienza è stata ottima, la cucina gustosa e salutare.