Farm-house Chiai Francesco
Bari Sardo (Nuoro) - Loc. Circillai (zona Campo Sportivo) (Map)




Share your opinion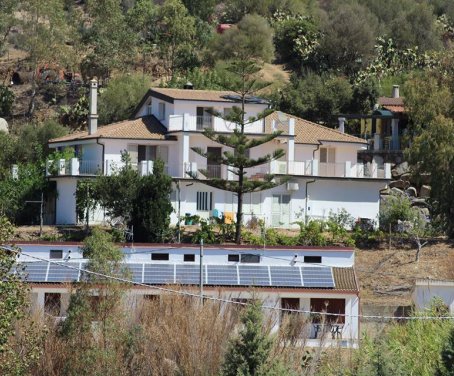 SERVICES FARM-HOUSE
Restaurant
Breakfast Room
Disabled Access
Garden
Pets Welcomed
Riding
Free Guest Parking
Heating
Nice View
Fan
Air Conditioning
Shared Garden
RATES FARM-HOUSE CHIAI FRANCESCO
| | | | |
| --- | --- | --- | --- |
| | | | |
| | Minimum Price | Maximum Price | |
| Price per person per night | 25 € | 50 € | |
| Price double room per night | 50 € | 100 € | |
MAP
Loc. Circillai (zona Campo Sportivo) - Bari Sardo - (Nuoro)
GUEST REVIEW CHIAI FRANCESCO


Share your opinion
Couple -

8/2012
Couple -

7/2012
grazie per l'accoglienza, la disponibilita', e la gentilezza
Group of Friends -

5/2012
Sehr freundlich, grosse helle Zimmer. sehr viel Platz für Auto, Hänger und Motorräder. Tolle Betreuung und SUPER ESSEN. Kein Lärm in der Umgebung. Toll zum erholen!!!
Couple -

7/2012
Ottima posizione, ottima cucina e una bella struttura. Un posto che consiglio a tutti sia a coppie che famiglie in quanto è situato in una delle zone più genuine e più affascianti della Sardegna
Couple -

8/2011
We spent 3 nights in Bari Sardo and we really enjoyed the friendlyness of the people there. The food was also very very good ! Thanks
Family with children -

9/2012
E' superfluo ripetere quanto già detto da tutti gli altri frequentatori dell'agriturismo in argomento. Abbiamo riscontrato: professionalità, cordialità, simpatia, disponibilità, ottima igiene, struttura moderna etc. etc. Ottima politica anche quella di lasciare al turista la possibilità di consumare il pasto in loco oppure in altra struttura, con relativo sgravio sul conto finale. Grazie a tutti Voi per il bel periodo che ci avete fatto trascorrere in quei meravigliosi posti. A presto.
Family with children -

7/2012
ospitalita' e' la parola chiave!!! complimenti a Pamela e alla sua fam.ci siamo stati nel 2011 e ci siamo ritornati anche quest'anno .Al mattino Francesca si e' trovata una torta fatta apposta per lei! Ci ritorneremo .Francesca Anna Claudio Bergamo
Couple -

9/2012
Ottima accoglienza, camere praticamente nuove e con pulizia quotidiana, ottima cucina tradizionale con menù di terra, zona tranquilla ma vicino a Barisardo, consigliatissimo!!!
Couple -

8/2012
posto fantastico,pamela cucina da paura e la pulizia egna d appertutto. direi che sono persone molto ospitali per niente invadenti anzi, tutt altro, unic neo, se on vi piace la cucina sarda state a casa altrimenti potreste non farne piu a meno
Couple -

4/2012
Per chiunque vuole vivere, un'esperienza a contato con la natura a due passi dal mare cibandosi di un'ottima cucina casereccia sanissima allora non posso far altro che consigliarvi- agrit chia-i. Dove Vanessa con la sua simpatia vi servirà al tavolo le abbbbbondanti portate. E Pamela x qualsiasi problema cura le public relations.
Couple -

9/2011
agriturismo a conduzione famigliare, ospitalità ed accoglienza ci hanno fatto sentire come a casa, anzi meglio. Punto di partenza ideale per visitare le spiagge nei dintorni e i piccoli paesi arroccati in montagna. Cucina tradizionale e genuina, ottima.
Couple -

6/2011
Couple -

6/2011
SIMPATIA E ACCOGLIENZA HANNO CARATTERIZZANO LA NOSTRA VACANZA. CUCINA OTTIMA
Couple -

9/2010
Family with children -

7/2010
Couple -

8/2010
Couple -

7/2010
Couple -

8/2009
Couple -

8/2009