Farm-house Borgo Villa A Tolli
Montalcino (Siena) - Localita' Villa A Tolli, 60 (Map)




Share your opinion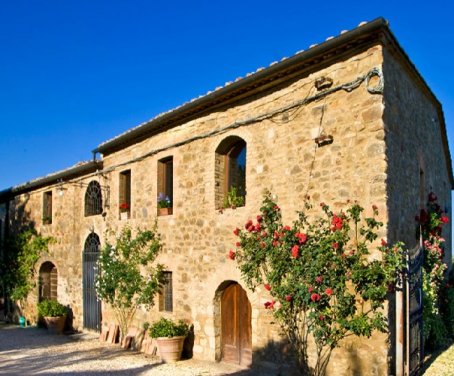 SERVICES FARM-HOUSE BORGO VILLA A TOLLI
During your stay you can make visits and wine tasting in the cellar of the famous Brunello and other great reds of our production that warms the heart, you will know closely the reality of a real farm living in close contact with nature, there you can relax by the pool or in the romantic garden.
DESCRIPTION ROOMS
The main villa is composed by 5 rooms: Aurora, Giada, Lilium, Ambra, Primula.All rooms are recently renovated according to the principles of bio-architetture.
Moreover there are three suites.
SURROUNDINGS
From the hamlet you'll leave for unforgettable strolls like the one to Sant'Antimo abbbety, or to other suggestive green paths.rnBy car, you can reach beautiful towns such as Pienza, the ideal Renaissance city, San Quirico with his colleague, Siena, San Gimignano, Montepulciano, the ancient thermal baths of Bagno Vignoni, Monteriggioni
SERVICES FARM-HOUSE
Breakfast Room
Garden
Outdoor Pool
Credit Card Accepted
Conference Room
Free Guest Parking
Kitchen
Typical Furnishings
Fireplace
Minifridge
Heating
RATES FARM-HOUSE BORGO VILLA A TOLLI
Minimum Price
Maximum Price
Price per person per night

45 €


45 €


Price double room per night


90 €


90 €


Notes on prices: Per gli appartamenti, il prezzo varia a seconda della durata del soggiorno.
RATES

MAP
Localita' Villa A Tolli, 60 - Montalcino - (Siena)
GUEST REVIEW BORGO VILLA A TOLLI


Share your opinion
Family with children -

7/2011
UN POSTO DA SOGNO
UN MAGNIFICO AGRITURISMO CON UNA BELLISSIMA ACCOGLIENZA ED UN MERAVISGLIOSO POSTO...NON VEDIAMO L'ORA DI TORNARE A TROVARVI!
Group of Friends -

10/2010
24 ottobre 2010 Bellissimo. Grazie ai proprietari.
Group of Friends -

8/2010
Meraviglioso!!!
E' un posto incantevole, con gente accogliente e calorosa
Family with children -

7/2010
Vacanza fra le vigne
Il borgo è un sogno! Ristrutturato in modo spettacolare, circondato da viti e ulivi a pochi chilometri da Montalcino. Indicato per chi ama la natura e vuole immergersi nel silenzio e nel canto delle cicale. Proprietari simpatici e disponibilissimi! Camere e appartamenti veramente belli e spaziosi. Soluzione ottimale anche per i periodi più freschi, perchè gli appartamenti hanno dei bellissimi camini antichi. Dotata di una piccola piscina in mezzo agli ulivi. Personalmente, ho passato dei bellissimi giorni in quel borgo, assaporando il sapore di quella terra meravigliosa e un po' del passato di quelle bellissime stanze. Non vedo l'ora di essere nuovamente loro ospite!