Farm-house Podere Raffaello
Montepulciano (Siena) - Via Del Lago 14 (Map)






Share your opinion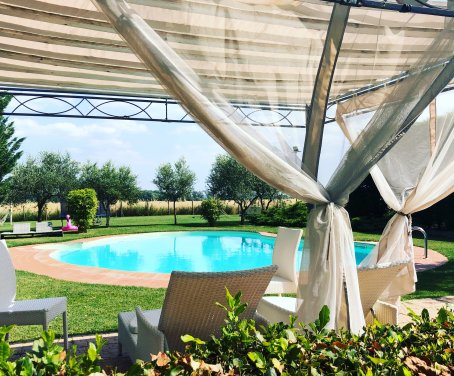 DESCRIPTION FARM-HOUSE PODERE RAFFAELLO
Convert our farm in a holiday apartment, renovated with care and wise cura. Located in Val di Chiana, in to oasi of lipu of Lake Montepulciano famous for its beauty this land, Tuscany, offers its guests have a holiday typically Italian.
SERVICES FARM-HOUSE PODERE RAFFAELLO
The farm offers a beautiful, clear pool, a place of relaxation to find moments of pure satisfaction Tuscan sun.Mountain bike, go horseback riding at the farm 10 minutes, 20 minutes for the many Spas in the area, lakes for fishing, boat trips and more.
DESCRIPTION ROOMS
The cottage has a central body which incorporates the old style Leopoldino, famous throughout the Val di Chiana, wide, with reflections of light that give color to each apartment, spacious and well furnished 6.
Nothing has been overlooked by canopy beds in wrought iron, the romance of 2 suites with Jacuzzi, TV, kitchenette, a beautiful breakfast room, old stable of 1700 restored and ready to welcome in summer and winter for a breakfast Buffet rich flavor.
BREAKFAST
Breakfast is served in the barn of 1700, a buffet full of typical of those who have the taste of genuine products.From 8:30 to 10:30 will be at your disposal.
SURROUNDINGS
We are located in central Italy in a few minutes from Montepulciano and all the most beautiful villages of toscana.Vicini many spas in Val di Chiana and Val d'Orcia.rnA few miles from Umbria to 1 hour from Florence, Rome, 30 minutes from Siena, Arezzo.rnNear You lakes of Chiusi, Montepulciano, Trasimeno. the events taking place throughout the summer.
SERVICES FARM-HOUSE
Restaurant
Breakfast Room
Wireless Internet
Garden
Park
Outdoor Pool
Laundry Service
Pets Welcomed
Credit Card Accepted
Conference Room
Meeting Room
Riding
Mountainbikes
Free Guest Parking
Covered Parking
Barbecue
Bar
Kitchenette
Kitchen
Typical Furnishings
Hairdryer
Bath
Hydro Massage
Television
Heating
Shared Garden
RATES FARM-HOUSE PODERE RAFFAELLO
Minimum Price
Maximum Price
Price per person per night

45 €


70 €


Price double room per night


90 €


130 €


Triple room Price per night

140 €


150 €


Price family room per night

150 €


170 €


Notes on prices: Colazione inclusa,escluso pulizie finali euro 20.00 a 30.00 ,animali amessi,cambio biancheria per soggiorni di 6 notti.Riscaldamento finale a pagamento,lettino baby incluso,bambini fino a 2 anni gratuiti
RATES

MAP
Via Del Lago 14 - Montepulciano - (Siena)
GUEST REVIEW PODERE RAFFAELLO


Share your opinion
Couple -

9/2011
al ritorno da una lunga e calda giornata ad Assisi che ci ha molto 'provati', io e mio marito abbiamo avuto la splendida sorpresa di trovare, nel Podere Raffaello (che non conoscevamo) una struttura veramente accogliente sia internamente, sia esternamente. Sono stati due meravigliosi giorni di relax che ci hanno riempito il cuore. Lo raccomandiamo veramente a tutti!
Couple -

8/2011
Posto bellissimo e ideale per una vacanza in totale relax,senza eguali la disponibilità e la dolcezza di Alessandra (la proprietaria)che tratta gli ospiti del podere con sincerità e genuinità,cosa che non passa inosservata sopratutto a noi sardi infatti notiamo subito certi valori quali accoglienza ed ospitalità. Consiglio? Provare per credere!
Group of Friends -

4/2010
Group of Friends -

4/2010
magnifico week end
magnifico week end con amici.....bellissimo il posto e molto gentili e disponibili i proprietari del podere.......
Couple -

8/2009
Magnifico ricordo di un week end estivo...