Farm-house A Casa Del Tosi
Pescaglia (Lucca) - Fraz. Torcigliano Loc.palazzina 1 (Map)




Share your opinion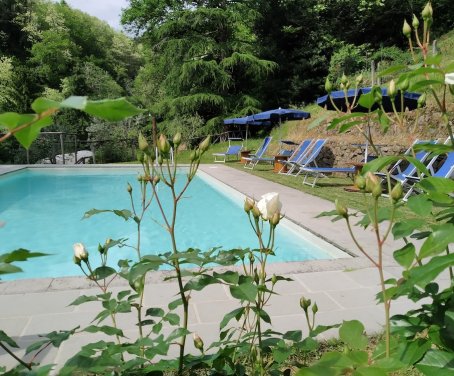 DESCRIPTION FARM-HOUSE A CASA DEL TOSI
This farmhouse bed and breakfast, "A CASA DEL TOSI" is situated approx. 15 minutes from Lucca and 20 minutes from Versilia, in the heart of the countryside where it is still possible to live in contact with nature immersed in the cultural, social and gastronomical traditions of this land.
The business, which is family run, produces honey, fruit and vegetables and extends over 12 hectares of land some of which is woodland where you can go for walks and in the autumn to collect chestnuts and porcini mushrooms.
In a recent restoration, in keeping with the antique characteristics, three apartments have been made for guests and one for the owners who have lived on the site for four generations.
The guests at "A CASA DEL TOSI" experience a homely atmosphere and can spend their holidays in complete relaxation by the pool or walking or mountain biking, immersed in the open spaces this beautiful zone has to offer.
DESCRIPTION ROOMS
The guest apartments are "Il Barbagianni", where the stables and hay barn were originally, "Il Gallo", where the farmhands used to live and "La Filanda" where, until the early 1900's silk was spun.
SURROUNDINGS
You can visit the cultural cities of Lucca, which is only 13 km away, Pisa and Florence. 30 minutes away by car is Pisa with its leaning tower and one hours drive away, Florence, with its museums and innumerable masterpieces.rnrnFor nature lovers we suggest a visit to Garfagnana, which is the mountainous region of the province of Lucca. In addition to its numerous characteristic little villages, the Parco dell'Orecchiella, is well worth a visit. Here, amidst the varied wildlife we can even find wolves.rnJust a few kilometres from the farmhouse is the noteworthy Celle dei Puccini the birthplace of Giacomo Puccini, which is open to the public.
SERVICES FARM-HOUSE
Restaurant
Breakfast Room
Outdoor Pool
Garden
Mountainbikes
Solarium
Barbecue
Kitchenette
Kitchen
Typical Furnishings
Fireplace
Hairdryer
Television
Satellite Television
Heating
Shared Garden
RATES FARM-HOUSE A CASA DEL TOSI
Minimum Price
Maximum Price
Price per person per night

30 €


75 €


Price double room per night


65 €


150 €


Triple room Price per night

60 €


150 €


Notes on prices: Letto aggiuntivo €15 al gg, €100 a settimana - Culla €6 al gg, €40 a settimana - Seggiolone €2 al gg, €14 a settimana - Riscaldamento a consumo - Cauzione €150 - Colazione adulti €7 al gg e 35€ a settimana (viene organizzata su richiesta ogni giorno) - Colazione bambini €5 al gg e 25€ a settimana (5-10 anni)- Cena a partire da €23 adulti e da €13 bambini 5/10 anni (bevande escluse).
RATES

MAP
Fraz. Torcigliano Loc.palazzina 1 - Pescaglia - (Lucca)
GUEST REVIEW A CASA DEL TOSI


Share your opinion
Couple -

9/2012
Hemos pasado 3 días estupendos en la Casa de Tosi disfrutando de la paz y tranquilidad que se respira en esta zona del norte de la Toscana. Además de la magia del lugar lo ha hecho posible su dueña, dulce Antonella, que nos ha hecho sentir como en nuestra propia casa y también Bubo, Pluto y los 3 gatitos que nos han brindado todo su cariño. Gracias Antonella por tus indicaciones sobre los lugares de interés y por tu sonrisa, no hay duda de que volveremos pronto a la Garfagnana! Mil besos!!
Couple -

3/2012
Couple -

5/2011
...Un fine settimana speciale
Posto delizioso,camere arredate con cura,particolari ricercati,fiori freschi in camera al nostro arrivo,colazione abbondante,senza dimenticare la cordialità e la simpatia di Antonella e di suo marito,accompagnati da Bubo e Poldo,dai vari gatti e dagli asini e le caprette...Speriamo di poter tornare presto,magari x trascorrere una settimana rilassante ad agosto!!! P.s.Una nota particolare alla splendida atmosfera creata dalle lucciole!!!^__^