Farm-house Il Glicine E La Lanterna
Pontremoli (Massa-Carrara) - Loc. La Querceta (Map)





Share your opinion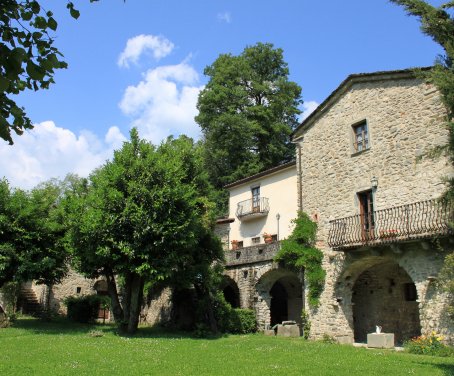 SERVICES FARM-HOUSE IL GLICINE E LA LANTERNA
Services provided:

Onsite restaurant
Point of Sale - www.ilfungopontremoli.it
6 x 12 m pool
Breakfast buffet
Access to the Internet (no wi-fi)

Large garden to relax
Gazebo near the pool
Wood Stove and Grill
Demonstration of cooking in the Texts
Tasting of cooking KM0
Badges for Collecting Mushrooms

Concerts in the Garden
Free guides and Small Tourist Material from consultation
Small Library and Bookcrossing

HOLIDAY PACKAGES

And, by appointment:
babysitter
Mini-courses (Lunigiana cuisine, painting, embroidery, patcwork, cross stitch, natural dyeing of wool)
Massage
DESCRIPTION ROOMS
All rooms are newly refurbished, so you can offreire stay even more enjoyable. Spacious rooms with TV. Each room has a private bathroom.
The apartments are nice and well furnished rooms that can accommodate from 2 to 5 people. Even guests can book the apartment in half board.
RESTAURANT
According to our traditional cookery, we privilege natural products, simple but nourishing: chestnut-flour flans filled with wild herbs, crescente cooked in chestnut leaves, testaroli dressed with home-made pesto, local mushrooms in all their preparations, lean sliced-cold-pork-meats to be served with the sgabei (our special fritters), lamb, home made cheese and honey (the only PDO in Italy); home made desserts, cakes, tarts and jam. Fresh season fruit.
BREAKFAST
The breakfast is buffet style, and you can choose to eat something sweet, salty, or both. Our jam, Lunigiana honey, salami and cheese, bread, cakes, pies and cakes homemade organic yogurt or home made ...
SURROUNDINGS
Lunigiana is an historical territory of Italy, which today falls within the provinces of La Spezia and Massa Carrara. Its borders derive from the ancient Roman settlement, later the medieval diocese of Luni, which no longer exists. Lunigiana covers an area from the Apennines to the Magra river, belonging in part to Tuscany and in part to Liguria. It takes its name from Luni, a Roman town, perhaps pre-dated by an Etruscan settlement. Some contend that the name Luni refers to the moon, a celestial body whose beauty is made all the more attractive when framed by the white-peaked Apuan Alps and high Apennine mountains. Motorway A15, gate PONTREMOLI-
Pontremoli Station-
near airports: Pisa, Parma, Genova, Firenze
SERVICES FARM-HOUSE
Restaurant
Breakfast Room
Cable Internet
Garden
Outdoor Pool
Credit Card Accepted
Mountainbikes
Free Guest Parking
Barbecue
Kitchenette
Kitchen
Typical Furnishings
Fireplace
Hairdryer
Television
Heating
Nice View
Shared Garden
RATES FARM-HOUSE IL GLICINE E LA LANTERNA
Minimum Price
Maximum Price
Price per person per night

33 €


56 €


Price double room per night


70 €


112 €


Notes on prices: Nei prezzi sono compresi biancheria, luce, gas e riscaldamento. CAMBIO ASCIUGAMANI nelle stanze ogni 2 giorni; negli appartamenti ogni 3 giorni. PULIZIE QUOTIDIANE nelle camere; pulizie a reichiesta (10€) anche in appartamento. Colazione Ospiti APPARTAMENTO : + €5,00 a persona; + €3,00 bambini dai 3 ai 5 anni. Cena (dal lunedì al sabato) / Pranzo (domenica e i festivi): + €18,00 a persona; + €14,00 per bambini dai 3 ai 10 anni. L'agriturismo resterà chiuso nella stagione fredda (da Novembre a metà Marzo). Per aperture straordinarie e festività vi invitiamo a contattarci.
RATES

MAP
Loc. La Querceta - Pontremoli - (Massa-Carrara)
GUEST REVIEW IL GLICINE E LA LANTERNA


Share your opinion
Couple -

9/2012
Per chi ama la tranquillità, l'ospitalità e l'ottima cucina, non può perdersi questa scenografia rubata ad una fiaba 'il ponticello per attraversare il fiume, il parco impeccabile con sentiero di beule che conduce alla struttura di cotto e pietra...che aggiungere? Provare per credere