Farm-house Aurora
Gubbio (Perugia) - Loc. Nogna N 53 (Map)





Share your opinion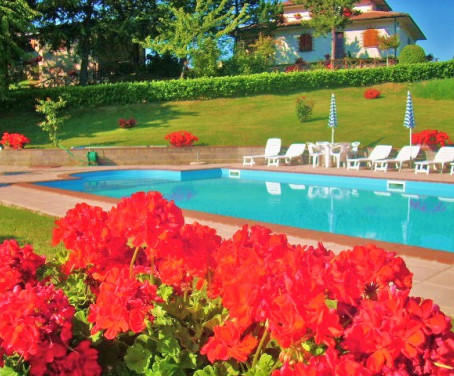 DESCRIPTION FARM-HOUSE AURORA
Farm aurora end apartment fo 2 person end apartment fo 4 person included end the price : swimming pool,barbecue,parking,bicicles,tv,green park,restaurant etc.
-
-

SERVICES FARM-HOUSE
Restaurant
Disabled Access
Garden
Park
Outdoor Pool
Laundry Service
Room Service 24 Hours On 24
Pets Welcomed
Tennis Court
Riding
Mountainbikes
Solarium
Free Guest Parking
Barbecue
Kitchenette
Kitchen
Typical Furnishings
Fireplace
Hairdryer
Minifridge
Phone
Television
Heating
Nice View
Fan
Shared Garden
Ristorante Convenzionato A Solo M 200 Da Noi
RATES FARM-HOUSE AURORA
Minimum Price
Maximum Price
Price per person per night

25 €


50 €


Price double room per night


25 €


50 €


Triple room Price per night

25 €


35 €


Price family room per night

20 €


35 €


Notes on prices: Prezzo a persona a notte tutto incluso, per prenotazioni superiori ad n 3 notti vengono praticati forti sconti bambini fino 5 anni gratis sopra 50%di sconto
RATES

MAP
Loc. Nogna N 53 - Gubbio - (Perugia)
GUEST REVIEW AURORA


Share your opinion
Group/organized tours -

5/2013
siamo stati benissimo eravamo un gruppo di 10 persone bellissimo posto tenuto molto bene i nostri bambini si sono divertiti molto ed ammirato gli animali della fattoria torneremo presto per cuocere di nuovo le bistecche nel barbecue Gianni
Couple -

3/2013
ci siamo propio rilassati il posto tranquillo ed accogliente come i propietari gentilissimi e disponibili
Family with children -

9/2012
La struttura è come si vede nelle foto del sito. Buona l'ospitalità della padrona di casa, gentile e disponibile. Le camere comode e accoglienti, ma cambierei il divano letto, un po' scomodo, e nel bagno sostituirei la doccia (sarebbe più comodo avere un box e non la tenda). Lo consiglierei ad altre famiglie con bimbi. La piscina esterna è ben tenuta.
Couple -

1/2013
posto stupendo accoglienza ottimo un vero agriturismo a due passi dalla più bella bella città d'arte Gubbio incantevole
Couple -

11/2011
posto incantevole ospitalità ottima molto ospitali e gentili i propietari
Family with children -

6/2011
Family with children -

4/2011
ottima vacanza
posto stupendo siamo stati molto bene specialmente i bambini l'unico neo e che non c'è il ristorante interno però in compenso quello convenzionato vicino è molto buono