Detail Offer:
Farm-hotel Ristorante Centopini
Via Don A. Mariotti 6, 47855 Gemmano (Rimini) - Emilia-Romagna Map
---
From 60 to 100 Euro
Price double room per night
---
Description Ristorante Centopini
The Centopini hotel stands on the first hillside of the Romagna Riviera facing the city of Riccione, 16 km from the coast. Managed since 1965 by the owners, the Staccoli family, the structure, expanded and restored in 1995, offers guests typical Romagna hospitality, simple and informal while attentive to details for a personalised holiday, able to meet all your expectations and needs. Centopini is ideal for bike hotel equipped with state-of-the-art equipment and services and, thanks to the strategic position in the heart of Gemmano, offers a wide variety of itineraries for road and mountain bikes to experience breathtaking landscapes, visit ancient villages of the Signoria dei Malatesta and discover typical cuisine. Centopini is also a "motorally" hotel thanks to the services offered to sports enthusiasts, and the area of Valconca is ideal for motorbike itineraries and the nearby l'Autodromo di Misano Adriatico, the largest theme park of the Rimini Riviera dedicated to motors, at just 13 km from Gemmano. If you're looking for total relaxation and wellbeing, the hotel guarantees stays in the utmost comfort, a warm welcome in peace, quiet and beauty in the inland regions of Romagna, testimony to the history of the Malatesta family, who governed Rimini between the Middle Ages and Renaissance, with evocative territories and a natural heritage of inestimable value.
Cod: 099004-AL-00001
Open air
Art and culture
Eat well
Relax
Sportsman
Single
Families with children
Groups of friends
Bikers
Couples and boyfriends
Typology: Rooms
Description rooms
Our rooms are cosy and comfortable, able to respond to your every need. Furnished with taste and attention to detail offer a family atmosphere and relaxing, with a balcony that offers a picturesque landscape. Here are the services that you will find in your room: air conditioning, hair dryer, bathroom with shower, 22 "led tv, direct dial telephone, safekeeping, balcony, wi-fi, Minibar.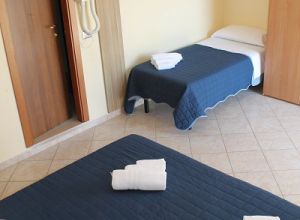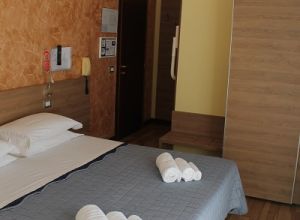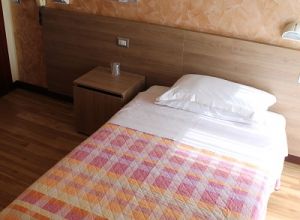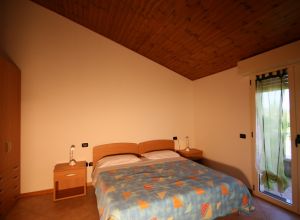 ---
Rates Farm-hotel
| | Minimum Price | Maximum Price | |
| --- | --- | --- | --- |
| Price per person per night | 30 | 50 | |
| Price double room per night | 60 | 100 | |
| Triple room Price per night | 82 | 112 | |
---
Services Farm-hotel
Covered Parking
Breakfast Room
Lift
Free Wifi
Park
Outdoor Pool
Garden
Pets Welcomed
Credit Card Accepted
Restaurant
Solarium
Design Hotel
Gym
Bar
Free Guest Parking
Safe
Hairdryer
Minibar
Television
Heating
Air Conditioning
---
restaurant Farm-hotel Ristorante Centopini
The cuisine is the pride and joy of the Staccoli family, who personally takes care of the dishes and offers all the tastes and traditions of our region Romagna. Every day a choice of three menus with home-made pasta, fresh fish from the Adriatic, mouth-watering meat dishes such as the magnificent "coniglio in porchetta" (rabbit and pork) and the "mixed roast", two of the most popular second courses with our guests; piadina, home made sweets, and at breakfast cakes and pastries prepared by the same "mamma Staccoli", Mrs. Maria Grazia.We pay special attention to the cuisine for sports enthusiasts, with a healthy, authentic and energy-based diet, picnic breakfasts, snacks and morsels after training with flexible eating hours.Local products Discover the tastes and typical products of Romagna. The inland regions of Romagna are rich in wine cellars, mills to visit all year round where visitors can purchase Romagna DOC wines directly, as well as extra virgin olive oil or flour.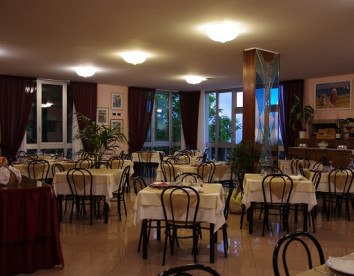 restaurant
---
Breakfast
Breakfast, which you can enjoy comfortably in the breakfast room or outdoors on our veranda, offers a wide choice of sweet and savory products. Homemade cakes and pies, croissants, yogurt, fruit, cereals, but also cold cuts and cheeses. All accompanied by a hot drink or a fresh fruit juice
---
Surroundings (Gemmano)
The hotel Centopini is located in central position in relation to the province of Rimini and is easy to reach in a few minutes castles and villages, museums, parks, natural environments and often only waiting only to be seen and appreciated. The Onferno caves are a karstic complex of great value whose full scientific exploration, carried out by the speleologist Quarina, dates back to 1916. An underground stream has carved these chalky caves leading to the tunnels, rooms, crevices that develop underground for about 750 meters. Natural reserve: 123 hectares, protected for their undoubted natural value given by the presence of dense vegetation and rich fauna, with presence of rare wildlife, geology with chalk formations and gullies. The Ventena Valley: Between Gemmano and Montefiore Conca extends this small valley that, it seems almost a miracle, kept wild traits that were unimaginable for these hills so close to the coast and major centres.

Checkin: From 14.00 and within 21.00

Checkout: From 8.00 am and within 10.30 am
---
Map
Via Don A. Mariotti 6, 47855 Gemmano - Rimini - Emilia-Romagna
---
How To Reach Us
Highway Exit 14: Cattolica
---
Ratings Farm-hotel Ristorante Centopini
Guest Review Ristorante Centopini
| | |
| --- | --- |
| Clean Room / Apartment : | |
| Location : | |
| Quality rooms : | |
| Services : | |
| Quality/ money : | |
(Couple)
Ottima accogliere… e faccio un appunto alla titolare .. Gentile .. simpatica molto carina e super attiva in tutto … i suoi occhi dicono tutto l'amore che mette nel suo lavoro… posto immerso nella natura molto tranquillo e dotato di tutto … lontano dal caos… cibo buono e ottima colazione… piscina bella anche se non ho potuto usarla … grazie mille di cuore (Excellent)
(Family with children)
Tuto bene (Excellent)
(Couple)
(Excellent)
(Couple)
Buonissimo il cibo e molto gentile il personale (Good)
(Couple)
Buonissimo il cibo e molto gentile il personale (Good)
(Couple)
(Excellent)
(Family with children)
La gentilezza e l'ospitalità di tutto il personale dell'albergo sono a mio giudizio il punto di forza di questo meraviglioso agri hotel. Buona cucina buon vino e aria pulita poi lo completano. Lo consiglio senz'altro specialmente a chi come me ha bambini piccoli. (Excellent)
(Family with children)
L'ospitalità è la cortesia e la disponibilità di tutto il personale è il vero pezzo forte di questo posto. Molto pulito, camere belle cucina ottima. Lo consiglio vivamente a tutti specie a chi come me ha bimbi piccoli . vale 1270. (Excellent)
(Family with children)
perfect, calm place for families with children (Excellent)
(Family with children)
ottima accoglienza, pasti gradevoli, una vacanza decisamente rilassante. io lo consiglio!!!! (Good)
(Group of Friends)
(Good)
(Family with children)
Struttura a conduzione familiare all'insegna della cortesia e gentilezza dei gestori.Ambiente confortevole pulito e con ottima cucina.Posizionato nel cuore della riviera lontano dal caos ma alllo stesso tempo ottimo x raggiungere in breve tempo i vari parchi della romagna. (Excellent)
(Couple)
Ambiente confortevole , piscina panoramica, cortesia e gentilezza dei gestori. Particolarmente consigliato per i motociclisti vista la vicinanza del circuito di Misano e di belle strade da percorrere nelle vicinanze. Inoltre spesso frequentato da tester di riviste specializzate (Good)