Casa-rural La Volta
Loc. Marzano 74, 43039 Salsomaggiore Terme (Parma) - Emilia-Romana Mapa
---
A partir de 70 a 80 Euro
Precio habitación doble por noche
---
Descripción La Volta
The holiday farm "La Volta" is located on the beautiful hills surrounding the plain of the Po river, only two kilometres away from the famous Spa Center of Salsomaggiore Terme where treatments for body care, wellness and fitness are known worldwide. The healthy atmosphere, the peace, the sun, the breathtaking landscape, the peace of the hills, the green of the meadows, the smell of mature and of woods make this place a true heaven. The buildings of this holiday farm are situated on a small plateau with a panoramic view all around, including a vast wood area. One building icludes six fully equipped apartments. The other building is the restaurant where you can taste the typical products of the farm and regional specialties cooked according to local culinary traditions. In the farm are we do: stock-farming (rearing of milk cattle for the production of Parmigiano Reggiano cheese; hybrid pigs, wild black pigs from Parma kept in open space and fed with natural feed); production of wheat, barley and fodder (all natural products ICEA certified).
Descripción habitaciones
All rooms, furnished following the rural traditions, have flower names: daisy (margherita) violet (viola), sunflower (girasole), rose (rosa), mimosa (mimosa), cyclamen (ciclamino). Each apartments with on kitchen-living room, one or two double bedrooms, one bathroom and a private open space (porch, terrace, garden), with separate entrance.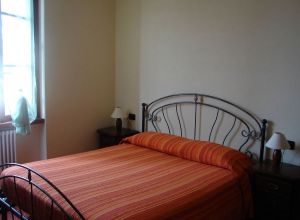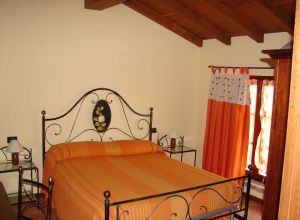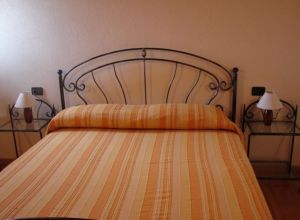 ---
Precios Casa-rural
| | Precio MÌnimo | Precio Máximo | |
| --- | --- | --- | --- |
| Precio por persona por noche | 35 | 40 | |
| Precio habitación doble por noche | 70 | 80 | |
---
Servicios Casa-rural
- OPENING: all year round, reservation required. - RESTAURANT: Saturday for dinner - sunday for lunch. - Other days: on reservation, just for groups. - Internet Wireless - EXCURSIONS: by foot or by bike (10 hectares of wood around the farm close to nature and wildlife). - SWIMMING POOL - SWIMMING POOL for children
Restaurante
Wireless Internet
JardÌn
Piscina Descubierta
Se Aceptan Animales
Tarjeta De CrÈdito Aceptado
Mountainbikes
Aparcamiento Gratis
Cocina Pequeña
Mobiliario TÌpico
Panorama Precioso
---
Restaurante Casa-rural La Volta
Our restaurant, 100/110 seats. is suitable for wedding ceremonies, confirmations, communions, baptisms and birthday parties. - The menus that characterize our typical local restaurant are at the basis of our dishes are the products of our company: beef cattle, pigs, milk, eggs and vegetables. -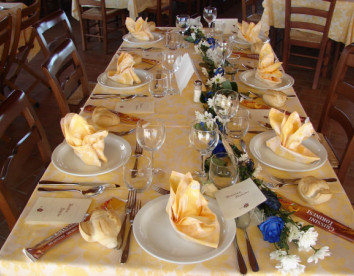 Restaurante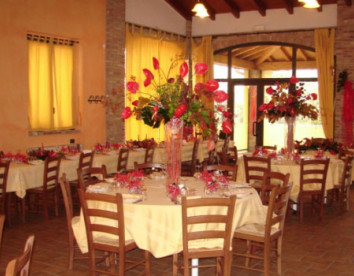 Restaurante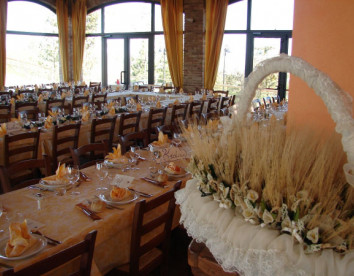 Restaurante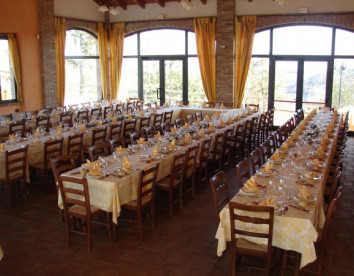 Restaurante
---
Alrededores (Salsomaggiore Terme)
---
Mapa
Loc. Marzano 74, 43039 Salsomaggiore Terme - Parma - Emilia-Romana
---
Opiniones Casa-rural La Volta
Evaluaciones La Volta
| | |
| --- | --- |
| Limpieza : | |
| Ubicación : | |
| Calidad : | |
| Servicios : | |
| calidad /Dinero : | |
(Adultos)
(Excelente)
(Adultos)
Grand appartement calme très agréable, nous avons passé quelques jours de repos en découvrant la région. (Excelente)
(Familia con niños)
(Suficiente)
(Familia con niños)
Ottima posizione, struttura bellissima e Gianni, il proprietario, è stato gentilissimo. Ci ritorneremo. (Excelente)
(Grupo de amigos)
L'agriturismo è a cinque minuti da Salsomaggiore Terme in una bellissima posizione panoramica collinare, gli appartamenti sono molto spaziosi e curati, caldi e confortevoli, il ristorante ci ha fatto assaggiare due diversi tipi di menu tipici ad un ottimo prezzo, massima la disponibilità dei titolari nell'accoglienza e nel venire incontro anche alle esigenze dei più giovani in cucina nonostante il menu fisso. (Excelente)
(Adultos)
Mr MAURO EXCELLENT COORDINATEUR A L'ÉCOUTE DE SES HÔTES, CAMILLE ET SON MARI PROPOSENT D,EXCELLENTS PLATS RÉGIONAUX. TRÈS BELLES VUES SUR LES COLLINES, AVEC PISCINE TRÈS AGRÉABLE. (Excelente)
(Adultos)
(Bueno)