Agritourisme Il Fienile Di Orazio
Località Missiani , 02040 Monte San Giovanni In Sabina (Rieti) - Latium Carte
---
à partir de 80 à 110 Euro
Prix chambre double par nuit
---
Description Il Fienile Di Orazio
Our small holiday farm came to be because of the obstinacy and the passion of two Roman citizens, Ornella and Mauro, and of their small group of friends. Ten long years were necessary to plan and set up the project. The basic idea is to offer other people the hospitality that we would like to find, with warmth, helpfulness and attention to details, all at reasonable prices. The substance of our proposal has its origins in our efforts to conform to the norms that regulate the holiday farm business while taking into account regional and local differences, whose purposes can be summarised as: - making the best use of business and local resources, - an awareness and understanding of topics and problems relating to working and living in the countryside today. We are at Monte San Giovanni in Sabina, in the little village of Missiani, a place that isn't just Sabina and isn't just Alto Lazio, but a mixture of both. Rieti is 18 kilometers away and Rome 86 kilometers.
Description des chambres
We have six rooms: - 2 with a double bed; - 4 with a double bed and 2 single beds. For children we can add extra beds or cots as necessary.
---
Tarifs Agritourisme
| | Miner Prix | Prix Maximum | |
| --- | --- | --- | --- |
| Prix par personne par nuit | 40 | 55 | |
| Prix chambre double par nuit | 80 | 110 | |
---
Services Agritourisme
We love the idea that our place is a little bit suspended in time and space, where everyone can find something relaxing or do something familiar or try something fun, like for example: walking a little or a lot in our wood, or on the surrounding mountains, taking a dip in the swimming pool-fountain, going to the hen house to collect eggs, collecting fruit.
Restaurant
Salle Du Petit-déjeuner
Free Wireless
Jardin
Parc
Piscine
Animaux Admis
Salle De Réunion
Mountainbikes
Parking Gratuit
Sèche-cheveux
Télévision
Chauffage
Chambre Vue D`ensemble
---
Restaurant Agritourisme Il Fienile Di Orazio
Our menu is unique: depending on the available ingredients, on the particular occasion and on what we feel like doing, we put together a menu. We try and be as flexible as possible (as long as we are given enough notice), and we try and satisfy particular requirements, such as: - vegetarian diet, - not eating some types of meat, - not eating some foods (for religious or health reasons) In any case you must book beforehand, if you want us to prepare lunch or supper for you.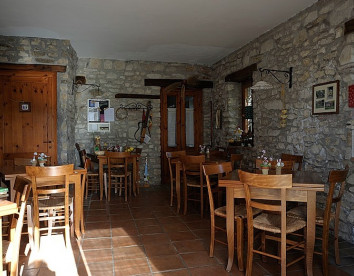 restaurant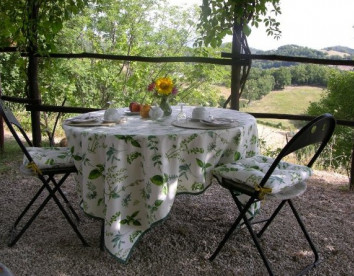 restaurant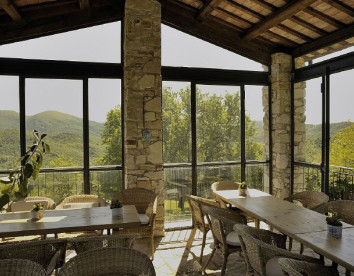 restaurant
---
Domaine Description (Monte San Giovanni in Sabina)
Our territory is not as well-known as it should be, which could perhaps be another reason for visiting it. We propose, therefore, various routes of a landscaped, artistic or religious nature (in the case of the Franciscan places all three). Area of Monte Tancia, Rieti, Contigliano, The Saint Francis Walk and the Holy Valley, Mount Terminillo, Antrodoco, Marmore falls, Casperia and Roccantica, Vacone and the Horatian places in Sabina, Montopoli and the Museum of the automatons and kites, The abbey of Farfa and the Museum of oil paintings in "Castelnuovo di Farfa", Piediluco lake, Salto lake .
---
Carte
Località Missiani , 02040 Monte San Giovanni In Sabina - Rieti - Latium
---
Commentaires Agritourisme Il Fienile Di Orazio
Avis Client Il Fienile Di Orazio
| | |
| --- | --- |
| Clean Room / Appartement : | |
| Situation : | |
| Chambres qualité : | |
| Services : | |
| Qualité/ argent : | |
(Adulte)
Ottimo cibo. I proprietari Mauro ed Ornella gentili , disponibili e simpatici. Luogo , anche se non proprio di strada, che da serenita' e aiuta a riposarsi. Siamo veramente contenti di averlo conosciuto e sicuramente ci andremo sempre con una certa frequenza , cosa che gia' facciamo. Marco e Manuela (Excellent)
(En famille avec enfants)
Ci ritorneremo sicuramente. ..ottimo cibo.. Gentilezza e tanta genuinità ! (Excellent)
(Adulte)
Posto tranquillo e rilassante. Ottima colazione. Ottimo posto. Ideale per chi fa trekking e per i nostri amici a quattro zampe. (Excellent)