Farm-house Podere Santa Lucia
San Gimignano (Siena) - Loc. Santa Lucia 10 (Map)

Share your opinion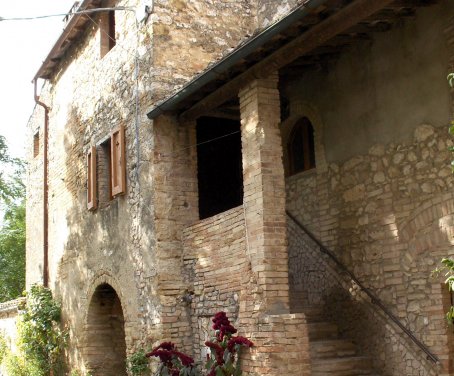 DESCRIPTION FARM-HOUSE PODERE SANTA LUCIA

Ancient house by 1600 furnished with antiques or handmade crafts, original terracotta floors, a fireplace where you can cook or relax in front of a nice fire, large garden with flowers, trees and plants, beside the small village of Saint Lucia. It is only 1.7 km from the center of San Gimignano which can be reached on foot by taking a romantic walk on a comfortable sidewalk, or with a minibus which leaves every hour. It is located on the path of the Via Francigena. At about 500 m there is a public swimming pool, restaurant-pizzeria-bar, a tennis court. In front of the house there are public gardens for children and free parking. Quiet and romantic place.
DESCRIPTION ROOMS
The countryhouse Podere Santa Lucia offers three flats restored with refined taste and furnished in rustic style. The first (il Prato), set on the ground floor of the house, has been restored with hand-made pieces in absolute respect of a country house style. It offers a wide living room with a fireplace, a double bedroom, a bathroom, a small kitchen. On request, it's possible to add 2 single beds. The second (il Girasole), set at the first floor, totally original design, is the only flat with the original old large fireplace, quite different from the usual fireplaces, much smaller. It offers a wide living room , two double bedrooms, a bathroom and a kitchen. The last (il Fiordaliso), set at the second floor, is more like an Alpin confortable hut. From its windows you can admire the towers of San Gimignano. It offers a wide living room with fireplace, a kitchen, a bathroom, a double bedroom and a twin-beds-room.

SERVICES FARM-HOUSE
Garden
Pets Welcomed
Barbecue
Grill Room
Kitchen
Typical Furnishings
Fireplace
Hairdryer
Minifridge
Heating
Nice View
Shared Garden
RATES FARM-HOUSE PODERE SANTA LUCIA
| | | | |
| --- | --- | --- | --- |
| | | | |
| | Minimum Price | Maximum Price | |
| Price per person per night | 25 € | 40 € | |
| Price double room per night | 25 € | 80 € | |
MAP
Loc. Santa Lucia 10, 53037 - San Gimignano (Siena)
GUEST REVIEW PODERE SANTA LUCIA


Share your opinion
Group of Friends -

7/2015
Bellissimo posto, oasi di pace e serenità! Un bagno nel passato e nei ricordi antichi!
Group of Friends -

7/2015
Alla ricerca di un passato che non torna più, ma che rivive nei luoghi dove ti porta il cuore! Dalla Lombardia e dal Veneto con AMPRE!
Family with children -

8/2013