Farm-house Vellaneta
Strada Pigno Monte Martello 82 , 61043 Cagli (Pesaro E Urbino) - Marche Map
OFFERS FARM-HOUSE VELLANETA (Offers found!)
PONTE DEL 25 APRILE - 1 MAGGIO
Typology: Nature
Choose: Bed & Breakfast
From: Tuesday 23 April 2024
Valid until: Sunday 5 May 2024
Nights: 3
Guests: 2 Euro 180 for person
Detail Offer
PASQUA IN AGRITUISMO
Typology: Nature
Choose: Halfboard
From: Friday 5 April 2024
Valid until: Saturday 13 April 2024
Nights: 3
Guests: 2 Euro 250 for person
Detail Offer
---
From 100 to 125 Euro
Price double room per night
---
Description Vellaneta
The name Vellaneta derives from the word "avellane", hazelnuts, that have been growing here from time immemorial. The estate is located in the Marche region, in the central part of Italy, very near the medieval town of Cagli, between Urbino and Gubbio, and the natural park of the Gola del Furlo. It is an oasis of peace and silence in the midst of an unspoiled nature, even during July and August, and is surrounded by cofields, sunflowers, fruit trees, an olive-garden, woodlands and beautiful winding paths that may take you for long walks. It offers a magnificent view of Monte Petrano, Monte Nerone, Monte Catria and Monte Acuto. In the old days farmers who were working the land used to live at Vellaneta. There is a country house made of natural stone, where several families were living, and a hay barn, both dating back to the 16th century: they have been beautifully restored, maintaining the characteristic style and using original materials. The total area occupies a space of 63 hectares and is situated on an altitude of 500 meters. Our agriturismo is particularly suitable for adults and families with children from 15/16 years onwards.
Open air
Relax
Romantic
Sportsman
Ecological
Typology: Apartments
Description rooms
On the ground floor of the country house there is a spacious apartment, Le Avellane, suitable for 2 + 2 persons, consisting of a living room/kitchen, a large bedroom, a bathroom aprivate terrace and garden. The former hay ba has been made into three apartments, for 3 - 4 persons, with a spacious veranda, an "open space" living room, a kitchen and a bathroom on the ground floor, a private terrace, and a bedroom with a walk-in wardrobe on the first floor. Each apartment has its own style and colour and is named after its position towards the sun: Aurora, Mezzogiorno and Tramonto (respectively sunrise, midday and sunset). Apartment Vellaneta: on the first floor of the country house has two bedrooms, a spacious bathroom, a dining/sittingroom, a kitchen with an open fireplace , DVD-player, TV-SAT and a private terrace and garden on the ground floor.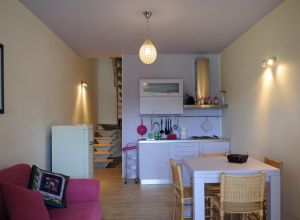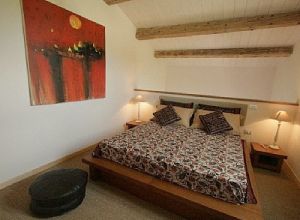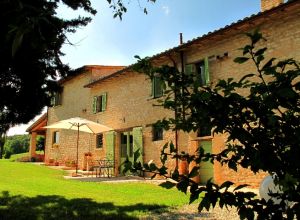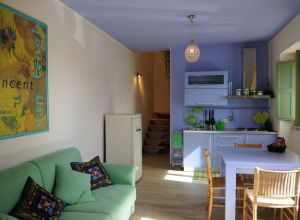 ---
Services Farm-house
All the guests have at their disposal a spacious, well furnished salon on the ground floor, with a library, a piano, a fireplace and several cosy angles to relax or read. The salon leads to a wide veranda, that offers a magnificent view of the mountains and the garden. Towards evening, while enjoying a glass of chilled wine, it is the perfect place to watch a beautiful sunset. There is also a panoramic swimming pool with a solar shower, a jeu-de-boule (pétanque), an archery field, a barbecue, free WI-FI, and a laundry room for washing and ironing, a parking place.
Free Wifi
Outdoor Pool
Laundry Service
Garden
Barbecue
Mountainbikes
Free Guest Parking
Kitchen
Typical Furnishings
Safe
Hairdryer
Minifridge
Heating
Nice View
Fan
Shared Garden
---
restaurant Farm-house Vellaneta
If you like it is possible to have lunch or dinner. Your Italian host, Alessandro, is an excellent cook who prepares many delicious dishes, pasta, meat as well as fish. If there is enough interest (min. 4 persons) it is possibile to organise an Italian cooking course.
for person
:
30
Restaurant reserved for guests
---
Surroundings (Cagli)
From Vellaneta it is very easy to explore the beautiful surroundings of the Marche region both by car as on foot: guidebooks of various historical towns and road maps that will lead you along paths with breathtaking views are available for the guests. Interesting trips can be made to Urbino or Gubbio (about 25 km away), or Assisi, Perugia, Spello, Spoleto or the caves of Frassassi, home of the Verdicchio wine (about one to one and a half hours' driving). The seaside is only half an hours' driving away, the nearest golf courses are Umbertide or Conero, one hour away from Vellaneta.
---
Map
Strada Pigno Monte Martello 82 , 61043 Cagli - Pesaro E Urbino - Marche
---
Ratings Farm-house Vellaneta
Guest Review Vellaneta
| | |
| --- | --- |
| Clean Room / Apartment : | |
| Location : | |
| Quality rooms : | |
| Services : | |
| Quality/ money : | |
(Couple)
(Excellent)
(Couple)
(Excellent)