Farm-house I Mori
Via Pettovallone, 1, 62011 Cingoli (Macerata) - Marche Map
---
From 70 to 90 Euro
Price double room per night
---
Description I Mori
"I Mori" is an authentic, typical, characteristic and suggestive Farm Holiday House.Guests are offered traditional snacks and dinners made with the organic produce cultivated in the farm itself.Dinner is reserved only for the house guests and not outsiders.
Open air
Art and culture
Eat well
Relax
Meditation
Romantic
Sportsman
Wellness
Ecological
Single
Families with children
Groups of friends
Bikers
Couples and boyfriends
Typology: Apartments Rooms
Who we are
Authentic farmhouse in the heart of the Marche.
Description rooms
All first-floor bedrooms are large and have an en suite bathroom with a window facing the outside. On the ground floor a double room with en suite bathroom is suitable for disabled guests.Besides an en suite bathroom, all bedrooms have a telephone, a colour TV and a hairdryer.Independent heating can be turned on at will from inside each bedroom.The independent entrance allows guests to come and go as they wish without schedule limitations.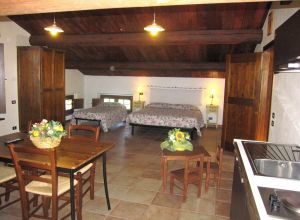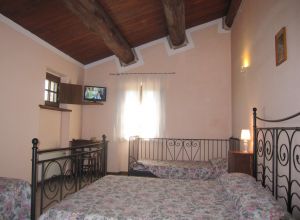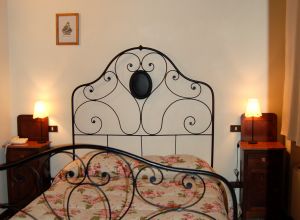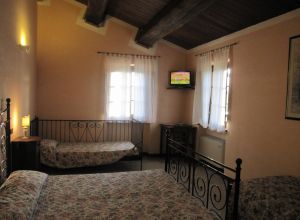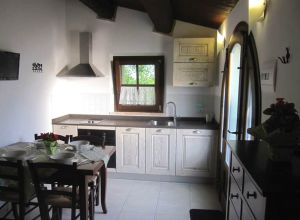 ---
Rates Farm-house
| | Minimum Price | Maximum Price | |
| --- | --- | --- | --- |
| Price per person per night | 30 | 50 | |
| Price double room per night | 70 | 90 | |
| Triple room Price per night | 90 | 120 | |
| Price family room per night | 100 | 140 | |
---
Services Farm-house
During their holiday, guests can stay in bedrooms with an en suite bathroom, colour TV, phone and independent heating, which can be turned on at will from inside each bedroom."I Mori", a four-star facility, has also been awarded with a seal of approval that indicates how much care and attention are constantly devoted to its restoration, the welcome of its guests and the management of the services.There is a playground and a big courtyard for children. The farmhouse is surrounded by over 200 trees , a track for " bocce " (a ball sport), a grass futsal field (five-a-side football) and a solarium.
Covered Parking
Breakfast Room
Disabled Access
Free Wifi
Park
Outdoor Pool
Laundry Service
Garden
Credit Card Accepted
Luggage Storage Service
Restaurant
Design Hotel
Barbecue
Meeting Room
Gym
Bar
Soccer
Typical Product Market
Play Area For Children
Free Guest Parking
Kitchenette
Typical Furnishings
Hairdryer
Minifridge
Television
Satellite Television
Heating
Nice View
Fan
Air Conditioning
Shared Garden
---
restaurant Farm-house I Mori
The farm-to-table restaurant offers genuine and distinctive dishes. Meals are exclusively reserved for the guests of the house and not for the general public. Typical dishes are prepared using products from the same organic farm and are accompanied by the excellent house wine. Cured meats, cheeses, vegetables, pickles, vincisgrassi, tagliatelle, roast rabbit, mushroom and truffle ravioli... are just a few of the delicacies served in the dining room. The wine is carefully kept in the family's cellar: Verdicchio, Rosso Conero, and Rosso Piceno. Inside the farmhouse, there is a store where typical local products such as wine, olive oil, honey, cured meats, cheeses, typical desserts, cooked wine, passito, and sour cherry wine can be purchased.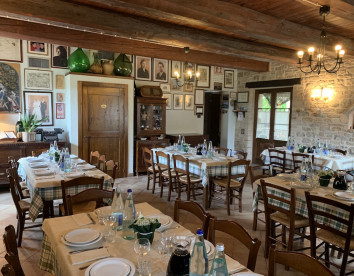 restaurant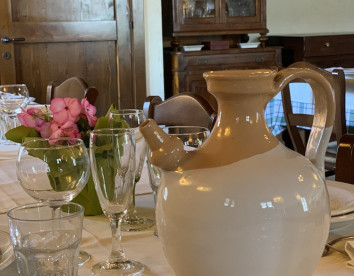 restaurant
restaurant
---
Surroundings (Cingoli)
The location of "I MORI" facilitates daily excursions to visit the famous Holy Sanctuary in Loreto, the prestigious Palace Leopardi in Recanati, the ancient and suggestive Caves of Frasassi in Genga , the historical Abbey of Saint Urban in Apiro or the Cistercian Abbey in Fiastra , which was built in 1142. A superb opera at the famous Sferisterio in Macerata can make your stay memorable!
---
Map
Via Pettovallone, 1, 62011 Cingoli - Macerata - Marche
---
Ratings Farm-house I Mori
Guest Review I Mori
| | |
| --- | --- |
| Clean Room / Apartment : | |
| Location : | |
| Quality rooms : | |
| Services : | |
| Quality/ money : | |
(Couple)
ottima struttura pace e relax ottimi servizi personale super titolari splendidi cucina casalinganel complesso 10 e lode (Excellent)
(Couple)
Con mio marito a fine luglio abbiamo trascorso 6 giorni in questo splendido posto. La professionalità con cui questa famiglia conduce l'agriturismo ha contribuito a creare una sinergia tra la location, l'accoglienza, il vitto (molto abbondante e veramente buono) e la piccola guida alla visita delle cittadine. La pulizia nelle stanze e la cortesia anche del personale hanno contribuito a rendere questo luogo un piccolo, piacevole rifugio rilassante. Bravi sicuramente consigliabile! livio e ile (Excellent)
(Family with children)
Ho soggiornato in questo agriturismo nella scorsa settimana di ferragosto con la mia famiglia. E' un agriturismo a conduzione famigliare con una accoglienza splendida. Camera molto pulita ed ampia. Cucina eccezionale. La posizione è strategica perché vicino a tante città d'arte o luoghi da visitare, così come al mare del Conero. Assolutamente consigliato. (Excellent)
(Family with children)
(Good)
(Couple)
Pecato che il bar de la piscina dopo 1 meso non era encora apero !! (Good)
(Group of Friends)
(Excellent)
(Couple)
camere molto comode pulite e non anonime, cucina stupenda per amanti del tipico e la codialità e la simpatia di tutti (Excellent)
(Group of Friends)
(Excellent)