Farm-house Il Sentiero
Contrada Fonte D'ercole, 11, 63068 Montalto Delle Marche (Ascoli Piceno) - Marche Map
OFFERS FARM-HOUSE IL SENTIERO (Offers found!)
VACANZE IN AGRITURISMO CON PISCINA ALL INCLUSIVE
Typology: Nature
Choose: Overnight
From: Thursday 14 March 2024
Valid until: Monday 30 September 2024
Nights: 7
Guests: 4 Euro 490 For apartment
Detail Offer
VACANZA IN AGRITURISMO IMMERSO NELLA NATURA CON PISCINA E JACUZZI
Typology: Family
Choose: Overnight
From: Wednesday 6 March 2024
Valid until: Friday 25 October 2024
Nights: 7
Guests: 4 Euro 490 For apartment
Detail Offer
VACANZE PRIMAVERA ALL INCLUSIVE
Typology: Biological
Choose: Overnight
From: Thursday 14 March 2024
Valid until: Friday 28 June 2024
Nights: 3
Guests: 4 Euro 70 For apartment
Detail Offer
LE MARCHE AUTENTICHE
Typology: Biological
Choose: Overnight
From: Wednesday 11 January 2023
Valid until: Thursday 28 December 2023
Nights: 7
Guests: 4 Euro 490 For apartment
Detail Offer
---
From 40 to 70 Euro
Price double room per night
---
Description Il Sentiero
The Farm Holiday centre "Il Sentiero" can be found in Montalto delle Marche, a charming medieval town on the Picene hills. The Farm Holiday centreis only 20 minutes from the golden beaches of the Adriatic Sea (San Benedetto del Tronto or Grottammare) and at the foot of the Sibylline Mountains; it also has a splendid swimming pool exclusive to our guests. "Il Sentiero" offers its guests the experience of embarking on a cultural journey and complete relaxation.
Business trips
Fun trips
Experience the sea
Open air
Art and culture
Eat well
Honeymoons
Relax
For children
Sportsman
Ecological
Single
Families with children
Groups of friends
Bikers
Couples and boyfriends
Disabled people
Corporate groups
Description rooms
The farm holiday Il Sentiero features independent apartments with kitchen, living room, bathroom and bedroom.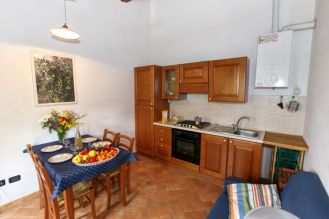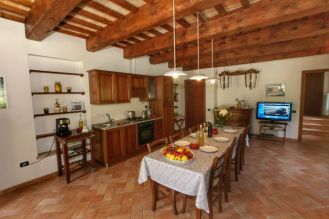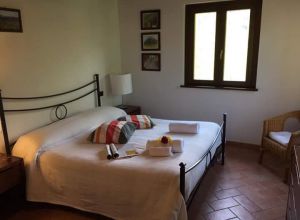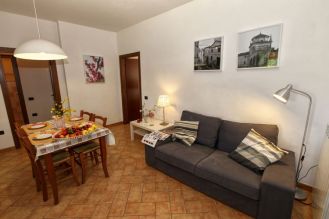 ---
Rates Farm-house
| | Minimum Price | Maximum Price | |
| --- | --- | --- | --- |
| Price per person per night | 20 | 40 | |
| Price double room per night | 40 | 70 | |
---
Services Farm-house
The owners, Guido and Antonella, offer biological and natural products from the farm; fruit, vegetables, oil, wine, barnyard animals and homemade sausages and meat products. The farm holiday centre has a splendid new swimming pool only available to our guests. On request, the owners can organize guided visits on the land, where you can participate in various activities and taste the fruit. "Il Sentiero" is ideal for those who are fed up with city life and wish to recharge body and spirit. We have ample space for the pleasure of adults and children alike; it's possible to go for healthy walks along the forest paths surrounding the property in a peaceful and unpolluted environment, in perfect harmony with nature. SERVICES The Farm Holiday Centre has a room used as a laundry; it's also possible to use the oven and barbeque to roast meat and vegetables.
Disabled Access
Free Wifi
Park
Outdoor Pool
Laundry Service
Garden
Pets Welcomed
Credit Card Accepted
Design Hotel
Fattoria Didattica
Barbecue
Mountainbikes
Grill Room
Typical Product Market
Play Area For Children
Free Guest Parking
No Breakfast
Kitchen
Typical Furnishings
Fireplace
Hairdryer
Television
Heating
Nice View
Shared Garden
---
Surroundings (Montalto delle Marche)
The Farm holiday centre is situated in the town of Montalto delle Marche, the birthplace of the great Renaissance Pope Sisto V and the architect Giuseppe Sacconi who designed the "Altare della Patria" (Altar of the Fatherland) in Rome. Montalto, which stands at 512 metres above sea level, dominates over the Aso and Tesino rivers. It was built in the 4th Century, but was only elevated to the rank of city in 1585 by Pope Sisto V. Its central position, in the Picene hills, halfway between Ascoli Piceno (the City of Art, 30 kms) and Fermo (28kms) and the Sibylline Mountains (National Park, 32 kms) and the Adriatic (25 kms) allows it to benefit fully from the history, traditions, art, countryside, beaches and an incredible variety of village fairs as well as food and wine tasting events.
---
Map
Contrada Fonte D'ercole, 11, 63068 Montalto Delle Marche - Ascoli Piceno - Marche
---
How To Reach Us
) Autostrada (Motorway) A 14, Exit At Pedaso (26kms). Go Along The Provincial Road Valdaso Following Directions For Montalto Delle Marche. 2) Autostrada A14, Exit At Grottammare (24kms). Go Along The
Falconara Airport, Ancona (107kms), Pescara Airport (101 Kms)
---
Ratings Farm-house Il Sentiero
Guest Review Il Sentiero
| | |
| --- | --- |
| Clean Room / Apartment : | |
| Location : | |
| Quality rooms : | |
| Services : | |
| Quality/ money : | |
(Couple)
(Excellent)