Write directly to the owner to receive the best price for your vacation
OFFERS FARM-HOUSE LA CAMPANA (offers found!)
WEEKEND FESTA DELLA DONNA
Typology: Tasting
Choose: Halfboard
From: Friday 5 March 2021
Valid until: Wednesday 10 March 2021
Nights: 2
Guests: 2
Euro 220 For room
A MARZO OFFERTE WEEKEND
Typology: Nature
Choose: Bed & Breakfast
From: Tuesday 9 March 2021
Valid until: Friday 9 April 2021
Nights: 2
Guests: 2
Euro 150 For room
A MARZO OFFERTE WEEKEND DEGUSTAZIONE
Typology: Tasting
Choose: Halfboard
From: Tuesday 9 March 2021
Valid until: Friday 9 April 2021
Nights: 2
Guests: 2
Euro 210 For room
GIUGNO DEI BAMBINI! OFFERTESPECIALI FINO AL 20% DI SCONTO
Typology: Family
Choose: Halfboard
From: Tuesday 1 June 2021
Valid until: Wednesday 30 June 2021
Nights: 3
Guests: 3
Euro 160 for person
SUMMER DAYS - SOME MORE DAY! JULY
Typology: Tasting
Choose: Halfboard
From: Thursday 1 July 2021
Valid until: Wednesday 21 July 2021
Nights: 7
Guests: 2
Euro 910 For room
SUMMER DAYS - SOME MORE DAY! AUGUST
Typology: Tasting
Choose: Halfboard
From: Sunday 1 August 2021
Valid until: Wednesday 25 August 2021
Nights: 7
Guests: 2
Euro 1036 For room
Description La Campana
Nineteenth-century farmhouses surrounded by green hills of Piceno, 7km from the sea, less than an hour from Sibillini Mountains. Welcome to La Campana! La Campana was bo by the bold initiative of a group of friends together for thirty years now, escaped from the city to dream together a shared life in the countryside. Enjoy a well-deserved relaxation in the swimming pool and Jacuzzi, overlooking the hills. Savour at 0 km, based on farm products and local. Be charmed by 20 History of cultivation of Dyeing Plants and the magic of dyeing with Natural Colors. Visit the low environmental impact farm, discover our eco-friendly choices. Fall in love with our Bride-Land: explore the surrounding area by mountain bike, walk along the paths through the vineyards and in less than half an hour by car you will be in Fermo, a little way into more and reach Ascoli Piceno. You will go home and still feel on vacation, taking with you some flavor of La Campana, jams, wine, oil, juices, VinCotto of Piceno ... then come back and visit us again! We will wait you here, fallen in love with Le Marche.
Sleeping places: 35
Typology:
Rooms
Services Farm-house
-Private entrance; -Satellite TV (except room Camelia); -fan; -independent heating; -toiletries (shower gel and soap); -minibar stocked with water, wine, soft drinks and fruit juices that we produce; -the use of the refrigerator to store food in your property is free; -air conditioning (available for a surcharge in the rooms Rosa, Gialla, Torre and Colonne).
Restaurant
Breakfast Room
Disabled Access
Internet
Garden
Park
Outdoor Pool
Laundry Service
Pets Welcomed
Credit Card Accepted
Conference Room
Solarium
Meeting Room
Tennis Court
Mountainbikes
Solarium
Free Guest Parking
Typical Furnishings
Hairdryer
Minifridge
Television
Satellite Television
Heating
Fan
Shared Garden
Description rooms
We can accommodate up to 30 people, and it is possible to choose half board or bed and breakfast. We have double, triple, quadruple rooms and a suite, ideal for large families. The room's furniture is carefully selected and periodically renewed by our stylist. Each room have a private outdoor area; only Gialla and Rosa share a large pergola in front of both rooms.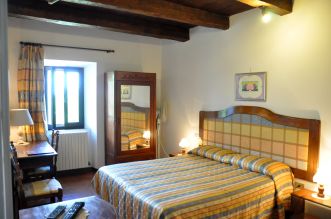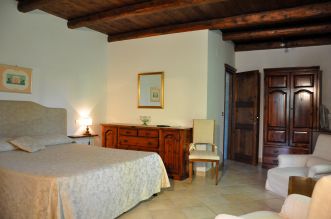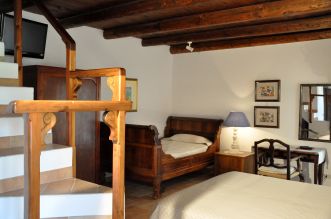 restaurant Farm-house La Campana
Our savour delicious cuisine uses only the freshest ingredients from our farm and sorrounding, according to the original meaning of "Agriturismo". You will taste products from our fruit trees; from our vegetable garden; from our sheeps and rabbits; bread, pasta and homemade pastries prepared from flour of our grain; the wine of our vineyards and our olive oil.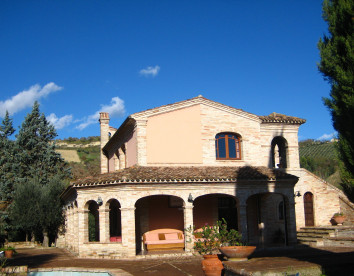 Breakfast
Breakfast Our breakfast is the reign of the handmade products. You will taste the homemade bread prepared with our own flour, our fruit juices and our marmalades and jams, every day you will find a different cake made by our pastry. Who prefers a salty breakfast will be satisfied too.
Surroundings (Montefiore dell'Aso)
La Campana is a great starting point to enjoy the varied landscape of the Piceno and the Marche. You can visit the medieval villages perched on the hills and unexpected archaeological sites and museums spread; dive into the sea of the Riviera; indulge in walks and excursions on the Sibillini Mountains. Less than an hour you will find Ascoli Piceno, the city of travertine, and his rival Fermo, characteristic for the brick buildings. For a sporting holiday, in addition to our tennis court and swimming pool, we announce a short distance adventure park Quercus Park and camp Archery Massignano.
Rates Farm-house
| | Minimum Price | Maximum Price | |
| --- | --- | --- | --- |
| Price per person per night | 42.5 | 66 | |
| Price double room per night | 85 | 116 | |
| Triple room Price per night | 105 | 153 | |
| Price family room per night | 120 | 172 | |
Checkin: From 2:00 pm to 8:00 pm (contact us if you need to check-in later)
Checkout: Until 10:00 am (late check-out until 12:00 am with extra charge)
Map
Contrada Menocchia 39, 63062 Montefiore Dell'Aso - Ascoli Piceno - Marche
How To Reach Us
Exit A14 Pedaso(north) O A Grottammare(south). Follow SS16 And Reach Cupra Marittima. Go Right On SP91 Towards Carassai. At The 6th Km Go Right. At
Nearest Station: Cupra Marittima. Most Important Near Stations: San Benedetto Del Tronto; Porto San Giorgio.
Nearest Airports: Ancona-Falconara (95 Km), Pescara (100 Km), Roma-Fiumicino (280 Km)
Guest Review La Campana
| | |
| --- | --- |
| Clean Room / Apartment : | |
| Location : | |
| Quality rooms : | |
| Services : | |
| Quality/ money : | |
(Couple)
Excellent
(Couple)
A settembre Abbiamo trascorso un piacevolissimo weekend, con noi c'era anche la nostra Cokerina. Posizione incantevole, accoglienza attenta e disponibile alle richieste, ottima la colazione e la cena. Excellent
(Couple)
Posto ideale per riposare fare sport e visitare le Marche Excellent
(Family with children)
Location molto bella. Excellent
(Family with children)
Ottima struttura, personale cortese e sempre disponibile. Esperienza molto positiva sicuramente da ripetere. Excellent
(Couple)
Siamo stati veramente ma veramente bene, coccolati in un modo difficilmente descrivibile. Spero di tornare presto, magari in estate , per godere anche della stupenda piscina. Un grazie di cuore ad Elisa ed a Roberta. Bruno Good