Farm-house Biologico Pieve Del Colle Fattoria Didattica
Via Pieve Del Colle, 1, 61049 Urbania (Pesaro E Urbino) - Marche Map
OFFERS FARM-HOUSE BIOLOGICO PIEVE DEL COLLE FATTORIA DIDATTICA (Offers found!)
NATALE CON NOI... RISCALDATI DAL FUOCO DEL CAMINETTO.
Typology: Family
Choose: Bed & Breakfast
From: Wednesday 20 December 2023
Valid until: Wednesday 27 December 2023
Nights: 3
Guests: 2 Euro 230 for person
Detail Offer
DOPO L'EPIFANIA..
Typology: Biological
Choose: Halfboard
From: Saturday 6 January 2024
Valid until: Sunday 31 March 2024
Nights: 2
Guests: 2 Euro 124 for person
Detail Offer
ULTIMO DELL'ANNO NEL MONTEFELTRO
Typology: Family
Choose: Halfboard
From: Wednesday 27 December 2023
Valid until: Friday 5 January 2024
Nights: 3
Guests: 2 Euro 250 for person
Detail Offer
EPIFANIA.. VENITE ALLA FESTA NAZIONALLE DELLA BEFANA
Typology: Family
Choose: Halfboard
From: Friday 6 January 2023
Valid until: Thursday 6 April 2023
Nights: 2
Guests: 2 Euro 124 for person
Detail Offer
---
From 74 to 96 Euro
Price double room per night
---
Description Biologico Pieve Del Colle Fattoria Didattica
Ours is a family-run organic farm, to manage the two activities - agricultural and farm are two sisters and a brother, mom, with husbands, wives and children. The organic farm covers 22 hectares in more than 24 properties for rent. The lands are located in properties around the Farm which is also the center of agricultural activities; the land forms the hill of Pieve del Colle to 351 m. above sea level. We conduct the farm cultivating various products since 1978, in 1999 we started the project farm. We grow organically with respect for the natural fertility of the earth, then we follow the rotation of crops. We produce: vegetables, fruits, grains, legumes, grapes, various seeds, truffles, firewood. We breed: pigs, lambs, chickens, geese, rabbits and pigeons, calves. We also have: a donkey (Piri) that keep us company for a few years, two dogs and Canaglia Lillo and many cats. Let Educational Farm, then free tour for our guests, and laboratories. Cooking classes, courses of wild herbs. Bike rental. Pool under construction. Playground new again. Agreements with naturalist guides, with a spa and an equestrian. We use Solar panels to heat water. The Farm "Pieve del Colle" is located in a farmhouse of 1734, restored in 2001. Restoring the house we preserved its original materials, the ceilings are of wood and tiles, floors almost always consist of old handmade bricks, the walls contain stones, bricks, tiles, tiles etc. according to the use of rural buildings of the past, the roof is made with old tiles from the characteristic red-brown color.
Description rooms
The farm-house has 5 twin-bedrooms and 1 small apartment, all with private bathroom and including bed- and bath-linen and heating. All rooms are decorated in style and have their own colorscheme. Every room has a view on part of the magnificent surrounding landscape; Urbania, the Sasso Simone, the Pieve with the century-old oak, the Monte Nerone or the Metauro-valley. Our small apartment (La Casina), 50m2, has two seperate bedrooms and a kitchen. It's situated on the courtyard, next to a covered terrace, and is suitable for people with reduced mobilty.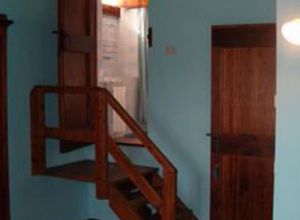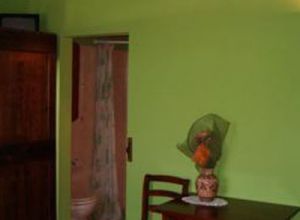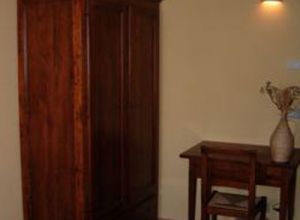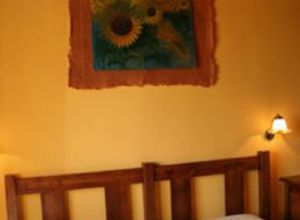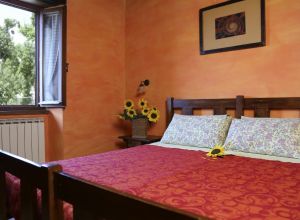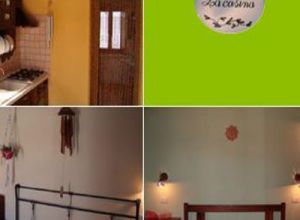 ---
Rates Farm-house
| | Minimum Price | Maximum Price | |
| --- | --- | --- | --- |
| Price per person per night | 37 | 43 | |
| Price double room per night | 74 | 96 | |
---
Services Farm-house
Let's accommodation and catering, direct sales of many farm products. Educational farm, cooking classes, courses in wild herbs, bicycle rental, children's workshops. Playground new again. In June 2015 we may have finished accomplishing a piacina. We have agreements with a spa and an equestrian.Within the company we have a balcony of Piero della Francesca concerning the Diptych of the Dukes that is exposed to the Uffizi Gallery in Florence: The Triumphs. The bottom panel found here in Pieve del Colle.
Breakfast Room
Disabled Access
Free Wifi
Cable Internet
Park
Outdoor Pool
Laundry Service
Garden
Pets Welcomed
Credit Card Accepted
Restaurant
Solarium
Riding
Fattoria Didattica
Agri Camping
Spa
Barbecue
Meeting Room
Mountainbikes
Typical Product Market
Play Area For Children
Solarium
Free Guest Parking
Kitchen
Typical Furnishings
Hairdryer
Television
Heating
Nice View
---
restaurant Farm-house Biologico Pieve Del Colle Fattoria Didattica
The restaurant is open year round, both for sleeping guests as others. We are open for lunch and diner, but reservations are necessary. The restaurant comprises two cosy diningrooms, decorated in the rustic style of the farm-house. All our dishes are made from our own hown-grown organic products. The things we do not produce ourselves, such as cheese and olive-oil, we buy at other local organic farmers. The renowned culinary traditions of the Marche, and in particular the dishes of Urbino and Montefeltro, is the centerpoint of our restaurant: home-made pasta, roasted goose and ' in porchetta', crostolo, bostrengo, fruit-liqueurs, wild flowers and herbs and ,of course, dishes with truffles. All dishes served are made here at home: the pasta, the bread, baked in the wood-oven, pastries and jams, the meats and the sauces. We pay particular attention to the traditional, local recipes and way of cooking. Senses and tastes thought to be forgotten, come back to life in our restaurant. In our kitchen we use many wild herbs, berries and flowers that we collect in the countryside around: sage, fennel, nettle, elderberry, eglantine and many more. We care about the needs of our guests, and on request we gladly prepare one of our many dishes suitable for a specific diet or food-intolerance.
---
Menù:
Appetizer widened: cold cuts of our pigs, three types of goat cheese, jams 3 rose hips, elderberry, quince, 3 vegetables in oil and sweet and sour, crescia sfogliata, esplanade to fo or wood, pumpkin cream, omelet with truffle: 12 € Capelloni wild herbs to pillow: 7 € Roast rabbit: 10 €. Mixed grill of our meats: 10 €

for person

:
26
Restaurant open to the public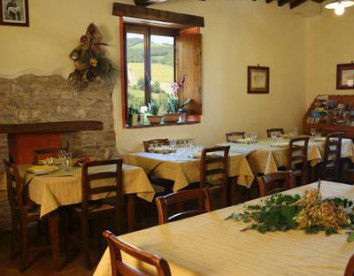 restaurant
restaurant
---
Breakfast
3 jams made with our organic fruit, our bread, milk, coffee, tea, barley, rice milk, butter, fruit, 3 desserts, yogurt juice, biscuits, co flakes, homemade bread.
---
Surroundings (Urbania)
The Organic Farm Pieve del Colle is 4 km from Urbania, 20 from Urbino, 10 from the Furlo Gorge. 45 minutes from San Leo, from Gradara, from Città di Castello, Gubbio, from Fano, Pesaro, Rimini. 1 hours from Frasassi, from San Marino. 1 hour and 15 from Assisi, from Ancona, by Conero Park
---
Map
Via Pieve Del Colle, 1, 61049 Urbania - Pesaro E Urbino - Marche
---
Ratings Farm-house Biologico Pieve Del Colle Fattoria Didattica
Guest Review Biologico Pieve Del Colle Fattoria Didattica
| | |
| --- | --- |
| Clean Room / Apartment : | |
| Location : | |
| Quality rooms : | |
| Services : | |
| Quality/ money : | |
(Couple)
Disponibili fantastici tutti gli operatori della struttura . Pace e tranquillità per un relax da sogno . (Excellent)
(Couple)
Tutto autentico, luogo incantevole, gentilezza sincera, cibo veramente bio cucinato ad arte. Complimenti !!! (Excellent)
(Family with children)
Decisamente una scelta azzeccata per famiglie con bambini, qualità del cibo ottima e accoglienza impeccabile. Ci siamo sentiti davvero a casa. Ci torneremo sicuramente. (Excellent)
(Family with children)
Top !!!!!! :))) (Excellent)
(Family with children)
Top !!!!!! :))) (Excellent)
(Family with children)
Abbiamo mangiato bene e tutti molto gentili e cordiali !!!! (Excellent)
(Family with children)
Persone molto accoglienti e ambiente incantevole. È meraviglioso svegliarsi al canto degli uccellini (Excellent)