Farm-house Lu Branu
S.S.125 ARZACHENA-PALAU AL KM 348, GPS: ARZACHENA CUNCOSU, 07021 Arzachena (Sassari)
Write directly to the owner to receive the best price for your vacation
Description Lu Branu
Our farm is situated in the heart of Costa Smeralda, surrounded by imposing impressive granite boulders, 7km far from Palau and Arzachena beaches. This area has an important archeological and naturalistic value. Our family businesses owes its origins to the "stazzo" built by our ancestors and today we continue the tradition breeding and cultivating in a area of about 370 acres. The business gives results not particularly based on speciality or quality but on the production of a few products which are genuine and typical of its own traditions. In this context we offer the chance to stay in our mini-apartaments or simple rooms, to have a tipical dinner ot to visit our "stazzo" museum and farm.
Sleeping places: 25
Typology:
Apartments Rooms
Services Farm-house
PETS WELCOMED Your pets have to be educated and kept on leash: other guests may be phobic and other animals live in our farm, we'll respect everyone. In this case, dinner will be served outside, in our cozy veranda! Pets are welcomed in our apartment as well. Breakfast will be served in our inside restaurant, so your pets have to stay in your apartment. TYPICAL PRODUCT MARKET In 2011 Agriturismo Lu Branu opened its own Km 0 Market! We sell products of our farm and several biological food from little local businesses. Furthermore you will find nice gift packages! Lu Branu shop is easy to find: we are on the statal road 125 between Arzachena and Palau, at the km 346. Our farm offers the chance to know and leaabout life in a tipical "stazzo" to schools coming visit us. To give the chance to everyone to know how our farm works, we offer as well tours in our agriturismo: During the summer it will be possible to visit our Stazzo museum and our farm, our animals and workrooms!
Breakfast Room
Internet
Park
Laundry Service
Garden
Pets Welcomed
Credit Card Accepted
Luggage Storage Service
Restaurant
Fattoria Didattica
Typical Product Market
No Breakfast
Free Guest Parking
Kitchenette
Hairdryer
Minifridge
Television
Heating
Nice View
Fan
Description rooms
We offer rooms or apartments. All the accomodations are provided with a double bed or two single beds, private bathroom with shower, TV, fridge, terrace or balcony equipped with table and chairs. Also we supply bedroom and bathroom linen, hairdryer, an additional bed or cradle on request (only in some accomodations). Furthermore our apartments have a kitchenette (fitted with fishes, cookwares, dish soap) and some have a second bedroom with 2 twin beds.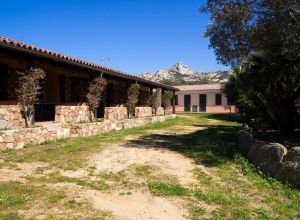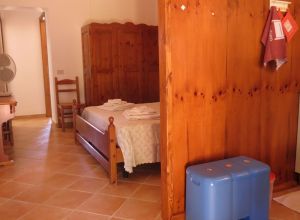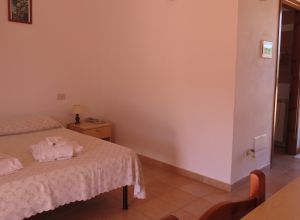 restaurant Farm-house Lu Branu
Our restaurant, immersed in the green of our farm, can accomodate about 200 people, between our inside room and veranda. In the first one, our guests can appreciate everyday-use objects and work tools belonged to our ancestors. In the second one, people can have a good apetizer of the house, while waiting for dinner. All our dishes are prepared in our kitchen. The only expeption is made for the "porcetto" and grilled sausage: these are cooked in a big fireplace where our guests can access and live our tradicion even before taste our food. Close to the restaurant children can have fun in a small playground and have a little walk to visit our animals: wildboars, peacocks, chickens, gees, ducks, rubbits and turkeys.
Menù:
TIPICAL "GALLURESE" SET MENU >>> STARTERS, 3 MAIN FIRST COURSES (Homemade), 3 MAIN SECOND COURSES, SIDE DISHES, HOMEMADE TRADITIONAL DESSERT, SEASONAL FRUIT, STILL WATER, WINE OF THE HOUSE, COFFEE, LIQUERS OF THE HOUSE. PRICE SET MENU: ADULTS 35 € - CHILDREN 11-12 years old: 25 € - CHILDREN 4-10 years old 15€ - BABIES from 2 to 3 years old 5 €. Don't hesitate to contact us for more information!
for person:
35

Restaurant open to the public

Typical Cuisine Vegetarian Dishes Vegan Cuisine Gluten Free
Breakfast
Breakfast buffet including coffee, tea, milk (warm and cold), fruit juice. Our homemade biscuits and pies. Single-serving butter and jam; homemade jam and yogurt; honey, cocoa and cereals. Cold cuts of the house; bread. Season fruit.
Surroundings (Arzachena)
Not far from our farm our guest will find culture, sport, shopping, events, relax. Some examples: >>> ARCHEOLOGY AND HISTORY: "nuraghe", "giant tombs", necropolis, Altura fortification >>> NATURE: our Sfinge Rock, the Bear Rock (Palau), La Maddalena archipelago (visitable by boat trip), "Liscia" lake (Sant'Antonio di Gallura), millenary old olive trees (Luras) >>> MUSEUMS: our Stazzo museum, Garibaldi museum (Caprera Island), ethnographic "Galluras" museum – with "Acccabbadora" section (Luras), "Labenur" and old station museum (Arzachena), Cork museum (Calangianus) >>> TIPICAL GALLLURA VILLAGES, SUMMER FESTIVALS AND MARKETS >>> THE MOST BEAUTIFUL BEACHES OF COSTA SMERALDA AND LA MADDALENA ARCHIPELAGO or Porto Pollo for surf and kite surf lovers.
Rates Farm-house
| | Minimum Price | Maximum Price | |
| --- | --- | --- | --- |
| Price per person per night | 40 | 90 | |
| Price double room per night | 65 | 110 | |
| Price family room per night | 110 | 160 | |
Checkin: from 17 o' clock
Checkout: until 16 o' clock
Map
S.S.125 ARZACHENA-PALAU AL KM 348, GPS: ARZACHENA CUNCOSU, 07021 Arzachena - Sassari - Sardinia
Guest Review Lu Branu
| | |
| --- | --- |
| Clean Room / Apartment : | |
| Location : | |
| Quality rooms : | |
| Services : | |
| Quality/ money : | |
(Couple)
Excellent