Detail Offer:
Farm-house Villa Vigna Dante
Località Podere Vigna Dante Snc, 56045 Pomarance (Pisa) - Tuscany Map
LUGLIO - Ultimo Periodo Disponibile
For apartment
1250 Euro
1150 Euro
Typology : Nature
Choose: Overnight
From: Wednesday 10 July 2024
Valid until: Monday 15 July 2024
Nights: 5
Guests: 4
COD: CD11065_1680599323
NB: This offer has been inserted directly by the manager and is exclusive only for Agriturismi.it users
Request Quote
OFFERS FARM-HOUSE VILLA VIGNA DANTE (Offers found!)
APRILE- 17/04-10/05
Typology: Nature
Choose: Overnight
From: Wednesday 17 April 2024
Valid until: Friday 10 May 2024
Nights: 7
Guests: 4 Euro 1120 For apartment
Detail Offer
LUGLIO - ULTIMO PERIODO DISPONIBILE
Typology: Nature
Choose: Overnight
From: Wednesday 10 July 2024
Valid until: Monday 15 July 2024
Nights: 5
Guests: 4 Euro 1150 For apartment
Detail Offer
GIUGNO - ULTIMO PERIODO DISPONIBILE
Typology: Nature
Choose: Overnight
From: Monday 17 June 2024
Valid until: Wednesday 26 June 2024
Nights: 9
Guests: 4 Euro 2070 For apartment
Detail Offer
MAGGIO- ULTIMA SETTIMANA DISPONIBILE
Typology: Nature
Choose: Overnight
From: Friday 17 May 2024
Valid until: Wednesday 22 May 2024
Nights: 5
Guests: 4 Euro 800 For apartment
Detail Offer
---
From 50 to 100 Euro
Price double room per night
---
Description Villa Vigna Dante
Nice country house near Pomarance, is the ideal accommodation to visit Tuscany or spend a relaxing holiday: swimming pool, solarium, terrace, bbq, pets allowed
Open air
Honeymoons
Relax
For children
Romantic
Single
Families with children
Groups of friends
Couples and boyfriends
Typology: Apartments
Description rooms
The interior of the house includes: First floor: 1 double bedroom and 1 twin bedroom. Ground floor: 1 bathroom with shower, 1 utility room, kitchen equipped with all appliances and a large living room. The villa also has a pleasant shaded terrace with tables and chairs where you can have your meals immersed in the song of birds and the chirping of cicadas. At the bottom of a slight slope you can see the large private swimming pool, surrounded by large gardens and a thick hedge to grant guests maximum privacy. A large gazebo offers a pleasant shaded area and a barbeque corner allows you to take advantage of the solarium area for small parties by the pool. The swimming pool is open seasonal, from April to November. FREE FOR AGRITURISMi.IT CUSTOMERS: a pack of local products (wine, oil, cold cuts, cheeses, pasta and game ragù *) * products may vary based on the availability of local suppliers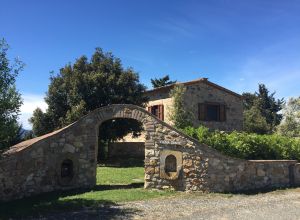 ---
Rates Farm-house
| | Minimum Price | Maximum Price | |
| --- | --- | --- | --- |
| Price per person per night | 50 | 100 | |
| Price double room per night | 50 | 100 | |
| Triple room Price per night | 50 | 100 | |
| Price family room per night | 50 | 100 | |
---
Services Farm-house
Our guests can enjoy a charming Tuscan country house finely restored and equipped with all the comforts necessary for a stay in total autonomy. Air conditioning, dishwasher, convection oven and microwave oven, satellite TV, Smart TV with direct access to Amazon Prime Video and Netflix, free wifi in all rooms and dishwasher. There is a large swimming pool for private use, outdoor barbeque and large garden. Free sheets and towels (including beach towel) are provided.
Free Wifi
Park
Outdoor Pool
Garden
Pets Welcomed
Barbecue
Typical Product Market
Free Guest Parking
No Breakfast
Kitchen
Typical Furnishings
Fireplace
Safe
Hairdryer
Television
Satellite Television
Heating
Nice View
Air Conditioning
---
restaurant Farm-house Villa Vigna Dante
The villa, in collaboration with the nearby restaurant "Da Pietro" only 300 meters away, offers half-board service with a fixed menu. Included: sweet or savory breakfast and lunch / dinner with water, first course, second course and side dish. The restaurant offers typical Tuscan dishes with handmade pasta and tortelli, grilled meat, game and homemade cakes. The owner Ughetta will welcome you with her friendliness and kindness and will transport you to the flavors of the Tuscan hills through her magnificent dishes. Half board price: € 20 per person / per day
---
Surroundings (Pomarance)
The Agriturismo Vigna Dante is located just an hour's drive from the splendid Volterra and no more than an hour and a half from the wonderful Siena, passing through the suggestive and winding streets of the Tuscan hills. For lovers of good food: Just 10 minutes by car you can eat at the renowned OSTERIA DEL GHIOTTO restaurant which offers typical Tuscan dishes and Florentine steaks cooked on the grill. All our customers will also be entitled to a free tasting at the Monteverdi SPECIALITà MUCCI E STACCIOLI shop, where the friendly owners will present their wild boar cured meats and aged cheeses in the store's cellars. For nature lovers: The house is located one step away from the huge Monterufoli Caselli nature reserve which, with its surface of almost 5,000 hectares, is recognized as one of the most important "wilderness" areas in Tuscany. The landscape boasts an extraordinary biodiversity, with vast forests and scrubs alternating with arid and rocky areas. The fauna is very rich in birds of prey (including the snake eagle) and is populated by animals such as wolves, wild cats, martens, wild boars, roe deer and fallow deer. In these remote places you can experience many adventures! You can immerse yourself in the clear waters of the Trossa and Sterza streams, walk on the "ancient green snake rocks" or observe wildlife. You can discover a gallery, a bridge or a ghost building of the ancient metal mines of the area, or visit the sumptuous "Villa of the hundred rooms". The area is also distinguished by its hydrothermal manifestations (thermal baths of Sasso Pisano) and its infernal landscapes due to the geothermal activities that characterize the whole area (Valle del Diavolo). For lovers of bathing rivers: in the Berignone Forest the enchanting natural pools of the Masso delle Fanciulle will allow visitors to immerse themselves in the waters of the Cecina River and enjoy a moment of relaxation in a fairy-tale place.
---
Map
Località Podere Vigna Dante Snc, 56045 Pomarance - Pisa - Tuscany
---
How To Reach Us
Drive Along The E80 Or The SS1 And Take The Exit CECINA NORD . Follow The Signs For LARDERELLO/RIPARBELLA/VOLTERRA And Enter The SS68. At CASINO DI TERRA, At The Traffic Circle, Take The SP DEI QUATTRO COMUNI And Follow The Road To CANNETO. At CANNETO Turn Left And Take The SP 329 PASSO DI BOCCA DI VALLE. After 5 Km Turn Left And Take LOCALITà PODERE VIGNA DANTE. In 450 M The Farmhouse Will Be On The Left.
---
Ratings Farm-house Villa Vigna Dante