Farm-house Ai Casoni
Via F. Ferracinii 21, 31013 Codognè (Treviso) - Veneto Map
OFFERS FARM-HOUSE AI CASONI (Offers found!)
COLLINE DEL PROSECCO
Typology: Family
Choose: Bed & Breakfast
From: Tuesday 11 April 2023
Valid until: Friday 3 November 2023
Nights: 7
Guests: 2 Euro 400 for person
Detail Offer
---
From 60 to 65 Euro
Price double room per night
---
Description Ai Casoni
Treviso's charming countryside with its green fields and its wineyards frame our place. Gestures are led only by the everchanging laws of nature. Time stopped in our farmhouse: ancient traditions relive in our family management and rural architectural features of this enchanted place. Oak-beamed cealings, tile floors, soft-painted walls, exposed bricks qnd antique furniture will welcome you in this comfortable environment. You will be pleasantly surprised by Nature: colours and flower scents blossom in spring, purple and golden grapes adoour wineyards in autumn, berries embellish bushes and grace our winter days. Our mountains will make you dream lulled by a peaceful and relaxing atmosphere.
Description rooms
Nearby the old farmhouse, five rooms await our guests in an elegant building that faces breathtaking mountains, clear blue skies, pure air and will give you an opportunity to relax and let go with a good book surrounded by calm silence. Time has stopped here and you will enjoy a well-deserved rest. Rooms are warm and quiet. A comfortable feeling comes from the walls fitted with beams and painted with different shades and wooden furniture. One of the rooms is painted in yellow that shines like the sun and gives strength and vitality. Two rooms are painted in orange which is the colour of energy and happiness. The last two rooms are decorated in light blue which provides quietness and harmony. Parking is available to our guests. In the rooms you can find satellite tv, wireless internet connection, writing desks, air conditioning, showers, access to the swimming pool and a courtesy bathroom set.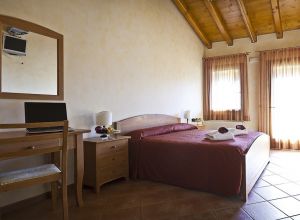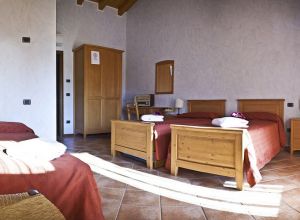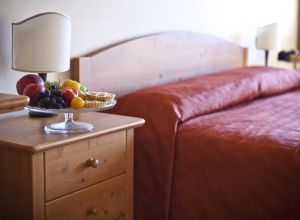 ---
Rates Farm-house
| | Minimum Price | Maximum Price | |
| --- | --- | --- | --- |
| Price per person per night | 40 | 45 | |
| Price double room per night | 60 | 65 | |
| Triple room Price per night | 85 | 90 | |
| Price family room per night | 100 | 100 | |
---
Services Farm-house
Our garden is framed by the nearby fields and wineyards and is within walking distance from the guest rooms. Even the smallest details have been chosen with great care and passion. Roses, colourful berry bushes and aromatic herbs grow in this neat area. You can also enjoy our elegant swimming pool where you can take a break to freshen up and relax laying on the comfortable deck-chairs. Enjoy the landscape with the company of a good book. On the terrace nearby the swimming pool, an event that you will stay with you forever takes place when night starts to set in. Our "aperitivi" will be served with a deliciour selection of finger food. The atmosphere is candle-lit to present you with an evening that will never forget.
Restaurant
Breakfast Room
Free Wifi
Garden
Park
Outdoor Pool
Pets Welcomed
Credit Card Accepted
Free Guest Parking
Typical Furnishings
Heating
Nice View
Air Conditioning
---
restaurant Farm-house Ai Casoni
Traditional country flavours can be savoured in all their intensity in our two dining rooms. You will enjoy the typical regional cooking with all its magical seasonal flavours. Our chef Andrea creates elegant and modecombinations for all our guests. Start with our top-quality cold meats and our pickled delicacies. Savour our home-made pasta, our ravioli. Taste spit-roasted chicken or our "al Raboso" chicken, braised beef, our stew with pears and radicchio and finish this indulgent culinary experience with our large selection of desserts. All over the year we organize themed gastronomic evening events to savour the traditional flavours of bollito, pork meat, radicchio from Treviso, mushrooms and our home-grown asparagus. Please see here a sample of our menu. It may vary according to the seasonal availability.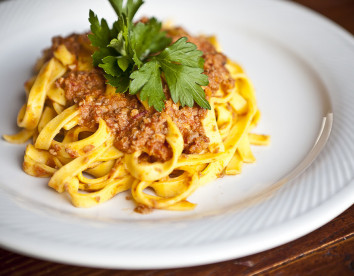 restaurant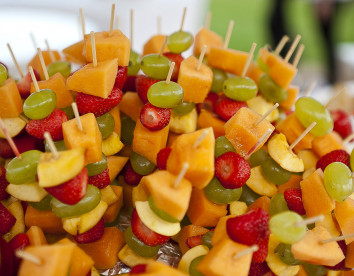 restaurant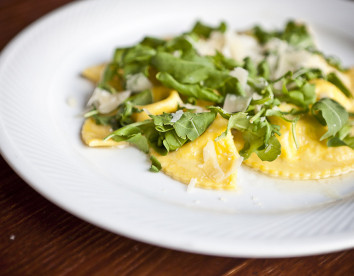 restaurant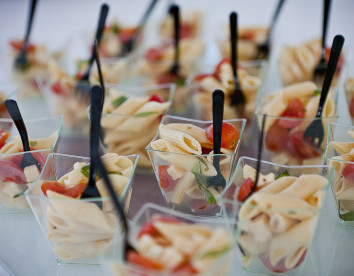 restaurant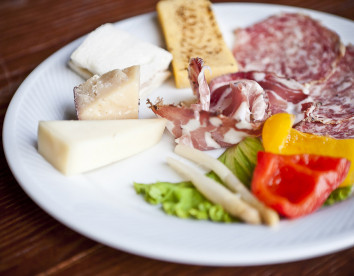 restaurant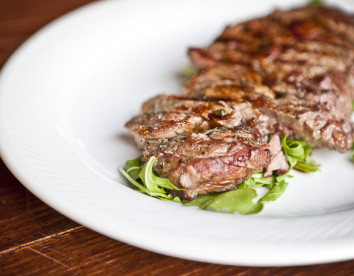 restaurant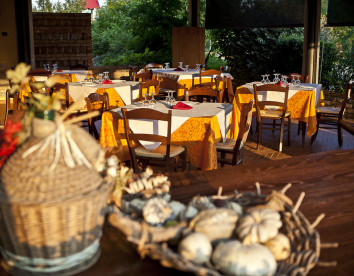 restaurant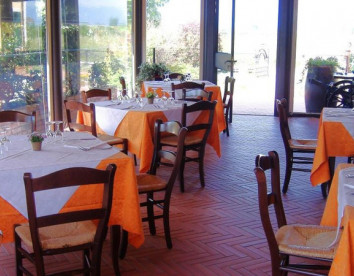 restaurant
---
Breakfast
An excellent way to start your day is a rich and inviting breakfast. You will smell the home-made biscuits and sweets such as the buck-wheat cake with jam, the amaretti cake, the chocolate and jam crostate, the biscuits with coconut served with coffee, tea or herbal and fruit infusions. Spread the home-made jams on a bed of butter and bread. If you have not a sweet tooth, we will serve warm bread, cheese and cold meats. During the warm months, you will have a chance to enjoy your breakfast in ou
---
Surroundings (Codognè)
The surroundings of this part of the Treviso region are filled with many historical and art gems. Near to us you can find Conegliano, the city that is buil on the hills where the well known "Prosecco" is produced. You will enjoy the ancient but still well preserved castle too. A short drive away will lead to other historical cities, such as Oderzo, Sacile, Treviso and Asolo. Enjoy a "passeggiata" on their old cobble-stoned streets and admire the palaces that time has not changed. Then Venice, a unique masterpiece, touched by the lagoon and embellished by the typical gondolas. f you like the seaside, explore Caorle, Jesolo, Lignano, Bibione and Grado. In Caorle, you will savour the fishermen historical borgo. Going up, facing the Dolomites, Belluno is well worth a visit.
---
Map
Via F. Ferracinii 21, 31013 Codognè - Treviso - Veneto
---
Ratings Farm-house Ai Casoni