Farm-house Il Maestrale
Via Val Del Melo, 58043 Castiglione Della Pescaia (Grosseto) - Tuscany Map
OFFERS FARM-HOUSE IL MAESTRALE (Offers found!)
OFFERTISSIMA PER COPPIE
Typology: Romantic
Choose: Overnight
From: Wednesday 28 August 2024
Valid until: Wednesday 4 September 2024
Nights: 6
Guests: 2 Euro 570 For room
Detail Offer
ULTIMA DISPONIIBLITà 30 LUGLIO-6 AGOSTO
Typology: Family
Choose: Overnight
From: Tuesday 30 July 2024
Valid until: Tuesday 6 August 2024
Nights: 6
Guests: 2 Euro 861 For apartment
Detail Offer
18-25 GIUGNO LAST MINUTE IN MAREMMA
Typology: Family
Choose: Overnight
From: Saturday 15 June 2024
Valid until: Tuesday 18 June 2024
Nights: 6
Guests: 2 Euro 600 For apartment
Detail Offer
---
From 67 to 123 Euro
Price double room per night
---
Description Il Maestrale
The green of the generous nature in which the farmhouse is immersed and the atmosphere of absolute peace and familiarity will welcome you on your arrival. A stay in full respect of the environment, in an enchanting countryside, a stone's throw from a crystal clear sea and from those destinations that make the Maremma territory appreciated and unmistakable. The farmhouse will welcome you in comfortable rooms furnished with care, inspired by the style, tones and colors of Tuscany. Everything to recreate the feeling of rural life of the past marked by simplicity and tranquility. The complex is divided into three units with lovely apartments inspired by the rural tradition of Tuscany where, with simplicity, you recreate the atmosphere of the past but with modecomforts. The first unit is the family farmhouse, Il Maestrale, where, on the second floor, the owners live, while, on the ground floor, there are the apartments "La Mimosa" and "La Giara" as well as the double bedroom "L'Oleandro". The second unit, Il Nuovo Casale, hosts, on the ground floor, the apartments "Le Rose", "Gli Olivi" and "Le Spighe" while, on the second floor, there is the apartment "I Fiori". The four lodgings are built according to the canons of energy saving. The third unit is composed of the apartments "I Lamponi" and "l'arancia". Finally there is the independent house "Il Boschetto" located near the olive grove, next to the playground. Complete the farm: a beautiful common garden, a beautiful olive grove, a swimming pool with deckchairs and sunbeds as well as a reading-relaxation room. At service: WiFi, bicycles, table tennis, barbecue, washing machine, covered parking and playground. Immersed in a beautiful and lush countryside between the green fields and the Mediterranean, with a large communal garden with a lawn nice and tidy, the farm offers pleasant moments of leisure and relaxation. In the company you can find the excellent extra virgin olive oil of our production. Translated with www
Cod: SCIA prot.n.13543 del 20.05.2021 il Maestrale i Pantini Anna,Castiglione della Pescaia (GR)
Experience the sea
Open air
Relax
For children
Ecological
Single
Families with children
Groups of friends
Bikers
Couples and boyfriends
Typology: Apartments Rooms
Who we are
Hi, I'm Daniela, I live on a farm with my family. I have a PhD in public law but I preferred to continue the family business. The owner is my mother, Anna, and together with her I manage this structure. I do it with a lot of love and I hope to offer you a pleasantly satisfying stay. It was a farm, bofrom the reclamation of the Maremma in the 50s and slowly and lovingly grew and changed into a farmhouse. We have found in this new activity, undertaken in the year 2000, not only a new source of income but the opportunity to meet and get to know people from various parts of the world. I am sure that the silence and greenery as well as the starry night sky will fill your heart. We live with the rhythms of nature and total respect. We all strive to offer a professional service that is satisfactory but we are careful to preserve the environment. We have chosen to produce high quality oil.
Description rooms
The farm consists of 4 housing units built in an environmentally friendly and energy-saving manner. The accommodation is equipped with modecomforts: thermo-acoustic insulation, air conditioning, satellite TV, Wifi but, thanks to the rustic flavour of the typically Tuscan-style furnishings, it recreates an ancient rural atmosphere. The porches on the garden, a large, soft green lawn, allow for maximum relaxation, as does the covered, panoramic terrace of the I Fiori apartment, which opens onto a landscape from the hills to the sea. We have 11 lodgings: 10 flats and 1 double room L'oleandro. The structure consists of: 6 two-room apartments for 2 adults: La Mimosa, I Lamponi, Le rose, Gli Olivi, Le spighe and I Fiori; 2 three-room apartments for 3 adults: La Fonte and L'arancia and finally an independent cottage, Il Boschetto, with a large triple room. The flats can accommodate an additional child under 12 years of age. Available: bicycles, cots, highchairs and safety bars.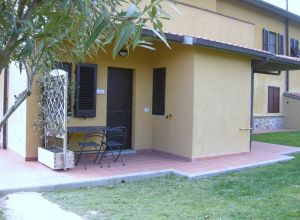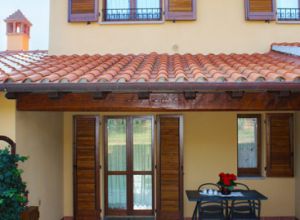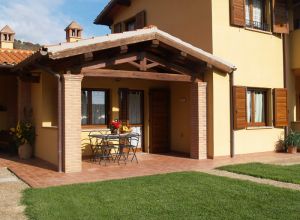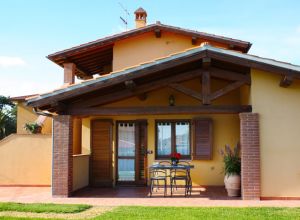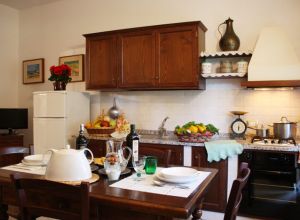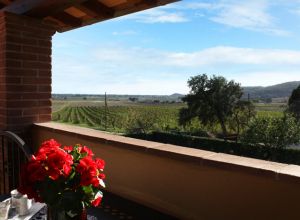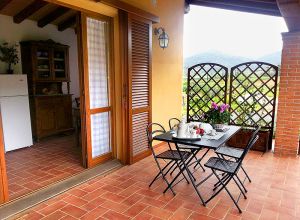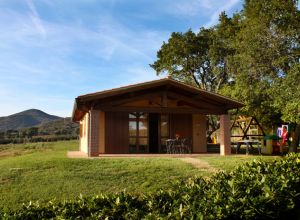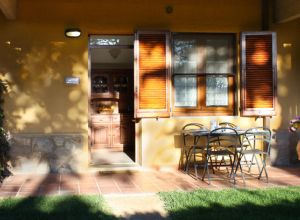 ---
Rates Farm-house
| | Minimum Price | Maximum Price | |
| --- | --- | --- | --- |
| Price per person per night | 34 | 61 | |
| Price double room per night | 67 | 123 | |
| Triple room Price per night | 96 | 153 | |
| Price family room per night | 101 | 161 | |
---
Services Farm-house
On the farm we have tried to meet the needs of our tourists to ensure their tranquility and pleasant stay. In the lodgings and in the outdoor areas there is Wifi coverage, satellite TVs are in every lodging. Externally the lodgings are surrounded by a large soft grass carpet where children can freely play and adults can relax and sunbathe. There is a playground in the shade of beautiful oak trees, a ping pong table, citybikes also with child seats, two barbecues, a covered car park with one space per accommodation. There is an automated swimming pool where you can safely enjoy a refreshing swim or stop to read a good book in the shade of the mulberry trees or in the relaxation lounge. The family vegetable garden is available for fresh aromas. We sell our excellent extra virgin olive oil. We have discount agreements for: excellent restaurants nearby, parking in the sea area, bathing establishments and tourist excursions.
Covered Parking
Disabled Access
Free Wifi
Outdoor Pool
Laundry Service
Garden
Pets Welcomed
Credit Card Accepted
Barbecue
Mountainbikes
Typical Product Market
Ping Pong
Play Area For Children
Free Guest Parking
No Breakfast
Kitchenette
Kitchen
Typical Furnishings
Hairdryer
Minifridge
Television
Satellite Television
Heating
Nice View
Fan
Air Conditioning
Shared Garden
---
Surroundings (Castiglione della Pescaia)
The property is immersed in the nature of the generous Tuscan Maremma, 2.5 km from the crystal clear sea of the renowned Rocchette beach. Guests can not only practise all water sports or enjoy a mini-cruise of the Tuscan archipelago, but also trek, cycle on the road or ride a mountain bike along beautiful paths through the woods and visit places of historical memory such as the Hermitage of Malavalle, the Etruscan necropolis of Vetulonia or the archaeological site of Roselle. At 6 km the splendid naturalistic area of Diaccia Botrona offers wonders to birdwatchers. Nearby you can play golf, tennis and horse riding. Easily reachable cities of art such as Siena, Florence and Rome and wonderful thermal places such as Saturnia or the Calidario of Venturina. The splendid tuff area with Pitigliano, Sorano and Sovana is within easy reach. The Maremma Regional Park with its natural and historical beauty. Not only the sea but nature and history surround us and can offer opportunities for recreation or cultural enrichment. Relaxation and more. We are waiting for you and will be able to offer you precious tourist information about our territory. Without forgetting the typical Tuscan cuisine to be tasted also by taking advantage of our discount conventions

Checkin: Saturday/Sunday from 5 p.m.

Checkout: Saturday/Sunday by 10.00 a.m.
---
Map
Via Val Del Melo, 58043 Castiglione Della Pescaia - Grosseto - Tuscany
---
How To Reach Us
You Can Reach Us Using These Google Map Coordinates: 42.799711981478445, 10.824593581146654
---
Ratings Farm-house Il Maestrale
Guest Review Il Maestrale
| | |
| --- | --- |
| Clean Room / Apartment : | |
| Location : | |
| Quality rooms : | |
| Services : | |
| Quality/ money : | |
(Family with children)
Immerso nella dolce campagna della Maremma, ma comunque molto vicino al mare e a Castiglione della Pescaia, si trova questo bel casale ristrutturato con appartamenti nuovi e piacevoli. Il giardino dove si trova la piscina è molto ben curato con splendide ed enormi palme. Tutt'intorno ulivi e campi. Ma sono soprattutto tre le cose che mi hanno colpito: Prima di tutto il silenzio che ti rilassa. Secondo la pulizia degli appartamenti e di tutta la tenuta. E soprattutto terzo....la gentilezza e dis (Excellent)
(Couple)
Io e mia moglie abbiamo soggiornato al Maestrale nell'estate del 2011,2013 e nel 2014 nella prima settimana di Settembre. I primi due anni siamo stati nell'appartamento "Il Boschetto" , quest'anno in quello denominato " La Fonte". I proprietari mi hanno mostrato anche altri alloggi , pertanto confermo il giudizio positivo, come già fatto nelle altre recensioni , per quanto attiene alla qualità dell'arredamento, la pulizia degli alloggi ,la completezza delle dotazioni. Un capiente parcheggio custodito , coperto da tettoia, ampi giardini curatissimi e ricchi di piante mediterranee ,il vasto uliveto ,la tranquillità di Pian di Rocca , completano il quadro di una struttura in cui il benessere è tangibile. Parere positivo anche sulla cordialità e disponibilità delle persone proprietarie e conduttrici dell'agriturismo che ,fra l'altro , hanno la dote di instaurare rapporti chiari e ben definiti con la clientela. Il sito Internet è affidabile e completo per immagini ed informazioni sulla struttura. L'agriturismo Il Maestrale possiede tutte le caratteristiche che mi portano a consigliarlo vivamente. Invito i proprietari a proseguire nella strada intrapresa . (Excellent)