Farm-house Le Selvole
Micciano, 56045 Pomarance (Pisa) - Tuscany Map
OFFERS FARM-HOUSE LE SELVOLE (Offers found!)
FEBRUARY MONTH OF THE LOVERS
Typology: Romantic
Choose: Bed & Breakfast
From: Thursday 1 Febraury 2024
Valid until: Wednesday 28 Febraury 2024
Nights: 2
Guests: 2 Euro 190 For apartment
Detail Offer
REGENERATING STAY IN THE BEAUTIFUL TUSCANY
Typology: Family
Choose: Overnight
From: Sunday 1 January 2023
Valid until: Sunday 31 December 2023
Nights: 3
Guests: 5 Max Euro 350 For apartment
Detail Offer
10% DISCOUNT FOR WEEKLY STAYS 2023
Typology: Family
Choose: Overnight
From: Monday 15 May 2023
Valid until: Sunday 9 July 2023
Nights: 7
Guests: 5 Max Euro 820 For apartment
Detail Offer
EASTER IN TUSCANY
Typology: Family
Choose: Overnight
From: Monday 1 April 2024
Valid until: Wednesday 17 April 2024
Nights: 3
Guests: 4 Euro 310 For apartment
Detail Offer
FESTE DELL'EPIFANIA
Typology: Tasting
Choose: Overnight
From: Tuesday 2 January 2024
Valid until: Monday 8 January 2024
Nights: 2
Guests: 2 Euro 150 For apartment
Detail Offer
---
From 80 to 100 Euro
Price double room per night
---
Description Le Selvole
Nestled in the beautiful green countryside of Tuscany most unknow in a family atmosphere, Le Selvole offers guests a relaxing stay in absolute contact with nature. Agriturismo Le Selvole is situated in Upper Cecina Valley, municipality of Pomarance, Pisa province, 20 km from the beautiful Volterra. Authentic farmhouse situated in a natural and scenic background, in an unspoilt spot among green hills, vineyards and olive groves, in a pastoral and agricoltural area in the hilly Tuscan countryside. Le Selvole enjoys a scenic, absolutely tranquil position among cultivated fields and extensive woods, the ideal place for walking and excursions Ideal place to live the experience of a holiday in a real farm. Pleasant swimming pool surrounded by a large garden, surrounded by vineyards and trees. Availability also that a common area with a large porch where guests can rest, play, cook together or do a barbecue, in a pleasant and quiet atmosphere. The big common area is the ideal place to receive guests and reference for information on the territory, local events and itineraries. Inside there are also a bathroom with shower, washing-machine and ironing room, satellite TV, fridge and Wood fireplace, plus a large kitchen with large table. In the garden there are also children's games and a barbecue. There is ample covered car parking.
Cod: 9/99
Fun trips
Open air
Art and culture
Eat well
Relax
For children
Romantic
Wellness
Adventure
Families with children
Groups of friends
Students
Bikers
Couples and boyfriends
Disabled people
Typology: Apartments
Who we are
We manage the farm for 20 years. With my family we welcome travelers, we take care of the crops, raise animals. We decided together to manage a farm to live in nature. The favorite thing to guests of Le Selvole is the warm welcome, at home.
Description rooms
The spacious apartments are a guarantee of relax and comfort like at home: a fully equipped kitchen, comfortable bedrooms, private space outside, with free Wi-Fi. Antique furniture, art poor, stenciling on the walls, and decorations made entirely by hand, they breathe a particularly warm and familiar atmosphere. The residence is a typical farmhouse, recently restructured in the original style of aTuscan country house. It has 4 big apartments with their own entrances and heating. Two are on the ground floor, and the other two on the first floor. All the apartments have two bedrooms, a bathroom with shower and bidet, and a spacious well furnished kitchen. Every apartment has a different name - Girasole (Sunflower), Olivo (Olive), Uva(Grape), Spiga (Wheat-ear) - and different features. One of the apartments on the ground floor has facilities for people with mobility difficulties. The area outside the house is still accessible.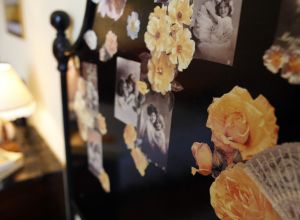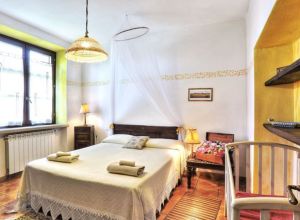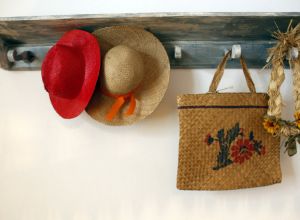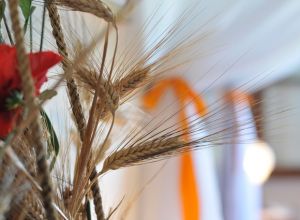 ---
Rates Farm-house
| | Minimum Price | Maximum Price | |
| --- | --- | --- | --- |
| Price per person per night | 30 | 40 | |
| Price double room per night | 80 | 100 | |
---
Services Farm-house
LIFE IN THE COUNTRY Opportunity to visit the farm's seasonal activities (harvest, harvesting, cutting and baling hay, etc ...) and farm animals (chickens, rabbits, goats and pigs), especially with the involvement of children. ON HORSE For adult and children, possibility of horse riding activities at the HORSE CENTER "SANTA BARBARA" in Pomarance (7 km), with whom we work: lessons with ponies and horses, horseback riding, hiking and green weeks in the summer for children. COOKING WITH DINNER For adult and children, possibility of a short course of preparation of dishes of Tuscan cuisine, with the support of professional chef. Afterwards, dinner as prepared. EXCURSIONS AND GUIDED IN VALDICECINA From April to November, opportunity to join the program of "Excursions in Valdicecina" promoted by the Environment Service of the Province of Pisa
Covered Parking
Breakfast Room
Disabled Access
Free Wifi
Outdoor Pool
Laundry Service
Garden
Pets Welcomed
Credit Card Accepted
Luggage Storage Service
Restaurant
Riding
Agri Camping
Barbecue
Meeting Room
Mountainbikes
Typical Product Market
Play Area For Children
Free Guest Parking
Kitchen
Typical Furnishings
Hairdryer
Minifridge
Television
Satellite Television
Heating
Nice View
Fan
Shared Garden
---
restaurant Farm-house Le Selvole
The farm covers about 70 hectares where mostly cereals (wheat, barley and oats) are cultivated, and a good wine produced by traditional methods comes from the beautiful vineyard close to the farm. The farm is owned and run by the Marzoli family, who live in a house 100 metres away from the agritourism. The familiar management by the Family Marzoli, with special care and attention to its guests, allows a direct and continuous contact with guests. It's possible to make tasting of Tuscan cuisine prepared with genuine products, especially vegetables, and with use of Tuscan products at km 0, recalling the tradition of the old recipes Homemade. Production of wine and oil, with methods of traditional peasant wisdom. Opportunity to visit the farm activities and the animals: chickens, rabbits, goats and pigs. Pets are welcome at the farm. In this naturally beautiful setting, guests can walk or by mountain see the farm.
---
Menù:
It's possible to make tasting of Tuscan cuisine prepared with genuine products, especially vegetables, and with use of Tuscan products at km 0, recalling the tradition of the old recipes Homemade.

for person

:
25
Restaurant reserved for guests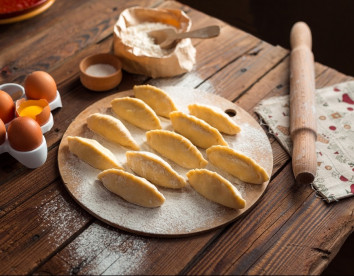 restaurant
---
Breakfast
Typical Tuscan breakfast: home-made cake, bread and jam, coffee, milk, tea, juice, yogurt. Salty on request
---
Surroundings (Pomarance)
Strategic position for visits the artistical Tuscan cities: Volterra (25 km), San Gimignano (55 km), Pisa (90 km), Lucca (110 km), Siena (70 km) and Florence (90 km). But also proximity to the Tyrrhenian coast, with easy access to the beaches of Vada (40 km), Cecina (35 km), Bibbona (30 km) and San Vincenzo (60 km). And yet uniqueness of the area with the proximity of Larderello and the natural geothermal manifestations: fumaroles and putizze, hot springs between jets of steam and bubbling pools of water, an iconic and unique natural environment. Besides direct contact with nature and unspoiled landscapes to discover, given the proximity to the nature reserve of Monterufoli-Caselli (10 km) and other Protected Areas of Alta Val di Cecina.
---
Map
Micciano, 56045 Pomarance - Pisa - Tuscany
---
How To Reach Us
Da Pisa O Da Firenze
Da Cecina O Pontedera
Da Pisa
---
Ratings Farm-house Le Selvole
Guest Review Le Selvole
| | |
| --- | --- |
| Clean Room / Apartment : | |
| Location : | |
| Quality rooms : | |
| Services : | |
| Quality/ money : | |
(Family with children)
buono (Good)
(Family with children)
agriturismo bellissimo in un luogo davvero splendido; tanta calma e relax al top. (Excellent)
(Family with children)
un agriturismo davvero bello, immerso nel verde della collina Toscana, ottimo per visitare Volterra, San Gimignano e non troppo lontano dal mare. Ci torneremo (Excellent)
(Family with children)
Bellissima vacanza! Abbiamo soggiornato con i nostri 2 bimbi, posto magnifico immerso nel verde, luogo ideale per rilassarsi e staccare la spina! Fantastico sedersi fuori e "ascoltare" il silenzio! Massima disponibilità da parte dei proprietari. Lo consigliamo! (Good)
(Group of Friends)
Siamo andati a Capodanno in gruppo prenotando l'intera struttura e è stata una vacanza bellissimi. I grandi appartamenti, spazi esterni e ambienti comuni, si rendono molto adatti alla vacanza in gruppo. (Excellent)
(Group of Friends)
(Excellent)
(Family with children)
(Excellent)
Bellissimo (Family with children)
Mi ricordo soprattutto la pace e la qualità del cibo. Ci torneremo la prossima estate. (Good)