Country House Casale Il Colombaio Di Toiano
Strada Di Caldana, 4 Loc.toiano, 53018 Sovicille (Siena) Map
OFFERS COUNTRY HOUSE CASALE IL COLOMBAIO DI TOIANO (offers found!)
FESTIVITA' DI FINE ANNO A SIENA -
Typology: Romantic
Choose: Bed & Breakfast
From: Friday 1 April 2022
Valid until: Thursday 7 April 2022
Nights: 3
Guests: 2 Euro 295 for person
Detail Offer
---
Description Casale Il Colombaio Di Toiano
Il Colombaio di Toiano is a small and ancient Casale Toscano, we think it is the most beautiful in the world, for the harmony and well-being that infuses its ancient architecture, it is the highest expression of the power of beauty. You can physically distance yourself from the infinite structure, its image and its energy will remain forever inside you, in the mind and in the heart. This is the magical beauty of this small farmhouse.  Located on the VIA FRANCIGENA of Siena (the city can be reached in 5 minutes by car), in an excellent geographical position to reach, with short journeys by car, 30 minutes, San Gimignano, the Chianti, Pienza, Montalcino and Montepulciano and the beautiful Abbeys of San Galgano and Monte Uliveto Maggiore. The farmhouse and the landscape are beautiful, enter TRIPADVISOR and scroll through the photos taken by our guests, they are 141, I, Giuseppina, are the one in the photo on the vintage car on the prospectus of the Casale. Here you will feel in an Earthly Paradise and you will experience, at every moment of your stay, a deep sense of "Harmony". Read the reviews, it's important because they describe the atmosphere and the little comforts you will find. They also talk about us, Giuseppina and Paolo. Here's who we are: - two Italian boys who met in this Casale 25 years ago and fell in love with it. Since then we live here and we host travelers from all over the world and from them, listening to them and observing them, we have learned the uses, customs and traits of their culture. LISTEN AND RESPECT people and be close to them with simplicity and small welcoming gestures. This is the thought that we send you, when you think of a structure to spend your holidays, first read the testimonies of the guests, if they speak more about the people who will host you than the services you will find, that is the place to choose. There you will feel at every moment of the holiday as in your home. Greetings from Siena, Giuseppina and Paolo.
95 - 125 Euro
Price double room per night
Typology: Apartments Rooms
Who we are
We are Josephine and Paul and conduct this old Farmhouse on Siena. Upon your arrival you will be surprised by the atmosphere and the comfort that you will find and you will feel like in your home.Non find luxury but beauty and positivity that will surround you.On TRIPADVISOR in all the reviews you will find written our names and our being, read to each witness is different but all will confirm our reliability, especially, as people.
Description rooms
All rooms are very clean, spacious and bright and elegantly furnished respectfully of the historical features of the structure. They are equipped with private bathrooms, Satellite TV, minibar, bedside tables, wardrobe, writing desk with a comfortable chair, where you may stop the time for a while, taking notes of all the colours, flavours and emotions of your holiday. The two apartments with independent accesses, have been restored in a farmhouse style, respectful of the historical features of the original structure, reusing the original rafters and tiles with unplastered walls. Thanks to the accurate furnishing, it will be like going back in time. "Quadrifoglio" (2+2) has two access doors, two double rooms with two bathrooms, a new kitchen in poor art style equipped with oven and a sofa bed and satellite TV. "Girasole" (3+2) has one double and one single room with two bathrooms. The spacious living room has a kitchen in poor art style with oven and a sofa bed and sat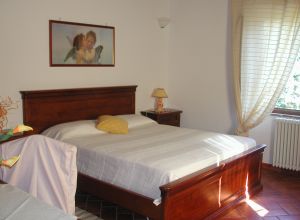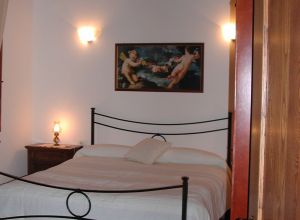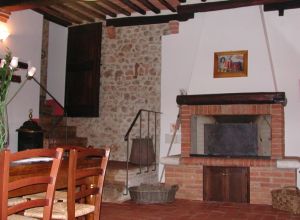 ---
Rates Country House
| | Minimum Price | Maximum Price | |
| --- | --- | --- | --- |
| Price per person per night | 45 | 65 | |
| Price double room per night | 95 | 125 | |
| Triple room Price per night | 120 | 160 | |
| Price family room per night | 160 | 195 | |
---
Services Country House
Covered Parking
Breakfast Room
Internet
Cable Internet
Park
Laundry Service
Garden
Credit Card Accepted
Restaurant
Barbecue
Meeting Room
Bar
Free Guest Parking
Typical Product Market
Kitchenette
Typical Furnishings
Fireplace
Hairdryer
Minibar
Minifridge
Television
Satellite Television
Heating
Nice View
Fan
Shared Garden
---
restaurant Country House Casale Il Colombaio Di Toiano
We have friends who work abroad and to eat well, after finishing work, they have to do 80/100 km. by car to find a good restaurant. We have been hosting people from all over the world for 30 years and our statistics, which is not a judgment, is this: - all claim that "as we eat in Italy we don't eat anywhere else". Therefore, cooking, good food is, in our opinion, the maximum expression of culture. Unfortunately, it is becoming a luxury, a rarity. The message we send you is to dedicate at least a small part of your time to this "art", not to wait for it from others but to give space to your creativity, you will be surprised to see your self-esteem and smiles grow, even in the approximations. Do it at home, along with the people you love, and if you have children do it with them, before or after school homework doesn't matter but do it. For us who have 5 grandchildren the kitchen has become an educational laboratory where each time is a new discovery and rediscovery of us and of what we can create. So when you come to visit us we will exchange small recipes and the secrets to achieve them. Reviews almost always delineate the surface and the appearance, the secret is to look for, if any, deeper meanings and substance to try to understand if that is the place to feel, on vacation, as in one's own home , in the kitchen and in other small natural comforts. The dishes we offer to our guests are those typical of the ancient Tuscan country tradition (pici cacio e pepe or ragù di Cinta, Bistecca alla Fiorentina, etc.) and Chianti wines, Classico Gallo Nero or Colli Senesi, Rosso and Brunello di Montalcino. We had an excellent vintage of wine and, above all, of the oil that you will smell and taste on our plates. Greetings from Giuseppina (cook) and Paolo (her husband and helper).
for person
:
30
Restaurant open to the public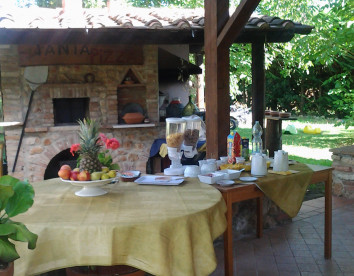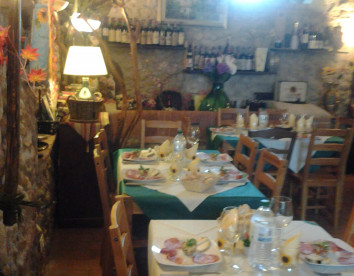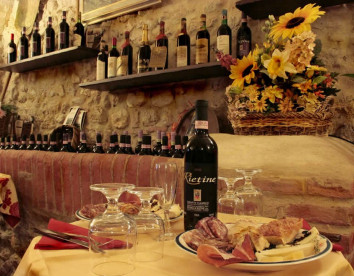 ---
Surroundings (Sovicille)
Services near us: Restaurant: 100 mt, Pharmacie: 1.5 Km, Bank: 1.5 Km, Supermarket: 5 Km, Airport: 4 Km, Churc "Pieve di San Giovanni Battista": 800 m, Sovicille center: 1,5 Km, Siena: 8 Km (a jewel of extremely rare beauty with its magnificent Tuscan Gothic buildings and also thanks to its Piazza Il Campo, one of the widest and wolrd's most beautiful places where the most ancient horse race takes place. Twice each year on July 2nd and August 16th, 17 "contrade" (city wards) of Siena compete for the "Palio"), Eremo di lecceto: 4 Km, Monteriggioni: 15 Km (It is an ancient completely battlemented castle, with its absolutely unique structure; it has been preserved through the ages and is mentioned also in Dante Alighieri's Divina Commedia), San Gimignano: 40 Km, Montalcino: 40 Km, Firenze: 80 Km, Montepulciano: 50 Km, Castiglione della Pescaia: 80 Km, Terme di petriolo: 20 Km, Castellina in chianti: 35km.
Checkin: TO AGREE WITH THE GUESTS
Checkout: TO AGREE WITH THE GUESTS
---
Map
Strada Di Caldana, 4 Loc.toiano, 53018 Sovicille - Siena - Tuscany
Guest Review Casale Il Colombaio Di Toiano
| | |
| --- | --- |
| Clean Room / Apartment : | |
| Location : | |
| Quality rooms : | |
| Services : | |
| Quality/ money : | |
(Couple)
La maison est très bien placée par rapport à Sienne et les villages alentours. La maison est à moins de 10 min de Sienne. Giuseppina et Paolo sont très sympathiques et très chaleureux. Malgré notre manque de connaissance de l'italien nous avons pu discuter de nombreuses choses. Paolo a beaucoup d'humour aussi. La maison est spacieuse, le grand jardin est ombragé et verdoyant. Les chambres et les salles de bain sont vraiment impeccables, c'est agréable. Je recommande ce B&B. Philippe et François Good
(Couple)
Ottima posizione per visitare Siena e dintorni. Casale del 1200 ristrutturato tenendo conto dell'antica struttura . Ambiente curato...rillassante ..e ospitale. I proprietari Paolo e Giuseppina sono persone eccezionali. Se ci fossero più persone in questo mondo con la stessa intelligenza ...umiltà ed educazione...persone empatiche. ....sarebbe un mondo migliore. Grazie Paolo e Giuseppina Excellent
(Family with children)
Ottimo soggiorno, bella posizione in cima alla collina, cibo molto buono e abbondante, gestori molto simpatici e disponibili. Good
(Couple)
Excellent
(Couple)
Davvero uno splendido agriturismo, curato e accogliente. Gentilissimi Paolo e Giuseppina. Lo consiglio a tutti! Excellent
(Couple)
Excellent