Farm-house Poggio Bellavista
Via Lopi 12, 06060 Castiglione Del Lago (Perugia) - Umbria Map
OFFERS FARM-HOUSE POGGIO BELLAVISTA (Offers found!)
UNA NOTTE GRATIS
Choose: Overnight
From: Tuesday 1 October 2024
Valid until: Thursday 31 October 2024
Nights: 3
Guests: 10 Max Euro 35 Price per person per night
Detail Offer
SETTEMBRE A 30 EURO AL GIORNO A PERSONA
Typology: Family
Choose: Overnight
From: Sunday 1 September 2024
Valid until: Monday 30 September 2024
Nights: 7
Guests: 6 Max Euro 210 for person
Detail Offer
---
From 57 to 97 Euro
Price double room per night
---
Description Poggio Bellavista
"PoggioBellaVista" Countryhouse is situated in one of the best positions available around the Trasimeno Lake Hills.Several factors make this place the right choice for a stay; It is a very relaxing place, that offers many opportunities to experience the joy of the country life, and it is also in a strategic position to reach in a short time the most famous and interesting localities in Toscany and Umbria. Places like Assisi, Cortona, Perugia, Orvieto, Città della Pieve, Chiusi, Siena and many others can be reached in less than one hour. If you want to enjoy yourselves in the country complex, you can have a walk in the thirty hectares property, completely closed and safe, trying to observe the wild animals that live there; phasants, hares, deers, are available for every people who like the nature.A small lake is also available for people who like to spend some relaxing hour fishing… enjoy yourself with a big carp!It is also possible, for all the people who live in big towns and very seldom have this opportunity, to observe most of the farm animals.When the main must is relax 100%, a wide wonderful swimming pool is the best solution; Nothing better than taking the sun around the swimming pool and having a bathe when temperature becomes too high…. In the meanwhile children enjoy themselves with outdoors games.
Typology: Apartments Rooms
Description rooms
All apartments have independent entrance and are equipped with every comfort, from the washing machine and dishwasher in every room are spacious and comfortable sofa beds. The decor is rustic and warm, with detailed attention to details and accessories.The 4 ground floor apartments have private outdoor patio, while the remaining 3 on the first floor all have private terrace with a splendid view over Lake Trasimeno and the surrounding hills.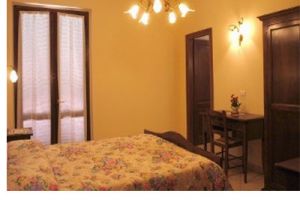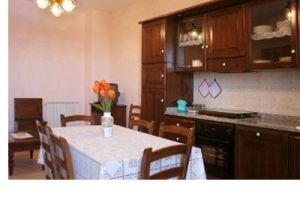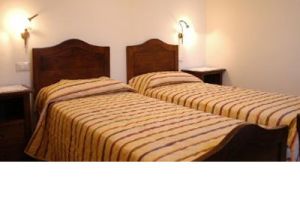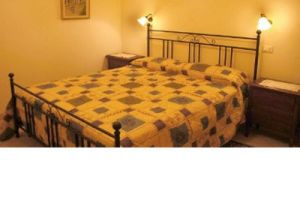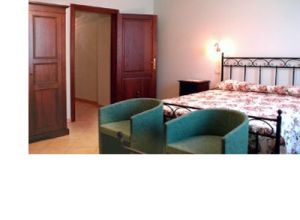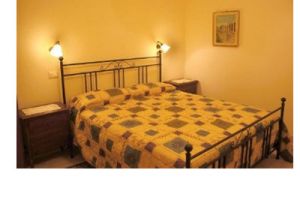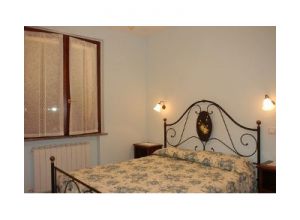 ---
Rates Farm-house
| | Minimum Price | Maximum Price | |
| --- | --- | --- | --- |
| Price per person per night | 30 | 40 | |
| Price double room per night | 57 | 97 | |
---
Services Farm-house
The farmhouse has a swimming pool measuring 18x7 m. and is equipped with a bar where, on request, they also do the breakfast service.In addition, private parking and shaded is available to guests.Inside the structure there is a small lake for fishing and you can make walks or mountain bike.A 5 km. there is the possibility of riding in a horse riding school. Supermarkets and restaurants are just a few kilometers.
Breakfast Room
Free Wifi
Park
Outdoor Pool
Riding
Mountainbikes
Free Guest Parking
Bar
Kitchenette
Typical Furnishings
Fireplace
Minifridge
Bath
Television
Satellite Television
Nice View
---
Surroundings (Castiglione del Lago)
The location of the farm can enjoy a marvelous view of the lake and easy access to the major artistic centers of Umbria and Tuscany. Among these mention Assisi, Gubbio, Perugia, Orvieto, Todi, Cortona, Florence, Siena, San Gimignano, Chiusi.
---
Map
Via Lopi 12, 06060 Castiglione Del Lago - Perugia - Umbria
---
Ratings Farm-house Poggio Bellavista
Guest Review Poggio Bellavista
| | |
| --- | --- |
| Clean Room / Apartment : | |
| Location : | |
| Quality rooms : | |
| Services : | |
| Quality/ money : | |
(Family with children)
Tutto il personale è stato carinissimo professionale in ogni occasione, struttura ben organizzata pulita, ottima la ristorazione, a mio giudizio reputo inopportuno la colazione a pagamento, che cmq è di ottima qualità La struttura d'estate da il meglio di se!! (Excellent)
(Family with children)
Ottima posizione, recente ristrutturazione di appartamenti puliti, ben arredati e spaziosi per famiglie numerose. Buona accoglienza e buon rapporto qualità prezzo. Sicuramente da consigliare. (Excellent)
(Family with children)
Bellissima struttura immersa nella natura con tutti i comfort! Ideale per chi viaggia con i bambini! La consigliamo sicuramente! (Excellent)