Farm-house Villa Dama
Loc. Torre Dell'Olmo 10, 06024 Gubbio (Perugia) - Umbria Map
OFFERS FARM-HOUSE VILLA DAMA (Offers found!)
EASTER AT VILLA DAMA: RELAX AND GOOD FOOD
Typology: Family
Choose: Bed & Breakfast
From: Monday 1 April 2024
Valid until: Wednesday 29 May 2024
Nights: 2
Guests: 2 Euro 110 for person
Detail Offer
SUMMER RELAX
Typology: Romantic
Choose: Bed & Breakfast
From: Wednesday 5 June 2024
Valid until: Wednesday 17 July 2024
Nights: 4
Guests: 2 Euro 240 for person
Detail Offer
OFFERTA IMMACOLATA A GUBBIO
Typology: Family
Choose: Halfboard
From: Wednesday 6 December 2023
Valid until: Wednesday 13 December 2023
Nights: 3
Guests: 2 Euro 240 for person
Detail Offer
---
From 100 to 220 Euro
Price double room per night
---
Description Villa Dama
Villa Dama is a beautiful farmhouse in a company of 170 hectares of organic agriculture. It was bo from an ancient hamlet and it is located just ten kilometers from the historical center of Gubbio. Being on a hill, guests can appreciate the wonderful panoramic view on the picturesque surrounding villages. The five stone houses, are provided with rooms and apartments. Everyone is cosy and furnished with taste and attention to the details. Each accomodation has a private bathroom. For its particular disposition and the convivial atmosphere, it is the ideal destination for couples, families with children and groups of friends. Our flagship is the restaurant, which offers every day irresistible menus prepared using only products coming from our biological farm. In the colder months breakfast and dinner are served in the lounge and the atmosphere is warmed by a large fireplace, whereas in the summer, in the romantic and panoramic terrace. When the air warms up, you can relax in the two stone pools, surrounded by greenery, or you can enjoy the fresh,walking through our paths in the shadow of centuries-old trees; the autumn is beautiful to taste the simplicity of country life, sharing with us the grape and olive harvest. For those who love to discover the tricks of good food, Luciana and Simone are happy to invite you to participate in cooking classes.
Typology: Apartments Rooms
Who we are
Guest who decides to spend a holiday with us, feel welcomed by the typical warmth of the family management. The passion for hospitality, the love of good food prepared with care and respecting the seasonal rhythms and the attention to details, make your vacation at Villa Dama real a wellness experience!
Description rooms
The rooms and apartments are located in 5 houses away from each other about 800 meters. Each accomodation has a private bathroom, complimentary set, TV sat, heating and air-conditioning (or fans). Their peculiarity is the wonderful panoramic view that can be seen from each apartment.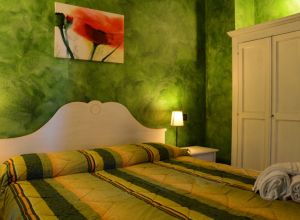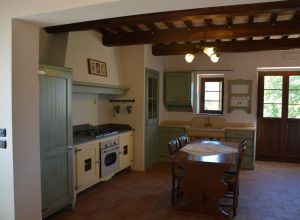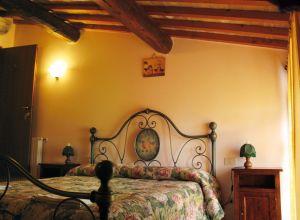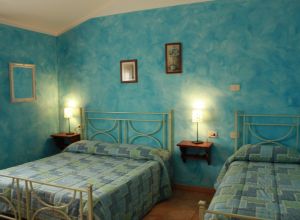 ---
Rates Farm-house
| | Minimum Price | Maximum Price | |
| --- | --- | --- | --- |
| Price per person per night | 50 | 110 | |
| Price double room per night | 100 | 220 | |
---
Services Farm-house
Breakfast Room
Disabled Access
Free Wifi
Park
Outdoor Pool
Garden
Pets Welcomed
Credit Card Accepted
Luggage Storage Service
Restaurant
Design Hotel
Fattoria Didattica
Barbecue
Meeting Room
Sauna
Turkish Bath
Bar
Soccer
Typical Product Market
Ping Pong
Play Area For Children
Free Guest Parking
Kitchen
Typical Furnishings
Hairdryer
Bath
Heating
Nice View
Fan
Air Conditioning
Shared Garden
---
restaurant Farm-house Villa Dama
Villa Dama restaurant offers daily menus prepared exclusively with excellent raw materials from our own organic farm and are served in a pleasant convivial atmosphere. Always attent to the needs of our guests, we also offer gluten-free, vegetarians and vegans menu.
---
Menù:
Of hot and cold appetizers A first with homemade pasta A second with freshe side dish of vegetables in season the dessert

for person

:
25
Restaurant open to the public
---
Breakfast
Breakfast consists of a rich buffet prepared with cakes, biscuits, jams, croissants, bread, brioche, yogurt, honey, all homemade by us. The milk we use for the preparation of milk and coffee, cappuccino and hot chocolate, is ours, from our cows. For those who love the salty taste, every morning we offer a good choice of meats and cheeses, always prepared by us, together with fresh eggs from our chickens.
---
Surroundings (Gubbio)
Villa Dama is the ideal starting point to visit the many attractions of our region. The Natural Park of Monte Cucco is just 4 km away from us, while Gubbio is only 10 km. In meo an hour by car you can reach cities such as Assisi, Perugia, Spello, Spoleto, Cortona, Torgiamo, Deruta, Bevagna, Foligno. We are pleased to help you organize your ittinerari.
---
Map
Loc. Torre Dell'Olmo 10, 06024 Gubbio - Perugia - Umbria
---
Ratings Farm-house Villa Dama
Guest Review Villa Dama
| | |
| --- | --- |
| Clean Room / Apartment : | |
| Location : | |
| Quality rooms : | |
| Services : | |
| Quality/ money : | |
(Couple)
capraro germano e luciana mossano vi veneti veraci ma amanti della vostra regioni bellissimo posto e ci torneremo saluto il cavaliere e la sig.luciana (Good)
(Couple)
Veramente bello e servizio fantastico. Complimenti per il posto (Excellent)
(Couple)
(Good)