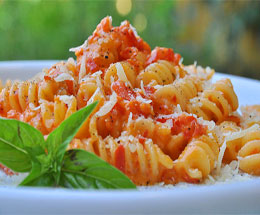 Ingredients
- 2 red tomatoes (200 g approx)
- 100 g riobiola cheese
- 4 basil leaves and some to decorate
- 1 small clove of garlic
- Coarse salt
- 1 spoon of olive oil
- 160 g of pasta
- 20 g pecorino Gavoi

Preparation
- Wash the tomatoes, cut into pieces, peel, remove the seeds and chop coarsely in a mixer. Add the rabiola cheese, cut into small pieces, the basil leaves, the clove of garlic, a pinch of salt and oil.
- Mix the ingredients.
- Put the sauce in a large bowl enough to dress the pasta and set aside covered.
- Boil the pasta in abundant salted water, drain and place in the bowl of the sauce.
- Serve garnished with grated pecorino cheese, pepper and basil leaves.
Barbara Farinelli – www.lospicchidaglio.it