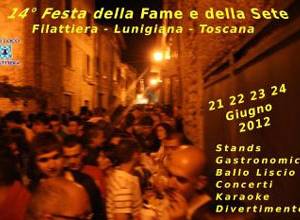 Dates: June 21 – 24,  2012
Venue: Filattiera, town center
Region: Tuscany
To start the summer, why not hopping over to Tuscany for the 14th Festival of Hunger and Thirst? The event is scheduled for June 21st (until the 24th) in the charming village of Filattiera, in the province of Massa Carrara. A beautiful frame for a party that opens the series of festivals in Lunigiana, and that represents a time when you can taste typical dishes, local wines, while listening to different kinds of music.
Do not miss this opportunity to plunge into the spirit of an Italian region that always cares for the well-being of its visitors, who are welcomed to a land where good food and entertainment are very important values​​, which are perfectly embodied in this party. Named for the abundance of food and wine, the Festival of Hunger and Thirst can be a great way to open summer at the discovery of Italian traditions (going to festivals is becoming an effective solution to the crisis), which have gone over the years with a spirit of innovation and love for the very important gastronomic heritage of our country.