Masseria Pagani
Via Leopizzi Filomena, 73048 Nardò (Lecce) Map
- LE07505232000013686
---
Description Pagani
Masseria Pagani, dating back to the XVI century and featuring a fortified structure, is today a Resort where guests can experience the pleasures of rural life in the Salentino area, enjoying nature, colours and traditions, just km. 3 away from the sea. Sober, refined, elegant and carefully refurbished, its enchanted setting is untouched by time, a cosy ambiance made up of varied features and views, a place where you feel at home. You can enjoy the absolute privacy and peace of the lush inebriant scented green environment, which includes a pinewood, an orange grove and gardens.
Cod: LE07505232000013686
120 - 200 Euro
Price double room per night
Typology: Apartments Rooms
Who we are
Hello. My name is Gabriel, 56, and together with Simona, my wife, 45, and our children, Riccardo, 11 years, and Elizabeth, 8 years, now we host for many years people who want to know our beautiful land. Our motto is "give to others what you would like to receive when we are traveling" and that's why we have so much success and so many who decide to return, even every year, to find ourselves. Our "guest friends."
Description rooms
The suites and rooms at the Masseria are made, for the most part, in typical environments with vaulted prominent sailing, barrel, hipped laid on thick walls a lot. Once the home of the factors. Today rural spirit revisited with sophisticated sobriety and attention to detail, furnishes these environments, transformed into "home" for a perfect holiday. Equipped with air conditioning (heating), Led TV, minibar, safe, hairdryer, wi, fi. Free (public areas), vine completed the maid service / daily cleaning.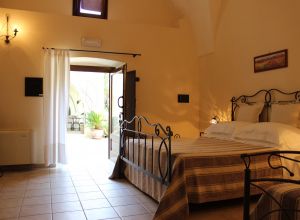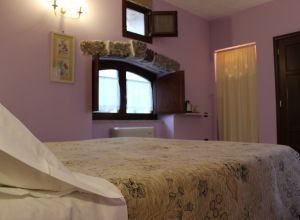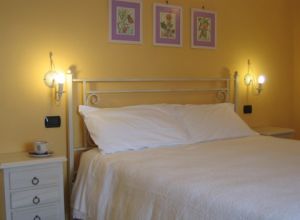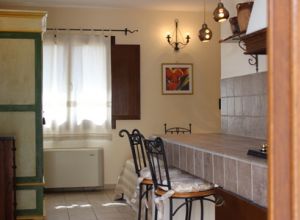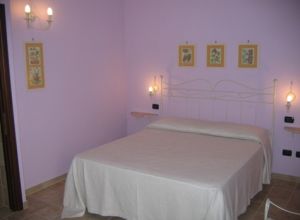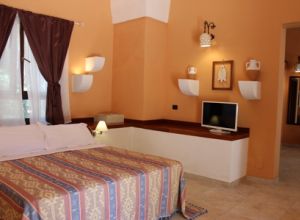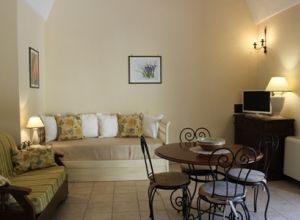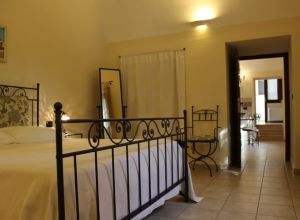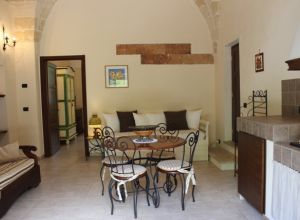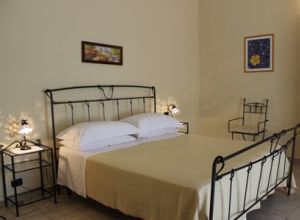 ---
Rates Masseria
| | Minimum Price | Maximum Price | |
| --- | --- | --- | --- |
| Price per person per night | 60 | 100 | |
| Price double room per night | 120 | 200 | |
| Triple room Price per night | 180 | 240 | |
| Price family room per night | 250 | 330 | |
---
Services Masseria
The feeling of natural well-being that you can not help but once you enter inside the Masseria, can be amplified from the benefits of a therapeutic massage or a beauty that meets your needs, one of your needs. There is a large pool where you can relax, for both adults and children.
Breakfast Room
Disabled Access
Internet
Park
Outdoor Pool
Laundry Service
Garden
Credit Card Accepted
Luggage Storage Service
Safe In Reception
Conference Room
Solarium
Barbecue
Meeting Room
Mountainbikes
Typical Product Market
Play Area For Children
Solarium
Free Guest Parking
Kitchenette
Typical Furnishings
Fireplace
Safe
Hairdryer
Minibar
Minifridge
Television
Satellite Television
Heating
Nice View
Air Conditioning
Shared Garden
---
restaurant Masseria Pagani
In ancient court fifteenth organize, only for our guests, tasting of traditional dishes and, on request, in the garden, in the woods, or on the ancient terrace, you can relax at sunset while enjoying our cocktails for a romantic moment or to socialize with other guests.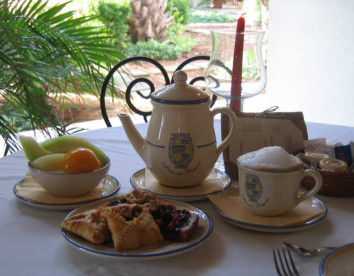 ---
Breakfast
We Masseria Pagani will be pampered starting from breakfast, your awakening with intoxicating scents of sweet and savory pies freshly baked, served still warm. Every day you can taste homemade jams with organic fruits local cheese of excellent quality and more ...
---
Surroundings (Nardò)
Masseria Pagani, easily accessible, is located at the center of a triangle fantastic for its beauty, not only natural. The Regional Natural Park of Porto Selvaggio (5 km), Nardo (2 km), which is considered the most important center of Salento Baroque after Lecce and highly renowned centers of Gallipoli (9 km) and Otranto (40 Km) as well as in Lecce (25 km), capital of the Baroque.
Checkin: 11.30-13.30 -----16:30-20.30
---
Map
Via Leopizzi Filomena, 73048 Nardò - Lecce - Puglia
How To Reach Us
Via Giuseppe Risi 75, Nardò, Locations Pagani Satellite Coordinates: Latitude: 40.1581 Longitude: 18.0222
Guest Review Pagani
| | |
| --- | --- |
| Clean Room / Apartment : | |
| Location : | |
| Quality rooms : | |
| Services : | |
| Quality/ money : | |
(Couple)
Un vero sogno! Siamo stati benissimo, tutto perfetto Excellent
(Family with children)
ospitalità perfetta, in posizione comoda per raggiungere le belle spiagge e Gallipoli. Mangiato benissimo e giusto prezzo Excellent
(Family with children)
Excellent
(Family with children)
Excellent
(Family with children)
nous sommes enchantés de ces 5 jours reposant dans la masseria de Gabriele et Simona, logement propre et de qualité, piscine magnifique et propriétaire serviables et gentils, nous conseillons vivement cet agriturismo Excellent
(Family with children)
Very nice place and location. Swimming pool is just amazing. Ideal for a restful holiday Excellent
(Family with children)
Une étape bien agreable à la masseria Pagani. Une bonne surprise. Un cadre parfait, des hotes charmants et accomodants, un logement spacieux et très bien équipé, une piscine superbe. Excellent