Farm-house Antico Casale Duca Di Pietratagliata
Contrada Sopracanale, 92020 Sant'Angelo Muxaro (Agrigento) - Sicily Map
OFFERS FARM-HOUSE ANTICO CASALE DUCA DI PIETRATAGLIATA (Offers found!)
MAGGIO IN FIORE
Typology: Nature
Choose: Bed & Breakfast
From: Friday 10 May 2024
Valid until: Tuesday 14 May 2024
Nights: 4
Guests: 2 Euro 220 For room
Detail Offer
TRA NATURA E CULTURA
Typology: Nature
Choose: Bed & Breakfast
From: Friday 10 May 2024
Valid until: Sunday 12 May 2024
Nights: 2
Guests: 2 Euro 100 For room
Detail Offer
NATURA IN FIORE
Typology: Nature
Choose: Bed & Breakfast
From: Monday 29 April 2024
Valid until: Wednesday 1 May 2024
Nights: 2
Guests: 6 Max Euro 110 For room
Detail Offer
---
From 50 to 70 Euro
Price double room per night
---
Description Antico Casale Duca Di Pietratagliata
A 20-minute drive from the Valley of the Temples, the colors and scents of the most authentic Sicilian countryside, lies the ancient stone farmhouse completely renovated and perfectly integrated into the environment. The facility, with all the amenities, contains 5 bright, country-style rooms (for a total of 15 beds) with heating, air conditioning, TV and wifi, a living-dining room, two large reception rooms. A large terrace that juts out over the surrounding hills become both summer and winter, the privileged place of relaxation. The structure, on a hill, is located in a particularly impressive. The pure air, pristine nature, the silence, the fairy land of mountains and valleys unique sensations, bringing almost back in time, to the simple and quiet bucolic world. The climate and vegetation also lead back to the specific environment Sicilian. Who will stop to reside here, or even to eat, will also can enjoy the local cuisine with its genuine dishes, will make outdoor walks to the discovery of aromatic herbs or engage in unforgettable archaeological excursions or caving in neighboring necropolis sicana or Mount Castle, in the nature reserve of karst caves or in the small village of Sant'Angelo Muxaro, all locations distant from the hotel just a few minutes drive.
Description rooms
The rooms are furnished in a country style, they are nice and comfortable. They have air conditioning, tv, private bathroom.
---
Rates Farm-house
| | Minimum Price | Maximum Price | |
| --- | --- | --- | --- |
| Price per person per night | 20 | 40 | |
| Price double room per night | 50 | 70 | |
| Triple room Price per night | 65 | 85 | |
| Price family room per night | 80 | 110 | |
---
Services Farm-house
Overnight stay, breakfast, half board, full board.
Breakfast Room
Disabled Access
Free Wifi
Park
Garden
Pets Welcomed
Restaurant
Solarium
Meeting Room
Solarium
Free Guest Parking
Typical Product Market
Typical Furnishings
Hairdryer
Television
Heating
Nice View
Air Conditioning
Shared Garden
---
restaurant Farm-house Antico Casale Duca Di Pietratagliata
Typical Sicilian cuisine: pasta, grilled meat, eggplant rolls and parmesan, grilled vegetables, salads, omelettes with vegetables, couscous, cannoli, fruit in season. All the ingredients are strictly seasonal.
for person
:
20
Restaurant open to the public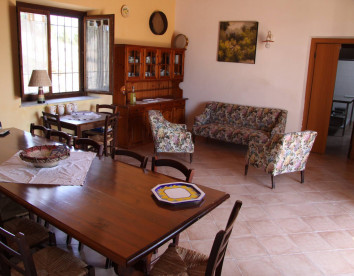 restaurant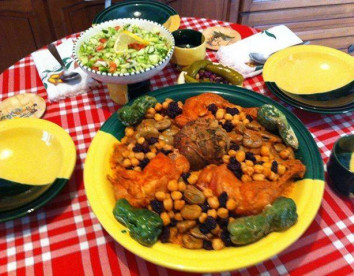 restaurant
---
Breakfast
Milk, coffee, tea, biscuits, croissants, organic jams, yogurts, juices, homemade cakes, bread, biscuits, ham, cheese.
---
Surroundings (Sant'Angelo Muxaro)
Nearby is an important archaeological site consisting of a prehistoric necropolis of the Mycenaean age in which were found the evidence pertaining to the people of Sikani. In addition to the tholos tombs of considerable importance is the Monte Castello, in which the majority of archaeologists identify the legendary palace of the king of Sikani Kokalos. The quaint village of Sant'Angelo Muxaro, not far from Monte Castello is relevant to lingering traces of ancient greek colony-Albanian.
---
Map
Contrada Sopracanale, 92020 Sant'Angelo Muxaro - Agrigento - Sicily
---
Ratings Farm-house Antico Casale Duca Di Pietratagliata