Farm-house Villa Dafne
Contrada Cozzo Di Cicero, 90021 Alia (Palermo) - Sicily Map
OFFERS FARM-HOUSE VILLA DAFNE (Offers found!)
SAN VALENTINO A VILLA DAFNE
Typology: Romantic
Choose: Bed & Breakfast
From: Tuesday 14 Febraury 2023
Valid until: Thursday 16 Febraury 2023
Nights: 2
Guests: 2 Euro 140 for person
Detail Offer
CARNEVALE A VILLA DAFNE
Typology: Tasting
Choose: Bed & Breakfast
From: Wednesday 22 Febraury 2023
Valid until: Thursday 23 Febraury 2023
Nights: 1
Guests: 2 Euro 75 for person
Detail Offer
SPECIALE WEEKEND 2023
Typology: Tasting
Choose: Fullboard
From: Saturday 21 January 2023
Valid until: Tuesday 31 January 2023
Nights: 1
Guests: 20 Max Euro 59 for person
Detail Offer
FESTA DELLA DONNA
Typology: Tasting
Choose: Fullboard
From: Wednesday 8 March 2023
Valid until: Thursday 9 March 2023
Nights: 1
Guests: 2 Euro 75 for person
Detail Offer
---
From 58 to 180 Euro
Price double room per night
---
Description Villa Dafne
Villa Dafne is an old farmhouse recently renovated, surrounded by beautiful countryside and green pastures, easily reachable by car or treno.La stone, wood, wrought iron, ceramic, terracotta, all refer to the past, reviving the environments with the charm and warmth of yesteryear.The restaurant and the rooms are all decorated in the same style, to relive the charm of tradition.From the large terrace you can admire a beautiful landscape, the center of which stands the picturesque town of Alia, a typical rural village, with homes from the colors of the earth that on winding roads.The two swimming pools (for adults and children) may be repaid by our guests and are equipped with solarium from which to admire the beautiful scenery of the Sicilian hinterland.
Typology: Apartments Rooms
Description rooms
Thirty-five rooms, all with private bathroom, furnished with rustic furniture and enriched by pleasant comfort, allowing guests to enjoy a pleasant and relaxing stay.The double rooms, with views of the valley allow you to spend with your partner a lovely and relaxing stay. For families Villa Dafne provides convenient double with the addition of one or two beds.Request at the time of booking it is possible to add a crib in the room.Five apartments with kitchenette, furnished in the style of Villa Dafne, may be an alternative for the longer stays.Opening the windows or balconies overlooking, you can enjoy a magnificent view of the valley.
---
Rates Farm-house
| | Minimum Price | Maximum Price | |
| --- | --- | --- | --- |
| Price per person per night | 29 | 90 | |
| Price double room per night | 58 | 180 | |
---
Services Farm-house
The main services that Villa Dafne offers are:- The swimming pool (open from May to October)- Horse riding (with guide)- Cooking classes (to lea the secrets of the most famous Sicilian recipes)- Guided tour of the farm (dairy cows and dairy final tasting of typical Sicilian cheese)
Restaurant
Breakfast Room
Disabled Access
Free Wifi
Garden
Outdoor Pool
Laundry Service
Pets Welcomed
Credit Card Accepted
Luggage Storage Service
Conference Room
Solarium
Riding
Mountainbikes
Solarium
Free Guest Parking
Bar
Kitchenette
Safe
Hairdryer
Minifridge
Television
Heating
Nice View
Air Conditioning
Shared Garden
---
restaurant Farm-house Villa Dafne
Villa Dafne has a large dining room where meals are served traditional Sicilian cuisine, created primarily with raw materials from our farm. - Meat, cheese, tomato sauce, olive oil, vegetables, ratatouille, preserves, desserts, are all products of our farm. Villa Dafne fact has un'allevamento of dairy cows, sheep, has a dairy for processing milk into cheese, tomato and vegetables cultivated summer and autumn of every kind: eggplant, peppers, artichokes, etc... - - Our menus are the result of the smells and flavors of the land wisely is transferred to the table according to tradition: from appetizers and starters such as caponata, pate, preserves, to pasta dishes, meat of lamb or beef, and desserts which stands in the famous "Sicilian cannoli", filled with ricotta cheese course only of our animals.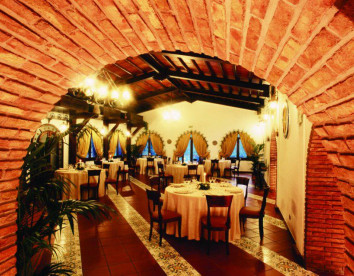 restaurant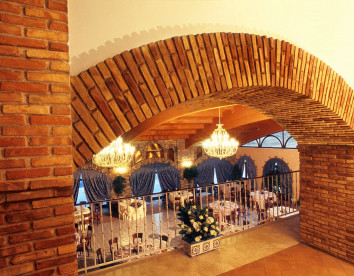 restaurant
---
Surroundings (Alia)
Villa Dafne is in central and strategic position. About an hour 's drive from Palermo, Agrigento and Cefalu, Villa Dafne is ideal for those who want to discover the central and weste Sicily. The destinations of historical and cultural interest are the most popular and easily accessible: Agrigento and the Valley of the Temples, Palermo and the historic center, Piazza Armerina Enna, Cefalu and its beautiful sea. Villa Dafne is also nature. A few miles away in fact you can reach the most important nature reserves of the Central Sicily: the Madonie Park, Sicani Mountains, Ficuzza Forest and Busambra Rock, Forest of Favara and Granza, Monte Carcaci.
---
Map
Contrada Cozzo Di Cicero, 90021 Alia - Palermo - Sicily
---
Ratings Farm-house Villa Dafne
Guest Review Villa Dafne
| | |
| --- | --- |
| Clean Room / Apartment : | |
| Location : | |
| Quality rooms : | |
| Services : | |
| Quality/ money : | |
(Couple)
eccellente tutto....struttura, personale cibo, dintorni (Excellent)
(Family with children)
cordiali tutti da francesco a vincenzo nulla da dire consiglio di provarlo spero di ritornarci presto saluti a villa dafne da teo dory samuele e christian (Excellent)
(Other)
cordialità, semplicità e simpatia hanno distinto questo fine settimana per la nostra famiglia (Excellent)