Farm-house Residenza Del Marchese
Via Villa Del Marchese, 15, 06035 Gualdo Cattaneo (Perugia) Map
OFFERS FARM-HOUSE RESIDENZA DEL MARCHESE (offers found!)
WEEK END 1 MAGGIO
Typology: Nature
Choose: Bed & Breakfast
From: Friday 29 April 2022
Valid until: Monday 2 May 2022
Nights: 2
Guests: 2 Euro 110 For room
Detail Offer
CAPODANNO IN UMBRIA
Typology: Tasting
Choose: Bed & Breakfast
From: Thursday 30 December 2021
Valid until: Sunday 2 January 2022
Nights: 2
Guests: 2 Euro 80 for person
Detail Offer
WEEK END CON FIDO
Choose: Bed & Breakfast
From: Friday 1 October 2021
Valid until: Sunday 31 October 2021
Nights: 3
Guests: 10 Max Euro 22 for person
Detail Offer
WEEK END D'AUTUNNO
Typology: Nature
Choose: Halfboard
From: Thursday 21 October 2021
Valid until: Saturday 27 November 2021
Nights: 2
Guests: 2 Euro 60 for person
Detail Offer
EUROCHOCCOLATE 2021
Typology: Tasting
Choose: Bed & Breakfast
From: Wednesday 20 October 2021
Valid until: Sunday 24 October 2021
Nights: 2
Guests: 2 Euro 115 For room
Detail Offer
PONTE DI OGNISANTI
Typology: Tasting
Choose: Bed & Breakfast
From: Wednesday 27 October 2021
Valid until: Tuesday 2 November 2021
Nights: 2
Guests: 2 Euro 115 For room
Detail Offer
WEEK END DI PRIMAVERA
Typology: Tasting
Choose: Bed & Breakfast
From: Thursday 1 April 2021
Valid until: Saturday 22 May 2021
Nights: 2
Guests: 2 Euro 140 For apartment
Detail Offer
VIENI A VEDERE I COLORI DELLA CAMPAGNA
Choose: Bed & Breakfast
From: Friday 1 October 2021
Valid until: Sunday 31 October 2021
Nights: 3
Guests: 10 Max Euro 35 Price per person per night
Detail Offer
---
Description Residenza Del Marchese
Overlooking the rolling green Umbrian hills, from which one can admire the magnificent views dominating the surrounding countryside, stands the "Residenza del Marchese" Agriturismo in an eighteenth century country manor house.It comprises an old splendid sitting room, enriched by frescos and fireplace which is at the disposal of guest as a lounge and reading room, and seven apartments of various dimensions (one, two and tree rooms for 2 to 6 persons) that we rent weekly, and also for few days.The manor house is surrounded by a wooden park, an orchard and a centuries old olive grove. In the leisure area there is swimming pool with sunbathing facilities, a children play ground.The village of Gualdo Cattaneo is only 2km away and you can visit this charming hamlet with its medioevol Rocca dating from the XIV century, and the frescos of S.Agostino church.The Agriturismo Residenza del Marchese is a short car ride away from some of the Umbrian region's historical, cultural and gastronomic treasure trades as Assisi, Spoleto, Todi, Montefalco and many other beauty spots small and large which truly merit a visit to appreciate their art, culture and splendours.
60 - 80 Euro
Price double room per night
Who we are
Together with my brother Stephen and my husband Sergio we take care of agricultural and farm full time, welcoming guests, showing them the beauty of the place and providing information on places to visit. I also prepare personally the cooking of local foods and cakes to try in the local restaurant, while my husband offers tastings of wines products in the cellar.
Description rooms
Apartment two rooms is confortable for 2 adults and 1 child, is composed by a living room with kichenette, sofabed, one double bedroom and one bathroom.Apartment tree rooms si confortable for 4 adults and 1 child, is composed by a living room with kichenette, 2 double bedrooms, sofabed, 2 bathrooms with shower. Apartment one room for 1 o 2 person with Kichenette and bathroom.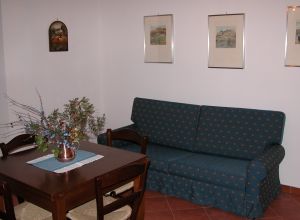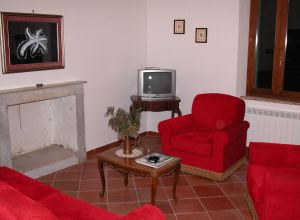 ---
Rates Farm-house
| | Minimum Price | Maximum Price | |
| --- | --- | --- | --- |
| Price per person per night | 25 | 40 | |
| Price double room per night | 60 | 80 | |
| Triple room Price per night | 80 | 100 | |
| Price family room per night | 100 | 130 | |
---
Services Farm-house
We organize tours and wine tastings in the cellars of wine production red Sagrantino and Montefalco DOC and offer samples of extra virgin olive oil produced on the farm. There are bicycles, and if you do not want to ride you can play table tennis and table football in the games room. In the summer, the pool is open for a refreshing dip with sun loungers and parasols.
Restaurant
Internet
Garden
Outdoor Pool
Laundry Service
Pets Welcomed
Credit Card Accepted
Solarium
Solarium
Free Guest Parking
Barbecue
Kitchenette
Typical Furnishings
Fireplace
Hairdryer
Television
Satellite Television
Heating
Nice View
Fan
Shared Garden
---
restaurant Farm-house Residenza Del Marchese
---
Menù:
Bruschette miste - price Euro 4,00 Gnocchi al Sagrantino - price Euro 10,00 fettuccine al sugo d'oca - price Euro 8,00 fettuccine al sugo di cinghiale - price Euro 8.00 grigliata mista con salsiccia, maiale, manzo - price from Euro 10,00 and other others cooked according to the traditions of Umbria with local produce and olive extravirgin oil, and also kakes such as rocciata (with apples and dried fruit) and pies with homemade jams with fruits of the farm. Also wines are produced in the farm as Montefalco Red wine and Sagrantino.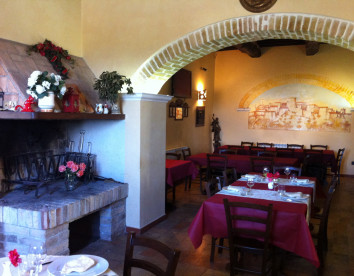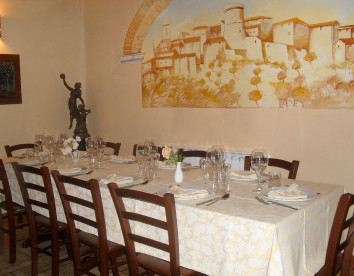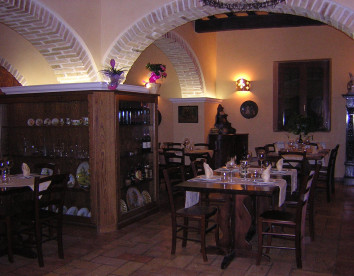 Checkin: from h.15.00 to h.20.00 pm
Checkout: from h.8.00 to h. 11.00 am
---
Map
Via Villa Del Marchese, 15, 06035 Gualdo Cattaneo - Perugia - Umbria
Guest Review Residenza Del Marchese
| | |
| --- | --- |
| Clean Room / Apartment : | |
| Location : | |
| Quality rooms : | |
| Services : | |
| Quality/ money : | |
(Couple)
turista Good
(Couple)
Ottima posizione al centro dell'Umbria collinare , residenza ben curata anche se ancora migliorabile , molto carini i proprietari , soprattutto Stefano la cui disponibilità è esemplare, buono il ristorante collegato alla residenza. Unica pecca vera è stata la vicinanza dell'appartamento con la reception di cui udivamo la porta a vetri aprirsi e chiudersi al mattino ma dopo le 8 e 30 , comunque non è stato tanto disturbante da dover chiedere il cambio. In generale esperienza posiiva e ottimo rapporto qualità prezzo. Good
(Family with children)
Tutto ottimo, sopratutto i titolari. Excellent