Farm-house Al Laghet
Porto Mantovano (Mantova) - Via Soana N°13 Soave Di Porto Mantovano (Map)





Share your opinion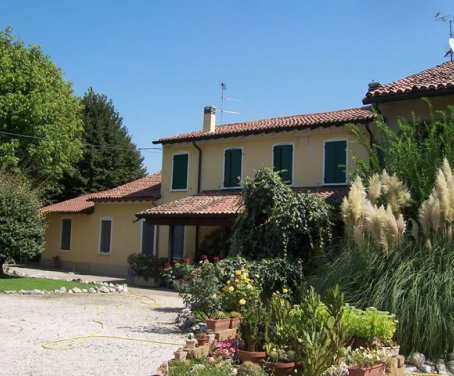 DESCRIPTION FARM-HOUSE AL LAGHET

Farmhouse Al Laghet is a recently renovated agritourism, composed of central building with owner's house, restaurant and rooms, small lake for sport fishing, saddle horse stables, ceremony hall, garden for barbecue or picnic and playground.
Farming of beef cattle, swimming pool with garden.
The kitchen of our restaurant is at our guests' disposal, who want to turn themselves into a chef and cook our own products for all the other guests. Free use of mountain bikes to reach, far from the traffic: the Fountain Wood, Borghetto, Garda Lake. Our agritourism is in the middle of the Mincio Park area, 7 Km far from Mantova, which can be reached through the bicycle path which joints Soave to the lakeside of Mantova. The city has been declared a UNESCO Human Heritage site.
SURROUNDINGS
Our building is in the middle of the Mincio Park area. We are next to the bicycle path which joints the city of Mantova to the Garda Lake. We are 7 Km far from Mantova, 40 Km far from Verona, 40 Km far from the Garda Lake, 25 Km far from Borghetto and Parco Sigurtà, 1 Km far from the Fountain Wood, 1 Km far from the Bertone Wood and 15 Km far from the Sanctuary placed in Grazie. -
-
SERVICES FARM-HOUSE
Restaurant
Breakfast Room
Disabled Access
Garden
Park
Outdoor Pool
Laundry Service
Pets Welcomed
Riding
Mountainbikes
Free Guest Parking
Barbecue
Grill Room
Bar
Hairdryer
Minifridge
Television
Heating
Nice View
Air Conditioning
Shared Garden
RATES FARM-HOUSE AL LAGHET
Minimum Price
Maximum Price
Price per person per night

35 €


40 €


Price double room per night


70 €


70 €


Triple room Price per night

90 €


90 €


Price family room per night

110 €


110 €


Notes on prices: Bambini fino ai 6 anni soggiornano gratuitamente,dai 6 ai 12 anni metà prezzo.rnPer soggiorni pari o superiori alle 3 notti sconto di 10.00€ al giorno .
RATES

MAP
Via Soana N°13 Soave Di Porto Mantovano - Porto Mantovano - (Mantova)
GUEST REVIEW AL LAGHET


Share your opinion
Couple -

10/2012
Io e la mia ragazza abbiamo soggiornato qui casualmente; fantastica ospitalità, belle stanze e buon prezzo. Ci torneremo
Family with children -

7/2012
per chi sogna una fuga dalla città è il posto ideale. C'è silenzio, pace, tranquillità. la famiglia Tessadri è gentilissima e dsponibilissima. I bambini si sono divertiti un mondo, sia in piscina che a contatto con tutti gli animali presenti nell'agriturismo. Noi ci siamo tornati due volte nel giro di un mese. Il parco del Mincio è da godere, facendo un giro in barca all'interno dei laghi. Siamo rientrati a casa ieri e vorremmo già tornare quì!!
Family with children -

6/2010
bellissimo
SIAMO UNA FAMIGLIA DI TORINO E PURTROPPO SIAMO STATI SOLO 4 NOTTI MA TANTO PER FARVI CAPIRE QUANTO E' BELLO IL POSTO VI DICO CHE MIA MOGLIE ANCORA ADESSO MI DICE DI ANDARE A VIVERE LA. TUTTA LA FAMIGLIA TESSADRI GODE DI TANTISSIMA SIMPATIA E GENTILEZZA, SONO UNA FAMIGLIA DI GRANDI LAVORATORI. GLI PUOI CHIEDERE QUALSIASI COSA E IL SIG TESSADRI TROVA SICURAMENTE LA SOLUZIONE PER TUTTO. NOI LO STRACONSIGLIAMO. SE ANDATE SALUTATEMELI TANTO E DATE UNA CAREZZA A SISSY DA PARTE MIA CIAOOOOOO