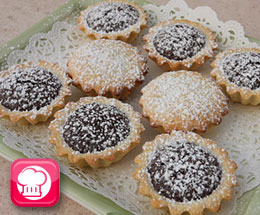 Ingredients
- 250 gr jam
- 1 egg
- Icing sugar
- 250 g white flour 00
- 125g caster sugar
- 100 gr lard
- 1 whole egg
- 1 egg yolk
- 1 lemon
- 1/4 teaspoon baking powder
- Sale
- butter
- flour
Preparation
- Begin to prepare the pastry: sift the flour with the baking powder and a pinch of salt, then add the sugar and the grated rind of half a lemon.
- Open the mixture and stand in the center lard, egg yolk and whole egg: Work the dough quickly.
- Wrap it in a sheet of wax paper and place in refrigerator for about 30 minutes.
- Meanwhile buttered and floured 19-20 molds in the shape of boat.
- After the time necessary to roll out the dough obtaining a sheet thickness of about 3 mm. and coated it with stencils, cutting the excess on the edge.
- Spread the jam boats in freeing up the dough on the board.
- Roll out the pastry trimmings and make a new pastry: cut small pieces at a time and place them on the boats as a 'cover' by joining the dough on the edges.
- Beat the egg in a dish and brush it with the 'bocconotti' on the surface.
- Bake in a preheated oven at 160 degrees for about 30 minutes leave them there: once cooked should be golden brown on the outside and perfectly cooked inside.
- Let cool, then remove them from the molds and sprinkle with icing sugar.