Farm-house Villa Graziani
Livorno (Livorno) - Via Per Rosignano, 14 - Vada (Map)




Share your opinion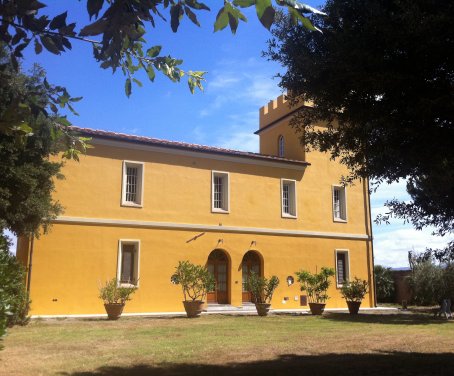 DESCRIPTION ROOMS
The bedrooms have adjoining bathrooms, telephone with direct outside line and television. They are situated inside the Country House and are furnished with furniture of that time period.
The making of beds and cleaning of bedrooms is done daily from 9.30 am until 12.00 noon.
Breakfast is served from 8.00 o'clock until 9.00 o'clock.
RESTAURANT
The kitchen prepares the most simple of traditional Tuscany dishes, some of the most sophisticated and curious, served with wine, oil, fruit… which the farm holding "Il Pino" produces biologically (certificate AIAB) and offers directly to its guests. All to be tried and tasted in the spacious dining rooms or in the freshness of its garden.
SURROUNDINGS
Within the borough of Rosignano Marittimo, Vada is one of the more peaceful areas for holidays on the Estruscan coast, known as "Rada del Saraceno", owes its fame to the beauty of the sea water and the ample beach with fine sand. With 5 kilometres of beach, it offers guests the possibility of choosing what suits them best.
SERVICES FARM-HOUSE
Restaurant
Disabled Access
Riding
Mountainbikes
Phone
Television
Piccolo Museo Di Storia Rurale, Archivio E Biblioteca Graziani.
MAP
Via Per Rosignano, 14 - Vada - Livorno - (Livorno)
GUEST REVIEW VILLA GRAZIANI


Share your opinion
Couple -

5/2012