Farm-house Il Pino Grande - Masseria Citulo
Barletta-Andria-Trani (Barletta-Andria-Trani) - S.p.234, Km. 20,920 (loc. Castel Del Monte) (Map)




Share your opinion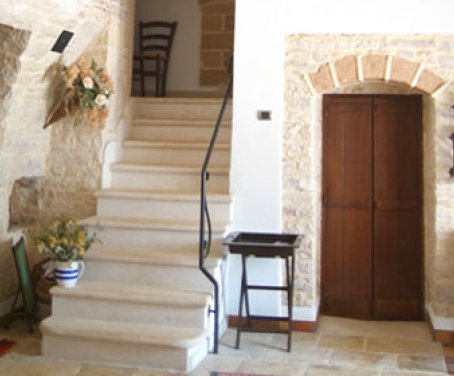 DESCRIPTION ROOMS
All the rooms have heating and most of them air conditioning too, with period doors and windows frames and are furnished with the last six generations family furniture, contributing to give your stay an intimate and cosy characteristic, which is one of "il Pino Grande" main goals.
In order to respect the building original structure (restoration works have been excellently directed by the engineer Natalino Petrone di Corato), it has not been possible to provide all rooms with private facilities..
RESTAURANT
"Il Pino Grande" offers a home-made cuisine which is mainly characterized by the offer of typical local and/or country culinary tradition dishes, depending on the season (including starters!!), most f them are cooked in wood-burning oven (the farm has two wood-burning ovens: one inside and one outside) or barbecued.
We pass then from focaccia bread to the preparation of different starters including spring onions, dry tomatoes, aubergine with basil sauce and various vegetables in oil (organic oil produced by our farm), to the presentation of legumes based main courses (broad beans, chickpeas, chickling peas) and some other ones prepared with Murgia plants and wild herbs (small wild chicory, sinapi and sivori local green vegetables, borage) or to the organically grown vegetable garden products (a classic dish is made with orecchiette pasta, turnip and toasted bread crumbs seasoned with a good amount of 'saint oil') or to baked potatoes, rise with muscles, flans of tagliatelle with local gourd-shaped cheese or potatoes, chicory and typical local wild spring onions, tasting afterwards, passing to the second courses, some meat dishes of the local livestock tradition: pot roasted lamb, tripe and beans, a kind of filled pork meat including aromatic herbs, entrails rolls, potatoes, chicories and local wild spring onions.
SURROUNDINGS
"Il Pino Grande" farm is in a very favourable location for visiting the surrounding places and reach important art, archaeological, historical-cultural and natural destinations. In addition to the near Castel del Monte (the so called "laic sanctuary") the nearest places to be visited are:rn- Barletta, Trani, Bisceglie (which are known to be lovely seaside places), Canosa di Puglia, Canne della Battaglia and Ruvo di Puglia with important finds from the pre-Roman period to the Middle Age;rn- Margherita di Savoia, famous for its European biggest baths and salinas , has been recently recognized as Natural Reserve for the settlement of different birds species;rn- Minervino Murge, Altamura, Gravina and, at 60km outside the region, exactly in Lucania, there is Matera (renowned for its stones) for their historical-naturalistic and environmental excursions and the last two cities are interesting also for their rock settlements.
SERVICES FARM-HOUSE
Restaurant
Breakfast Room
Garden
Credit Card Accepted
Mountainbikes
Free Guest Parking
Heating
Air Conditioning
RATES FARM-HOUSE IL PINO GRANDE - MASSERIA CITULO
Minimum Price
Maximum Price
Price per person per night

25 €


50 €


Price double room per night


50 €


100 €


Notes on prices: Mezza pensione:(a persona)supplemento di € 20; pensione completa:(a persona)supplemento di € 35
RATES

MAP
S.p.234, Km. 20,920 (loc. Castel Del Monte) - Barletta-Andria-Trani - (Barletta-Andria-Trani)
GUEST REVIEW IL PINO GRANDE - MASSERIA CITULO


Share your opinion
Group of Friends -

11/2012
Posto incantevole nel bel mezzo del parco naturale dell'Alta Murgia a 3 Km dal Castel del Monte...Un'atmosfera rupestre e aria pura...ci siamo goduti il posto a caccia di funghi cardoncelli e cicorie selvatiche...ottima anche la cucina, lo staff molto cordiale, camere molto carine e ben riscaldate!! Consiglio a tutti!!