Farm-house Pollinaria
Torre Delle Valli, 65010 Civitella Casanova (Pescara) Map
---
Description Pollinaria
Located in the heart of rural Abruzzo, Pollinaria integrates research programmes for artists and scientists with practices of organic farming that preserve and support local genetic patrimony. An eighteenth century farmhouse constitutes the core of these multifarious activities, while simultaneously being a dwelling for travellers in search of unexplored itineraries. The farmhouse emerges in the context of the ancient fief of Raffaele Baldini Palladini, a pioneer of modern-day olive-growing. Today, this protected faunal and forestry area represents a precious treasure chest of the region's biological diversity. A close distance away, the Olive Oil Museum of Loreto Aprutino offers an accurate reconstruction of the origins of the farm, in the fascinating manor that was once the house and factory of its founder Raffaele Baldini Palladini. All cultivations are in-line with the principles of organic farming, in order to ensure the production of extra virgin olive oil that is "D.O.P. Aprutino Pescarese" – or oil made from olives typical of the region of Pescara. The same principles apply to the production of cereals as well as Montepulciano and Trebbiano d'Abruzzo wines. Guests of Pollinaria are welcomed into the harsh environment of an ancient rural complex that has been restored in keeping with the principles of local architecture and by using native and natural materials.
70 - 100 Euro
Price double room per night
Typology: Apartments Rooms
Description rooms
Every room, within the original walls of the late 18th century farmhouse, known as la Volpe, is named after one of the patriarchs of the founding families who once inhabited the house: l'Abbate, lu Pizzute and Peppine lu Mocculose. The former pig stables have been adapted into an independent residence: il Trogolo. All rooms benefit from antique furnishings and fine examples of Abruzzian farm crafts.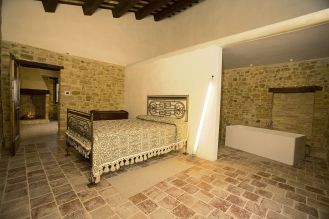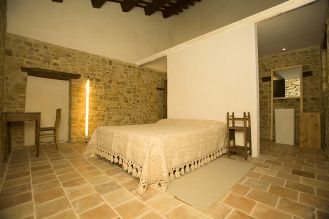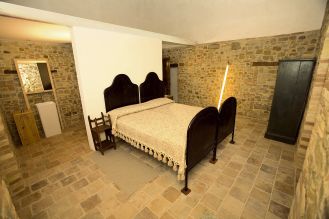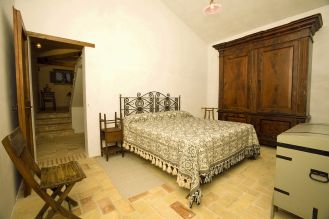 ---
Rates Farm-house
| | Minimum Price | Maximum Price | |
| --- | --- | --- | --- |
| Price per person per night | 35 | 50 | |
| Price double room per night | 70 | 100 | |
---
Services Farm-house
Breakfast Room
Disabled Access
Garden
Park
Pets Welcomed
Conference Room
Meeting Room
Mountainbikes
Free Guest Parking
Barbecue
Kitchen
Fireplace
Bath
Heating
Nice View
Shared Garden
---
Surroundings (Civitella Casanova)
The area around Pollinaria is rich in historical, artistic and natural treasures. There are the ancient villages that once completely dominated the rural landscape home to the Vestini people and the peaks of the Abruzzi Apennines. The surrounding mountains and national parks are keepers of great natural heritage and biodiversity. In tune with one another, these spaces are a marvelous, complex expression of the connection between people and nature, an organic union formed over time. At some points, this bond is expressed in agricultural landscapes of uncommon intensity. In others, there are artistic masterpieces connected to these places, evidence of high civilization. In yet others, this relationship takes the form of intact, pure nature, when people learned to open themselves and merge with it with the same spontaneous, innate respect that seems to distinguish every other creature belonging to this environment.
---
Map
Torre Delle Valli, 65010 Civitella Casanova - Pescara - Abruzzo