Country House in Lazio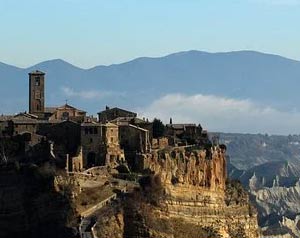 Roma caput mundi, but Lazio region is much more: in addition to various beaches on the Tirrenic Coast such as Nettuno, Anzio and Sperlonga, you can enjoy a breathtaking view at Bolsena and Bracciano lakes, or relax at Fiuggi spa. Moreover, the villages and cities that preserve precious Etruscan and Roman remains are worthy of a visit. Viterbo, Gaeta, Cassino, Tuscania are only some of them.
Don't miss
Roma, Frosinone, Tivoli, Viterbo, Cassino, Ostia, Frascati, Terracina, Gaeta, Tarquinia.
Local food
Cuisine: Abbacchio, Rigatoni con la pajata, Bucatini all'amatriciana, Saltimbocca alla romana.
Wines: Cesanese del Piglio, Velletri, Zagarolo, Colli Albani.