Farm-house La Restera
Via Gardan, 14, 31032 Casale Sul Sile (Treviso) Map
---
Description La Restera
WE RECEIVE ONLY RESERVATIONS BY TELEPHONE If you are looking for a quiet place, surrounded by nature, to rest and relax in an unique rural atmosphere, our farmhouse is what you need!A few km far from the art cities of Venice and Treviso you will find a fully restored nineteenth-century farmhouse, situated in a small oasis of peace in the park of the Sile River, the longest resurgence river in Europe.Join us to enjoy the peaceful countryside and taste delicious, traditional Venetian dishes, prepared by using healthy and home grown produce.
51 - 65 Euro
Price double room per night
Typology: Apartments Rooms
Description rooms
WE RECEIVE ONLY RESERVATIONS BY TELEPHONE Experience the comfort and warmth of our family-run farmhouse, which is plunged in the quietness of the countryside!All our rooms have antique fournishings which surely will take you back in time. The balconies facing the vineyards (which extend towards the bank of the river Sile), give you the possibility to enjoy the unique views.
---
Rates Farm-house
| | Minimum Price | Maximum Price | |
| --- | --- | --- | --- |
| Price per person per night | 38 | 50 | |
| Price double room per night | 51 | 65 | |
| Triple room Price per night | 71 | 85 | |
---
Services Farm-house
Free internet wi-fi.Pets are allowed.Extra-charged transfer from the train station (Venice/Treviso) and from the airport(Treviso Canova/Tessera Marco Polo).Big private parking lot next to our farmhouse with lights for nighttime security.Each guest has an individual key so is free to come back whenever he/she likes.
Restaurant
Breakfast Room
Internet
Garden
Park
Luggage Storage Service
Free Guest Parking
Typical Furnishings
Hairdryer
Television
Heating
Nice View
Fan
Shared Garden
---
restaurant Farm-house La Restera
Lunch and dinner are served in a spacious restaurant. Our restaurant is the ideal setting for celebrating birthdays, christenings, weddings…etc., but also for a romantic dinner! - - - The restaurant is illuminated by big lateral windows and it is decorated with original, traditional objects and tools used by the Venetian farmers until the last century, which makes it look like a small museum of rural life.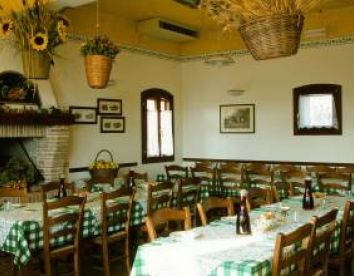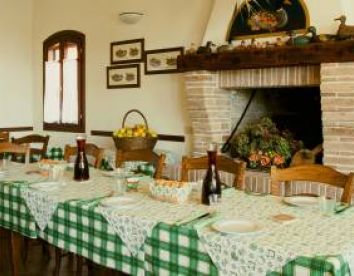 ---
Breakfast
You will be served a hearty breakfast which will provide you with all the energy you need to afford a long riding along the river Sile till Treviso, or long walks along the hundreds of sneaky pathways of Venice!Every morning you will be able to choose among bread, biscuits, rusks, honey, marmalade, home-made pie, milk and obviously a great cup of coffee, traditionally brewed in a pot and filtered with a sackcloth, just like our grandparents were used to do!
---
Surroundings (Casale sul Sile)
Discover the river Sile in many different ways! This river, overlooked also by our farmhouse, has its source in Casacorba di Vedelego and flows into the Adriatic sea, crossing all the Treviso county. It is the longest resurgence river of Europe (it is 90 km long) and, thanks to its small number of tributaries, it is featured by crystal-clear and calm waters. From 1991 the area around this river has been protected by laws and has eventually become a natural park: the "Parco Naturale del fiume Sile", which extends for about 50 square kilometers. Explore this winding green path whose protagonists are wild ducks, coots, little Grebes and storks and which alternates luxuriant, lush vegetation, groves of reeds, ancient Venetian villas, hamlets and river ports! These are witnesses of a past of hard-working, rich in history and traditions.
---
Map
Via Gardan, 14, 31032 Casale Sul Sile - Treviso - Veneto