Farm-house Maneggio Dogana Ristorante
Tuoro sul Trasimeno (Perugia) - Via Dogana 4 (via Firenze) (Map)





Share your opinion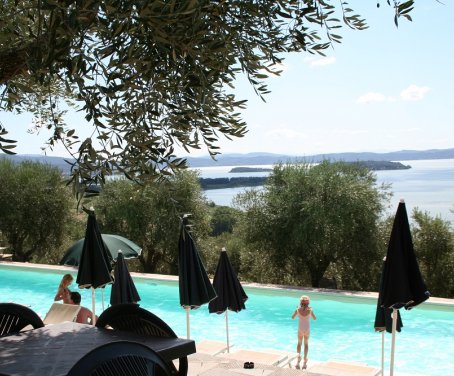 DESCRIPTION FARM-HOUSE MANEGGIO DOGANA RISTORANTE
Biological Farm of olive grove that extends itself on the most beautiful promontory facing the Trasimeno lake - The ancient stone farmhouses are all around the historical building called La Dogana (ancient posting house ) at the border between Tuscany and Umbria , have been transformed into nicely furnished apartments or villas with view ovr the lake .
all around the buildings there is a huge park and a children's playground .
The old oil mill has been transformed into a first quality RESTAURANT that you will enjoy if you don't feel like cooking .
A nice walk through the olive trees leeds you to the swimming pool (26m) , very near to Paradise .
It is an ideal holiday for families with children . They can play table tennis ,use the playground with sand , swing or other toys or ride our ponies with Laura , our specialised guide .
SERVICES FARM-HOUSE MANEGGIO DOGANA RISTORANTE
Children playground - First quality Restaurant - horse riding lessons with Laura our teacher in paddock , or excurtion on the hills around Trasimeno lake - petting the animals of the farm - flowers and bird watching in our 30 hectars natural Park - Bicycles for rent -
DESCRIPTION ROOMS
Old restored country house of the XVIIIth century where there are 10 nicely furnished holiday apartments of about 25,35,45 sm, ready for a comfortable stay for you and your family (2,3,4 people), with a nice view on the Trasimeno Lake.
RESTAURANT
In the mid 1800′s the Inn of the Papal Customs, from which we have news from the writer Hans Christian Andersen, was located under the arches of the Palazzo della Dogana.
Nowadays, the restaurant is located in the ancient mill. The moon will rise over the Trasimeno lake in front of you when you sit in the evening, in the elegant dining room or on the romantic terrace. The chef Stefano Rutigliano will delight you with the best Umbrian and Italian cuisine
BREAKFAST
In our Restaurant , during your dinner , ask breakfast for the next morning (not before 9 am ) - you can also use the kitchenette in your apartment - -
-
SERVICES FARM-HOUSE
Restaurant
Wireless Internet
Garden
Park
Outdoor Pool
Pets Welcomed
Meeting Room
Riding
Mountainbikes
Free Guest Parking
Barbecue
Kitchenette
Kitchen
Typical Furnishings
Fireplace
Safe
Bath
Nice View
Fan
Shared Garden
Parco 20ettari-percorsi Vista Lago
RATES FARM-HOUSE MANEGGIO DOGANA RISTORANTE
| | | | |
| --- | --- | --- | --- |
| | | | |
| | Minimum Price | Maximum Price | |
| Price per person per night | 12 € | 35 € | |
| Price double room per night | 30 € | 70 € | |
| Triple room Price per night | 50 € | 80 € | |
| Price family room per night | 60 € | 100 € | |
RATES

MAP
Via Dogana 4 (via Firenze) - Tuoro sul Trasimeno - (Perugia)
GUEST REVIEW MANEGGIO DOGANA RISTORANTE


Share your opinion
Couple -

8/2012
Idéal pour visiter Italie centrale Gentillesse de l'accueil en français
Couple -

7/2011
Couple -

7/2010
posto molto bello ,appartamenti accoglienti e arredati con gusto,piscina panoramica fantastica,peccato lassenza della tv.
Family with children -

7/2010
Couple -

6/2010
Group of Friends -

4/2009
Una bella esperienza
Siamo stati benissimo! La piscina è splendida, la posizione invidiabile.. che dire? Vogliamo tornarci!!